Seven days' time will see the 36th anniversary of Virgin Atlantic's inaugural flight from Gatwick to Newark Liberty Airport, across the Hudson from New York proper. On board was John Bell, now a distinguished senior journalist, but then a young spark whom the BBC occasionally let out. Here is his tale.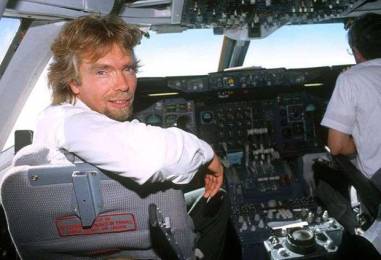 Of course, it was a long time ago – the Russians boycotted the Los Angeles Olympics, President Reagan was on his way to his second term and the lights of Britain flickered as the miners faced up to Mrs Thatcher. But no, it wasn't all doom and gloom as Prince headed the charts with Purple Rain and Ghostbusters was a major hit. It was early on in this confusing year that a fellow law student of mine at Middlesex Polytechnic – the late Randolph Fields – approached Richard Branson and the Virgin Group with his consumer-led idea for a new airline – British Atlantic. After all, Randolph told Richard, music and travel are both consumer-led businesses so there is a natural fit. Everyone at Virgin disagreed – apart from the boss. "Good idea," said Richard, "we'll start in three months' time".

And so, almost on a whim, Virgin Atlantic, as it became, was born and Randolph Fields' rather vague idea which I'd been following for some time, took off. I'd just arrived at the BBC – a refugee from the law – to cover travel and tourism for those long-gone stars of Radio 4 – 'Going Places' and 'Breakaway' so a new airline, with a soon to be very famous boss, was a gift of a story for both programmes. That's what I thought but interest was there none.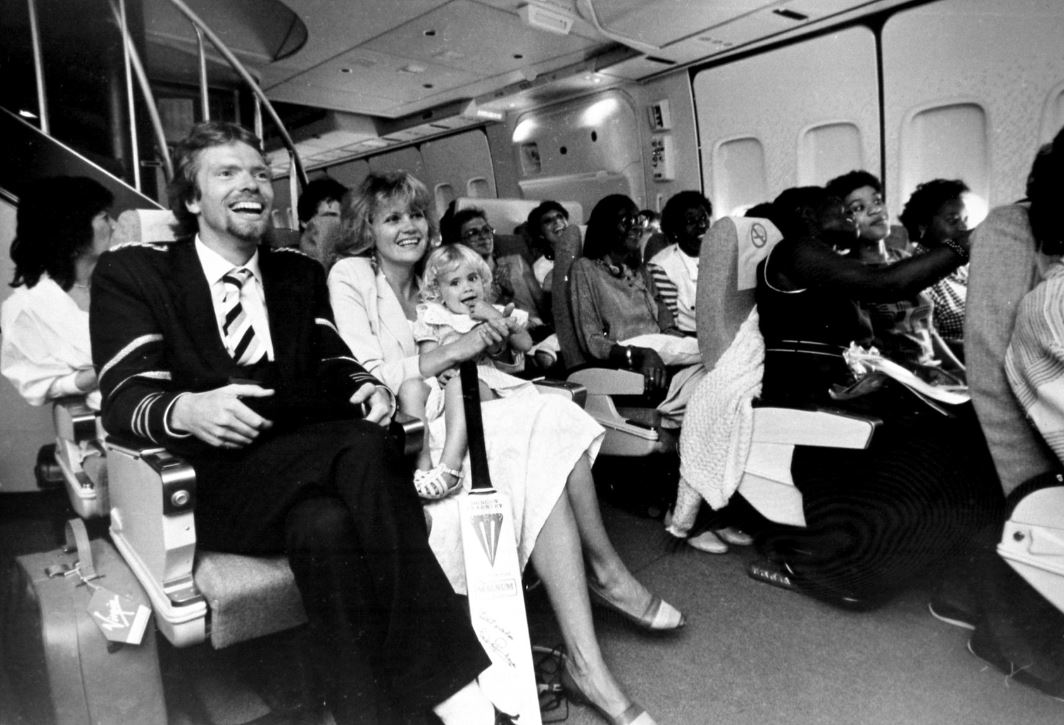 Aviation had been in the headlines for too long. We had President Carter's 'open skies' policy, Southwest Airlines was well established in the US, People Express Airlines started up in 1981, the Freddie Laker and 'Skytrain' saga had ended two years earlier in 1982 and none of my, very senior, colleagues at the BBC or in the wider world of the Financial Times or the Daily Telegraph gave a new airline, with one aircraft and led by a minor music mogul a chance.

So, I was on my own on Friday 22 June 1984 when I turned up at Gatwick for the first ever VS flight. Gathered around me in the fairly basic pre-departure rooms at Gatwick – this was long before the famous Virgin Club rooms – were a collection of recognisable faces. I was no expert on the music industry but it was obvious that if you were signed to Virgin then you were good celebrity fodder and sprinkled amongst the great and the good even I noticed fork bender in chief Uri Geller, Clement Freud MP – famous for voice-overs on dog food ads, and actor John Hurt who, appropriately had just finished filming George Orwell's '1984'. With them, in what was to become a tradition, were Richard's family, father Ted and mother Eve – herself an ex-Stargirl with British South American Airways.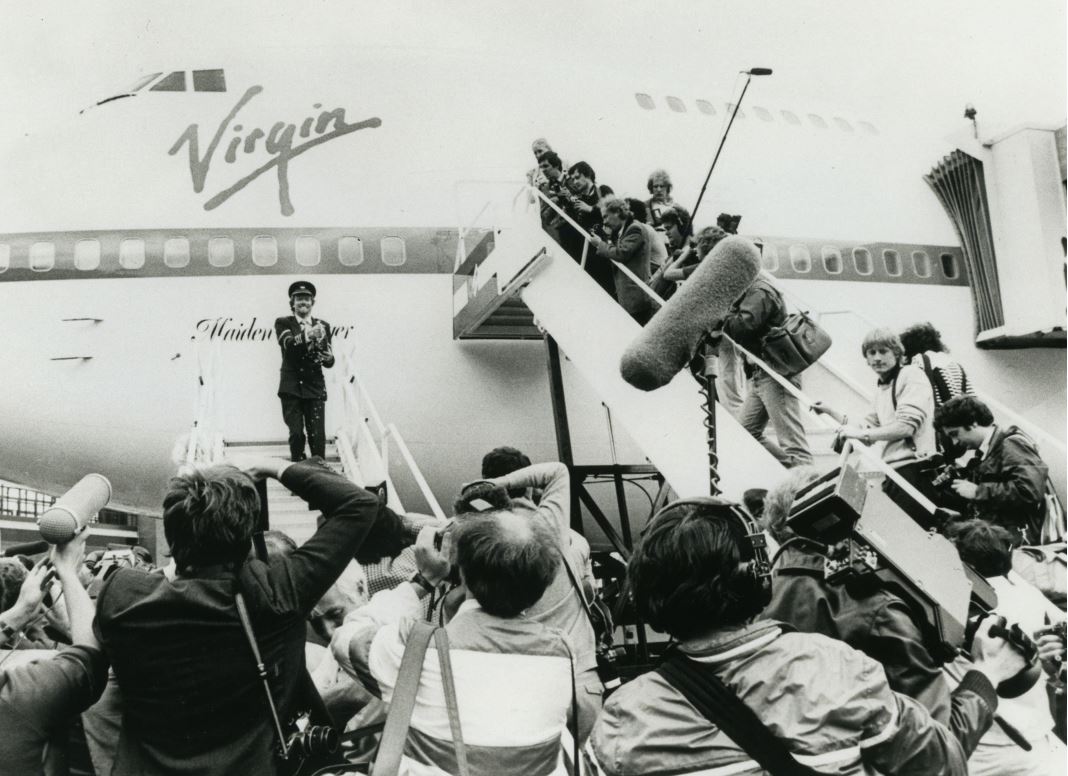 Perhaps I'd been listening too closely to my 'doom and gloom' colleagues but the betting on failure was still quite high when we boarded 'Maiden Voyager', the former Aerolineas Argentinas 747-200, for that inaugural flight. We'd already heard that there had been an unscheduled engine change the day before but just 25min late we were away down 24L. In those days, of course, there was no seat back entertainment and on the large bulkhead screen appeared something quite common in the 1980s – the view from the cockpit camera with a rear view of the pilots' heads. As we lifted off one head turned to the other and said 'do you know how to drive this thing' and the other replied 'no, I thought you did." Both heads then turned to face the audience revealing cricketers Viv Richards and Ian Botham. Virgin, it seemed, was going to be different.

'Our service is better than the normal scheduled airline but at half the price' was a line trotted out very frequently on that journey. 'Every airline flies the same tube – it's what you do inside the tube that matters' was what Branson said in his interview with me and boy was he correct. He praised his hero Freddie Laker to the skies but Virgin wouldn't just be another Skytrain, he said, and then added 'anything you want to know about this business – just ask'. For a cub, in experience terms, reporter used to being shouted at by Lord King at British Airways for asking 'difficult' questions, this was manner from heaven,


On the upper deck of that 747 it was one big party. You couldn't hear yourself speak for the popping of champagne corks and Georgie Fame with Culture Club singing 'Karma Chameleon'. David Frost – by then a weekly commuter on the Atlantic – told me that for seven hours he stood up talking with a constantly refilled glass in his hand. In fact, Ian Tait, the airline's number one employee, was always amazed that VS1 had never made it into the Guinness Book of records for the largest amount of Champagne ever drunk on a single flight.

Arrival at Newark Liberty Airport, almost on time, was slightly chaotic as we had to de-plane quite a number of people who, in the nicest possible way, had had one too many. I never thought that my new career would involve carrying a famous actor down the stairs on my shoulder but Ian Tait recalls Branson forgetting his passport and accusing the Mayor of Newark of being the caterer for the arrivals party. Why is my memory of this so clear? Not a drop had passed my lips. I had to go straight to the BBC studio in the Rockefeller Center and broadcast a report on these events and on New Yorkers reaction to our arrival. 'The airline is called what – Virgin – funny name'. But a name they would remember."

On 22 June BTN will be telling the story of VS, warts and all, an airline that has kept others on their toes. Whether it will be a happy anniversary is really outside its control. Airlines need travellers. Travellers we have not got!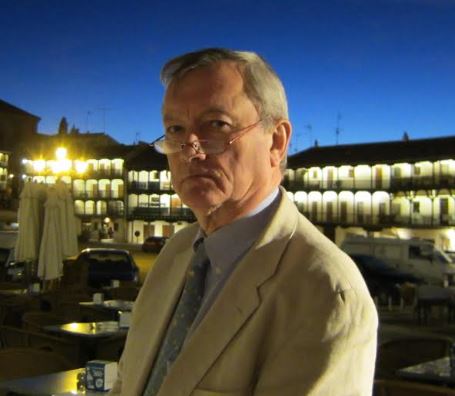 John Bell is a freelance travel journalist who moved from the law to BBC Radio and TV. For a decade he edited the Channel 4 independent travel show 'Travelog' before moving to 'HotSpots' on CNN. John is now a consultant (UNESCO and UNWTO), a radio 'pundit' and visiting Lecturer in Tourism and Media at the University of Addis Ababa and Monash University, Melbourne.

www.btnews.co.uk

OUR READERS' FINEST WORDS (All times and dates are GMT)
All comments are filtered to exclude any excesses but the Editor does not have to agree with what is being said. 100 words maximum
---
David Starkie, London
Good to see the late Randolph Fields gets a mention in the initiation of the Airline. Thank you John, from an ex-colleague of Randolph.
---