John Holland-Kaye was appointed CEO of Heathrow Airport July 2014 having joined the company as commercial director in May 2009. From November 2012, John was development director responsible for delivering the £2.3bn Terminal 2, The Queen's Terminal, which officially opened on 4 June 2014.

Never in his wildest dreams could he have foreseen the mission that now lies ahead of him as, in effect the proprietor of the gateway to Britain, the focus for the community and economic well-being of the nation. See also in this issue Heathrow's quarterly results.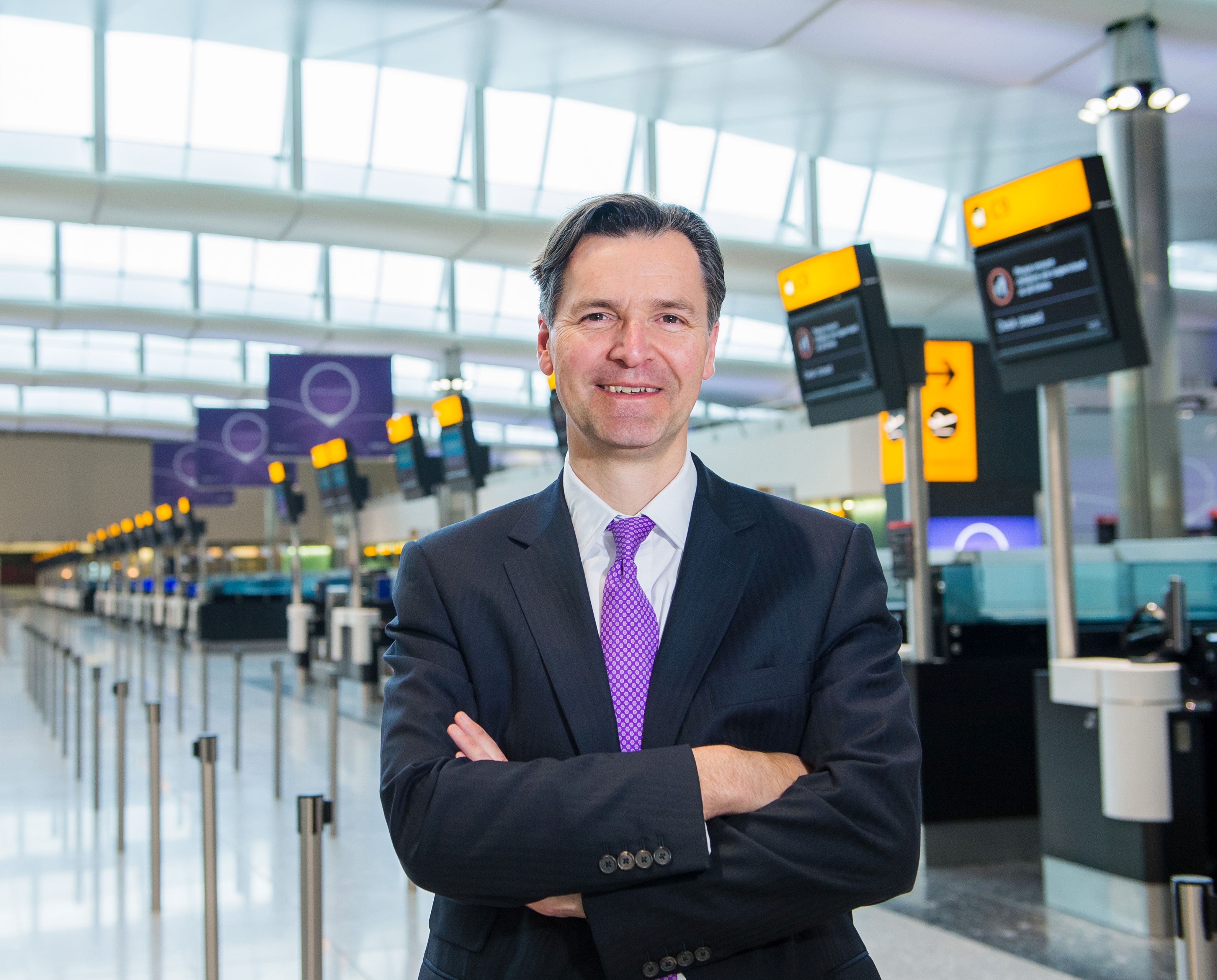 Last year, some airlines celebrated their centenaries, taking their customers on a journey through the ages and showcasing how the passenger experience had transformed over the years. With air travel going from being a rarity to a global phenomenon all of our lives now rely on it. Whether it is connecting UK businesses to international markets, reuniting loved ones living on opposite sides of the world or facilitating just in time supply lines, aviation is something our trading nation needs.
Heathrow reported its most successful year ever in 2019, welcoming over 81 million passengers and generating record-breaking amounts of revenue which kept passenger charges low. Our biggest challenge was managing the increasing demand, by investing and innovating to improve the passenger experience and maximise the use of our estate.
In 2020, we've all experienced history in the making, with the travel sector grappling with what might be its biggest challenge since the advent of commercial flight. This is the first time in living memory that countries across the globe have all had to implement draconian measures to curb the spread of such a deadly and contagious disease. The most recent instance of such a widespread pandemic is Spanish influenza, back in 1918.
Our recent figures reflect this, with passenger traffic shrinking by 52% and set to decrease even further as communities across the globe keep their borders closed so they can shake off coronavirus. Where a lot of work had previously gone into accommodating all of our passengers across our four terminals, our teams are now focused on consolidating operations into just two of Heathrow's terminals, with planes using only one of our two runways.
Although the outbreak of Spanish flu and the current impact of COVID-19 have their similarities such as the uncertainty, concern and the heroic response of healthcare workers, there is a key difference between the two; our access to technology.
And it is technology coupled with medical advances that will empower us to emerge stronger and better than we were when we entered this crisis. Technology will enable us to develop a new standardised set of measures for airports which will help to provide passengers and colleagues with the reassurance they need for international travel to resume as countries begin to ease their lockdowns and we prepare for a new normal.
What is clear is that passengers' expectations will change as a result of this. Whilst Heathrow will continue to be guided by the medical experts on what this might look like, we will also be showing leadership in assessing what all options could look like at our airport in the future. Change is coming and Heathrow will be at the front of helping to shape what that looks like, that will see confidence return more quickly than if we were to leave the disjointed approach between markets to continue.
Our new future could be a physical check conducted before permitting passengers into the central terminal area. Or it could require clearance to be given prior to entering the airport, or even innovative technology that will mean person to person contact is no longer needed at search. Whilst we don't know exactly what it will look like, we are clear that the measures put in place need to be medically effective, passenger friendly as well as being procedures that can be implemented in an airport environment. And above all, they need to be consistent, unlike the checks we are seeing in airports across the world today.
Our business has taken responsible steps to protect as many jobs as possible. These moves will make sure we survive this crisis and can scale up again as soon as a consistent package of measures is agreed upon. They have also helped to keep the airport operational during this difficult time, so that Heathrow can play its part in the fight against COVID-19 by receiving the pharmaceuticals and PPE needed to tackle this crisis. Scaling up our freight operations and prioritising cargo flights with medical supplies has seen our cargo-only movements increase by 1100%, compared normal operations.
One lesson from COVID-19 is that we need to recognise the early warning indicators of a potential crisis before it is too late. We will weather the storm of COVID-19, but at an enormous cost. The same may not be the case with climate change – if we get it wrong, no vaccine or lockdown will help us. Investment now will avoid mankind paying an unimaginable price later. So as we rebuild our economy, we need to build back better, accelerating the transition to zero carbon aviation. We need to drive hard to scale up production of sustainable aviation fuels as well as electric and hybrid planes.
This might be one of aviation's biggest challenges yet, but our sector has overcome a number of hurdles – it wasn't too long ago that flight itself seemed impossible. With proper collaboration across industry, we can put in place a process that will make travel great again, giving governments the confidence needed to re-open borders, enabling our sector to continue to create jobs and provide the boost needed to aid the country's economic recovery.
OUR READERS' FINEST WORDS (All times and dates are GMT)
All comments are filtered to exclude any excesses but the Editor does not have to agree with what is being said. 100 words maximum
---