With a background that includes membership of the 'Vision 2050' Group, established by the director general of IATA to consider the future of the airline industry, Chris Tarry shares his views with BTN readers (and do comment in OUR READERS' FINEST WORDS at the end of this feature – Editor). He writes a monthly column for Airline Business Magazine and is a visiting professor at Coventry University as well as lecturing and commenting on industry issues.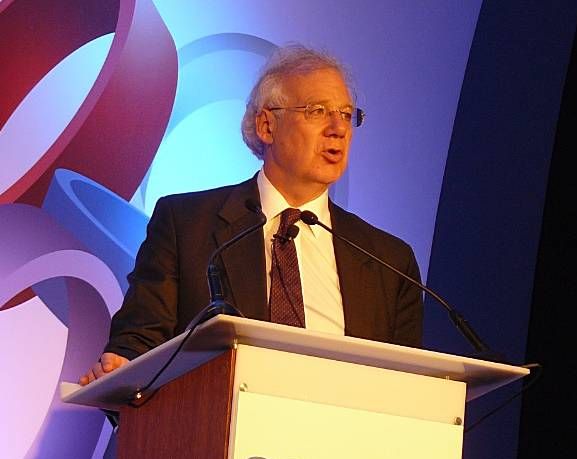 "It will be a considerable time before travel restrictions are lifted and countries become more open, let alone when passengers are confident that their risk of catching the virus associated with travelling is acceptable. Airports and airlines need to satisfy themselves that they are not in effect creating infection hot spots as travellers and staff come together.
Electronic passports were always thought of as something for the future. Not any longer. Air travellers will very quickly be required to have their medical history and vaccination details on their smart phone. Air Canada (see in the issue) will be followed soon by other airlines requiring passengers to wear facemasks.

Meeting the requirements of social distancing at airports, where a 2m gap at security would require a queue of almost 350m for just one short-haul flight at pre-crisis loads, is perhaps the first problem, that is after the normal security inspection issues. Prior check-in is essential and whilst one may criticise Ryanair for some of their "efficiency" measures over the years, this is one that has been copied by virtually every airline (and other businesses too).

However the need for social distancing also on an aircraft would result in a maximum compliant load factor of between 20 and 25% with current cabin densities and seat pitch, depending on the layout. Of course not that many people will travel. Clearly there is a need for intending passengers to be demonstrably virus-free before they reach the airport which is something that has implications for testing and communicating the results.

Clearly the timing of what might best be described as the starting point of the recovery to the "new normal" at each country will not be the same. Whilst China has begun to recover, capacity at the end of June will be some 40% lower than that in the corresponding period in 2019; many other countries are reporting capacity 80-90% below 2019 levels. The markets will all not open at the same time.

We have seen from the comments from Carsten Spohr of Lufthansa that even on reasonable assumptions (and without a second let alone a third wave of outbreaks of the virus) he would expect to be operating more than 25% of group capacity by the end of September and 75% by the end of the year.

Beyond this there have been a raft of announcements around decommissioning (Lufthansa 40 aircraft) early retirements (IAG 67 aircraft) and also deferrals (See easy it's not, at Luton in this issue) with many more to come – Avolon has just cancelled it order for 75 MAX, a week after reporting that some 80% of its customers had requested relief from payments. CityJet has floundered (see in this issue). It will not be the last established airline to find itself in serious trouble.

Notwithstanding government support for airlines which will need to be followed by a significant second round of financing, airlines will fail. For governments, decisions around financing are fraught with a range of issues.

There should be no doubt that the "new norm" will be characterised by a smaller industry. Notions that traffic will be back to previous levels by the end of 2021 are a manifestation of unfounded and misplaced optimism – the impact on corporate and household budgets has been profound and will be long lasting.

Even if an economic depression is avoided it would be dangerous to underestimate the depth and pervasive nature of the economic impacts. After the great financial crisis in 2008 it took until 2016 for the number of flights to return to the levels seen in 2007.

Against this background there are a range of issues that arise for airports where the previous need for airport expansion has at a stroke fallen from the top to the bottom.

There has been increasing commentary on the improvement in air quality resulting from the material reductions in all modes of transport. The logical and perhaps inevitable next step is to pose the question "just how much travel in the future do you need?" And where it would be reasonable to conclude that more binding environmental constraints are brought in earlier than previously anticipated, this may become increasingly difficult for governments to ignore and to argue against.

Such outcomes raise a number of questions for regulators across a wide range of areas; for example how long should the 'use it or lose it' rules be suspended. Will the industry emerge with new and lower caps on annual airport movements? How will this affect operational efficiency? Typically Heathrow's plans for all electric service vehicles could be speeded up with a demonstrable environmental gain. Stansted is using this 'quiet' period for runway work during daytime hours rather than at night (see in this issue). Airports have relied on what is termed 'Duty Free' as a source of retail income. Brexit is seen as a realignment for UK airports but will this revenue continue pro-rata with passenger numbers?
The re-introduction of the 'use it or lose it' rules could result in many slots being returned to the pool. Against such a background the rather fundamental question is – what might slots be worth now? And in terms of collateral too.

In these unprecedented times it is even more important than ever to expect the unexpected where the mantra to "plan for the worst but hope for something better" is particularly apposite".
CHRIS TARRY
OUR READERS' FINEST WORDS (All times and dates are GMT)
All comments are filtered to exclude any excesses but the Editor does not have to agree with what is being said. 100 words maximum
---
Gary Hudson, St Helier
Living on Jersey, we naturally as an island, rely on frequent, quality and reliable travel links, in particular to the UK mainland We do have ferry links, but at 4 - 12 hours journey, dependant on route, tides etc, this is often not practical, so our pre virus travel connections preferred, with some routes essential (off island medical), were flight links Whilst, post virus travel may have us proving somehow we are virus free, and most likely longer queues at airports (but with fewer travelling maybe not), the one thing I refuse to do, and therefore may not be travelling for a while, is wear a face mask. I've no problem if say on a domestic flight Jersey to London, although wouldn't be by choice, but on a flight say, London to Miami, absolutely not. The face covering would not only become irritable, but l would also think in itself be a health hazard, and whilst you could probably change this midair, l'm not carrying 20 face masks (1 each hour, both outward and return), so l would not travel
---
Philip Shearman, Cheltenham
Thanks Chris Very interesting and alarming. Clearly the whole industry, including a/c manufacturers must re-think the role of air transport in the future. Big job!
---