Heathrow expansion is critical. This is why.

John Holland-Kaye was appointed CEO of Heathrow Airport with effect from 1 July 2014, having joined the company as commercial director in May 2009. From November 2012, he was development director and was responsible for delivering the £1bn annual investment in transforming the airport. This included the new Terminal 2: The Queen's Terminal, which opened on 4 June 2014. Before Heathrow, Holland-Kaye was divisional CEO with Taylor Wimpey Plc, and is a former managing director of the National Sales Division of Bass Brewers. He has also worked as a strategy consultant with LEK Consulting for a number of high-profile businesses.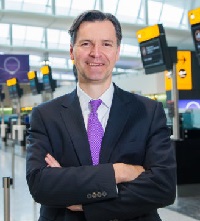 At the dawn of a new decade, there is much to look forward to. And at Heathrow we are focused on the opportunity to help build a Britain that is a global magnet for growth.
Heathrow's expansion is critical to the country's future prosperity. The UK's major hub airport has been at full capacity for years, limiting the ability of British businesses to export their goods all over the world.
Expansion creates the chance to connect all regions and nations of Britain to the world's growth markets, cementing the country's place in the global economy for generations to come.
Through private investment by Heathrow's shareholders, we will expand sustainably, boost connectivity and unlock a better experience for passengers with cheaper tickets. Investment in new technologies will speed up journeys through the airport, enhancing security and boarding experiences.
If we want to get the country's economy fighting fit, then expanding Heathrow is a must-do.
Just before Christmas, we submitted our initial business plan to the Civil Aviation Authority, setting out a vision for the 2020s and how we will deliver extra runway capacity in a sustainable, affordable and financeable way.
Our plan sets out two possible strategic approaches: one that prioritises more rapid growth; and one that prioritises customer service.
Prioritising more rapid growth and accelerating increased airline competition would lead to lower fares and open terminal spaces sooner. This wouldn't be at the cost of customer service – standards would continue to improve but not to the same degree as proposed under the second option.
The option of prioritising enhanced passenger experience would see more investment in rail links to the airport and greater service improvements, even with significant growth in passenger numbers. Airport charges in this scenario would be slightly higher but still dramatically offset by the increased airline competition that would be facilitated.
Crucially, both these two development tracks would see expansion delivered before 2030, bringing benefits to passengers, to local communities and to people and businesses across the country.
For passengers, both options would deliver improved service and lower airfares as a result of increased competition among airlines.
For local communities, stringent environmental targets around noise, air quality and surface access would still be met.
And we will continue to play our part in tackling carbon emissions. In the coming weeks, our airport infrastructure will be carbon neutral and we are working hard to go even further and achieve net zero status as quickly as possible.
The range of groups that will be impacted by our growth is why this process must continue to be a conversation with local communities, business, airlines and passengers.
We know that airlines have a commercial incentive to maximise their yield per passenger, whereas the airport is incentivised to increase passenger numbers and reduce the cost for every passenger that passes through.
We will now work with airlines, consumers and local communities to finalise a plan that gives the best balance for everyone. Then the time for debate will be over and we will crack on to deliver the airport that Britain needs.
The UK's businesses have already had to suffer 50 years of indecision on airport capacity. They can't afford further procrastination. Runways – like roads, railways and ships – are key to doing business with the wider world.
The value to the UK will be immense. The UK's only hub airport will become the best-connected airport in the world. This is vital as UK businesses trade 20 times more with countries to which they have a direct flight.
Increased connectivity will benefit businesses of all sizes, across every nation and region of the country. Expansion will provide tens of billions in economic benefits to the whole of the UK, creating tens of thousands of jobs in every region and nation of the country.
Heathrow expansion, undertaken sustainably, will restore Britain's reputation for delivering major schemes on time and to budget – and secure the country's position at the heart of the global economy.
OUR READERS' FINEST WORDS (All times and dates are GMT)
All comments are filtered to exclude any excesses but the Editor does not have to agree with what is being said. 100 words maximum
---
Brian Donohoe, Scotland
WE NEED HEATHROW AS SOON AS OR WE WILL BE GOBBLED UP BY ALL THE COMPETITION Time to get real and stopped all the talking and start building As I've contributed in the past use Northolt as a solely Domestic connection Time is running out Sir Brian
---
William Tahil, France
Heathrow expansion is neither necessary nor desirable. Use bigger aircraft. In another 50 years will Healthrow have to be double or triple it current size to accommodate "growth"? That's your spurious logic. Why has the A380 been killed when BA were clamouring for it for Heathrow in the 1990s? Lowest emissions and fuel burn per RPK of any aircraft and the passenger's favourite for comfort - which counts for nothing in reality. The A380 has been killed for political envy because Boeing couldn't match it - just like MacNamara killed Concorde out of envy. Plus ca change.
---
Gerald Stevens, Isleworth
Absolutely no substantiated facts. Usual waffle. What about local infrastructure ? What about increased pollution (from air and ground) ? Where are all these people going to live ? How are they going to get to work ? Air fares are already FAR too cheap ! Holland-Kaye needs to get real !
---
David Starkie, London
The original opening date was 2026, now it is "before 2030". HAL have never explained why it abondoned its earlier simpler, cheaper proposals which could have been delivered more quickly. But all is not lost if it adopts my proposals for a two-stage runway (see BTN Comment 14 September 2015)
---
Simon Grigor, Harrow
I don't disagree with anything that Mr Holland-Kaye says, but I wonder if his plans pay any attention to two aspects of an airport expanded in the future? (i) numbers of gates - I wonder how many other BTN readers have landed at LHR only to wait on a taxiway because the arriving aircraft's gate is occupied? (personally, at least four times in 2019, I think all at at T5); and (ii) the length of time to check-in if you're flying with luggage. It can become a nervous experience waiting in a non-moving queue for an hour, thinking you're going to miss your flight! And from Mr H-K's perspective it's less time spent in the shopping outlets! (I was very close to missing a Turkish flight from T2 last summer, mainly due to the massive amount of luggage being taken on board by assorted Africans who were changing flights at Istanbul, but that experience wasn't unique).
---