Air Force One is a flying White House which could become the command centre of the United States in a serious emergency situation.
SAM 27000's last flight as Air Force One was on 29 August 2001 when it took President George W. Bush from San Antonio to Waco, Texas. It was formally decommissioned, flown to San Bernardino International Airport, dismantled and roaded to a permanent display at the museum overlooking the picturesque Simi Valley. In 1983, President Reagan and the Queen toured the US West Coast aboard Air Force One.
The aircraft flew President Reagan more than 660,000 miles to 26 foreign countries and 46 US states. It has a four-man cockpit and the president had to share the restroom with the crew or walk to the other end of the aircraft to the familiar location on narrow-bodied aircraft. A B707 cannot be modified that much.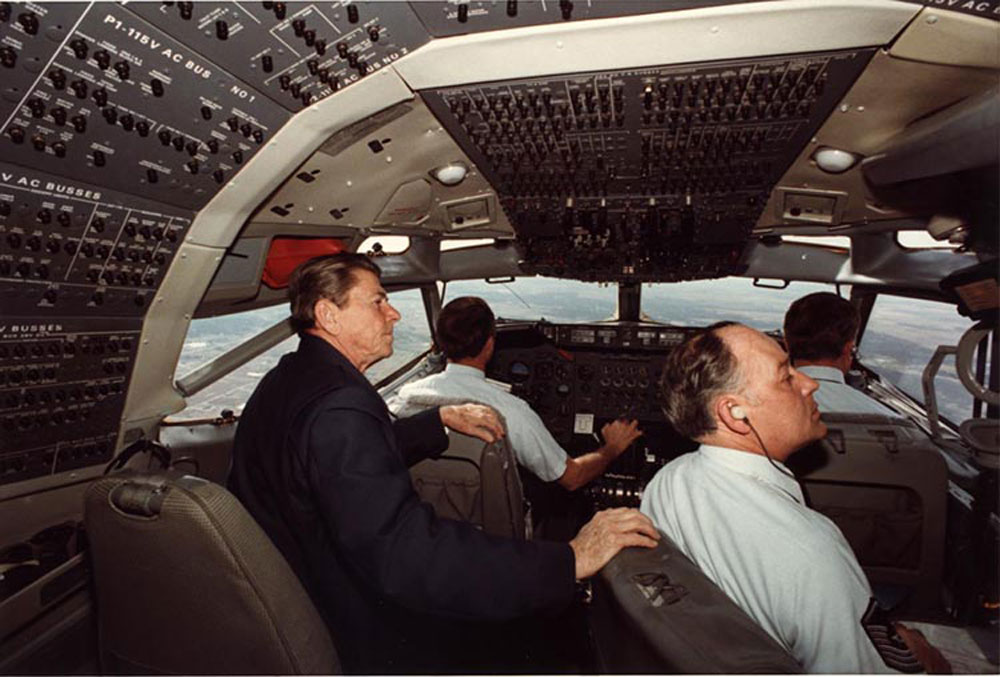 As visitors saunter through the aircraft, they can see the commander in chief's private cabin and the working areas for various members of his staff. There is a press section at the rear, five rows on one side with three seats in each, standard B737 Economy. Media pay for their flights at a rate designated as First Class.
Last week during a very short visit to Los Angeles, I was able to walk through the Boeing B707 (military C137), tail number 27000, the star exhibition at the Ronald Reagan Library and Museum, writes Malcolm Ginsberg. It served seven US presidents from 1973 to 2001 – Nixon, Carter, Ford, Reagan, George H.W. Bush, Clinton and George W. Bush. For Ronald Reagan, this was the plane in which he hand-wrote many of his speeches, signed important legislation and even officially started the Daytona Beach, Florida NASCAR race via phone.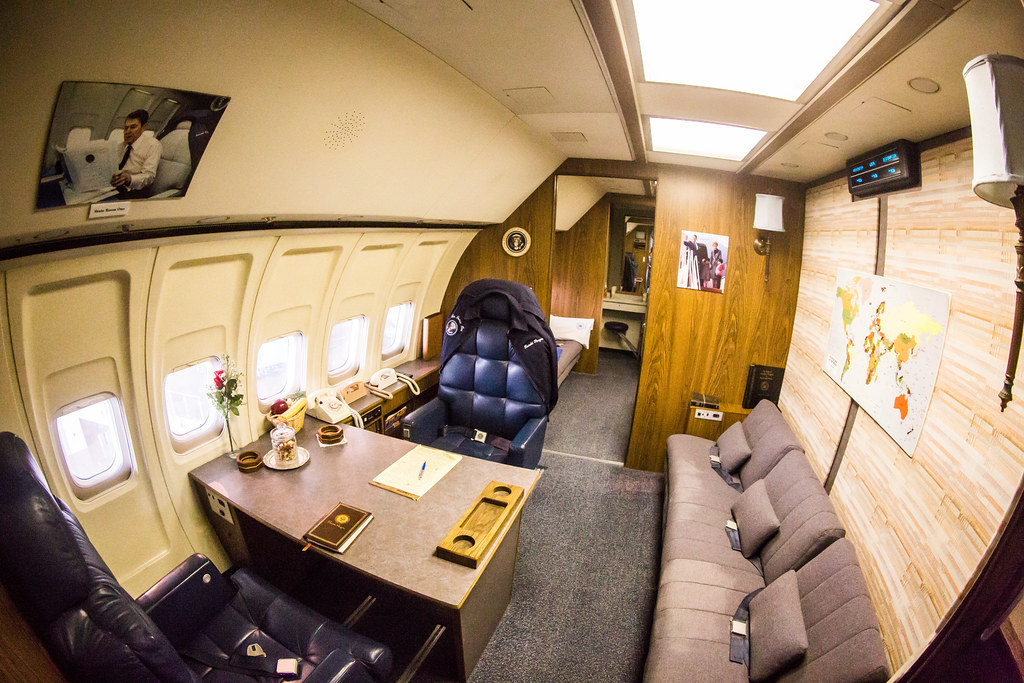 The Air Force One Pavilion is also a hospitality centre that can seat up to 1,400 for a dinner or slightly more in theatre style. Also on display is a presidential limousine and visitors can walk through the Sikorsky Marine One helicopter that flew President Johnson. A 120ft mural represents all 22 aircraft that have ever been flown by a US president. On a more mundane level, there is a replica of the actual Irish pub in Ballyporeen, County Tipperary, which Reagan visited on a trip in 1984. It now serves as a snack shop. There is a larger self-service restaurant in the main building.
On entering the museum proper, the first thing to take in is a hologram of the president. Working with award-winning Hollywood special-effects people, the Ronald Reagan Presidential Foundation and Institute created a first-of-its-kind. Visitors can try to catch one of three separate scenarios that rotate throughout the week. They were created using various portions of Ronald Reagan's speeches and audio recordings. Every word expressed in the holograms was actually spoken by Reagan during his life.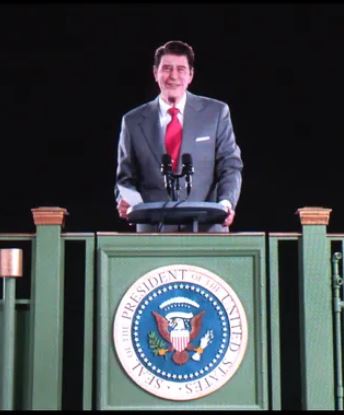 Using photos and video materials, an "introductory" video was created for each scenario that provides background on the environment and location of the presentation.
I viewed a very lifelike presentation of the Oval Office with the president, who had just returned from a trip on Marine One, entering the room and talking to us about the history of the most powerful office in the world, decisions that he made in the office and people that visited him there.
For visitors, there are 18 galleries that pay tribute to America's 40th president and his accomplishments by capturing his patriotic spirit, his respect for individual liberty, his belief in global democracy and his support of economic opportunity.
The museum experience integrates hundreds of artefacts and dozens of interactive displays for visitors of all ages to explore, one of which intriguingly allows one to act in a film with the only movie star to become president. If the presentation is not busy, you can 'take two', or perhaps even three, takes. As an alternative, Reagan's inaugural address on the steps of the US Capitol is offered.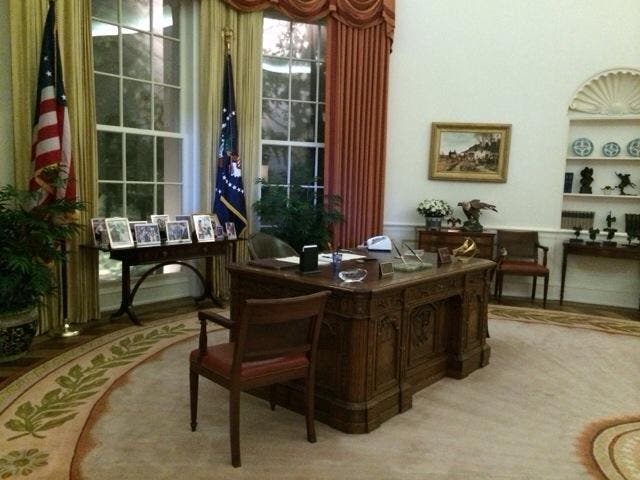 What makes the whole museum different from any similar UK offering is the way commerce is built into every display. Each has a sponsor, either a company, or a family. The General Electric Theatre takes you back to the days when Ronnie Reagan was promoting GE products. His great relationship as a horseman with the Queen is shown, and also Maggie Thatcher. On display is a piece of the Berlin Wall famously dismantled during his tenure. Of all the historical events during his time in office, none was more potent that the attempt on his life, with news footage of the 1981 incident shown.
Described as a "Day of Infamy" by President Roosevelt, 7 December 1941 marked the covert attack by the Japanese on Pearl Harbour. With this in mind, the Reagan Museum on Saturday 7 December 2019 unveiled its latest major exhibit, an F-117 Nighthawk Stealth Fighter. Officially Tail #803, nicknamed "Unexpected Guest," it flew more combat sorties (78) than all other F-117s combined. The aircraft entered service in May 1984, during Reagan's administration. Unlike the B707, this exhibit is external.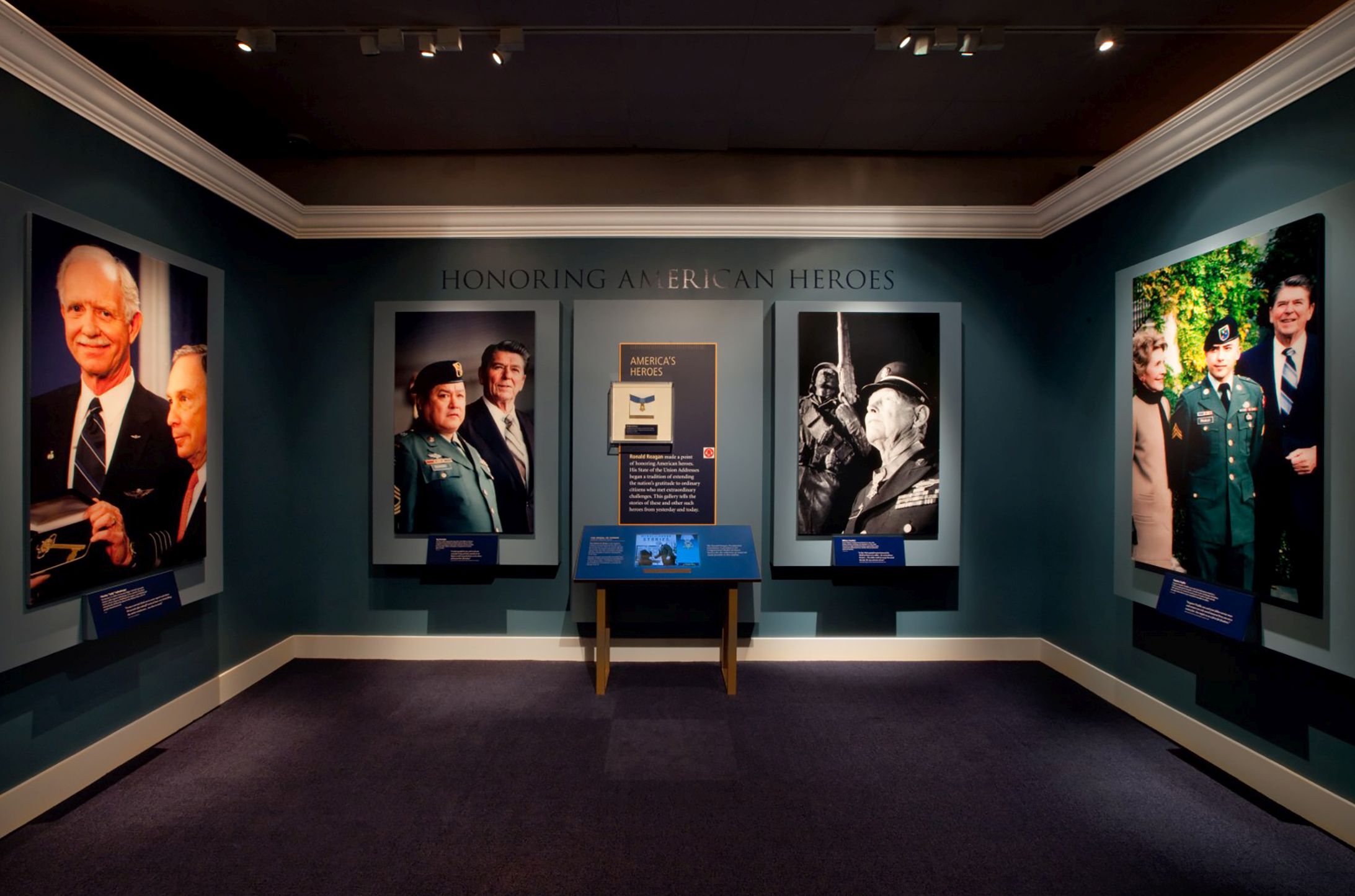 The F-117 Nighthawk was the world's first operational stealth aircraft. Between 1981 and 2008, Lockheed Martin produced 59 operational F-117s and five developmental prototypes, but the aircraft weren't publicly acknowledged until 1988. They became known as "stealth fighters," the F-117's angular shape designed to reflect radar waves and bolstered by the use of a radar-absorbing material. Because the aircraft was expected to operate only at night, it was painted black to make it more difficult to discern against the night sky.
Also on display is an F14 Tomcat. With the addition of the F117, the museum is clearly highlighting its Reagan administration-era military aircraft display. Why not a US Marine BAe Harrier at some point in the future? It could self deliver. Would The Falklands be mention in the captions?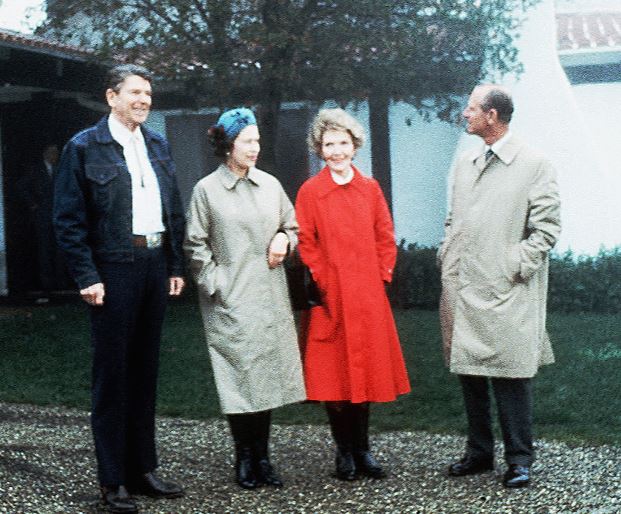 I did not have time to visit, but the museum also mounts on a regular basis a series of exhibitions on other subjects and is currently offering Egypt's Lost Cities – described as a fascinating look at two ancient civilisations that were lost to natural disasters and the rising tides of the Mediterranean Sea.
Underwater archaeologist Franck Goddio and his team discovered the sites, revealing monumental statues, religious images carved in stone, exquisite jewellery, and delicate ceramics – and a greater understanding of life during the age of the pharaohs. Two hundred of these authentic artefacts are exhibited including colossal 16ft sculptures. The exhibition is on until 12 April 2020.
My visit to the museum was too short. Access from Los Angeles International Airport is easy, with a 60mi drive along the 405 and 118 Freeways. Allow for at least half a day at the museum, although a full day can easily be spent.
The Reagan Library itself houses more than 55m pages of presidential and personal papers and 60,000-plus gifts and pieces chronicling the lives of Ronald and Nancy Reagan. It also serves as the final resting place of America's 40th president and his First Lady.

OUR READERS' FINEST WORDS (All times and dates are GMT)
All comments are filtered to exclude any excesses but the Editor does not have to agree with what is being said. 100 words maximum
---
Sheila Randall, Georgia, U.S.A.
I've visited there too with the Australian Tourist Authority. It's a very impressive venue. We had a banquet dinner and tour.
---