New-generation flying and the arrival of the millenials were features of the Paris Air Show this year. Alison Chambers takes a look into the future. Ken Brookes reflects.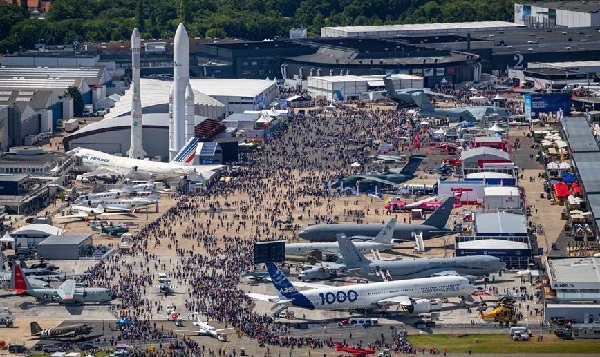 'Le moment de briller' ('Time to shine') is the 2019 motto for the FIFA Women's World Cup Football currently being played out to record crowds. It has been a brilliant set of matches so far; well organised and inspirational, bringing in a new generation of young girls and their families to France.
I was pleased to witness it, having caught a Normandy train to Honfleur after the biannual Paris Air Show. The additional traffic the World Cup brought to the capital added to the constant strain on public transport, but in Honfleur the arrival of young fans from Sweden and the US, excited to cross the bridge to Le Havre for the evening game, added to the ambience of the pretty harbour.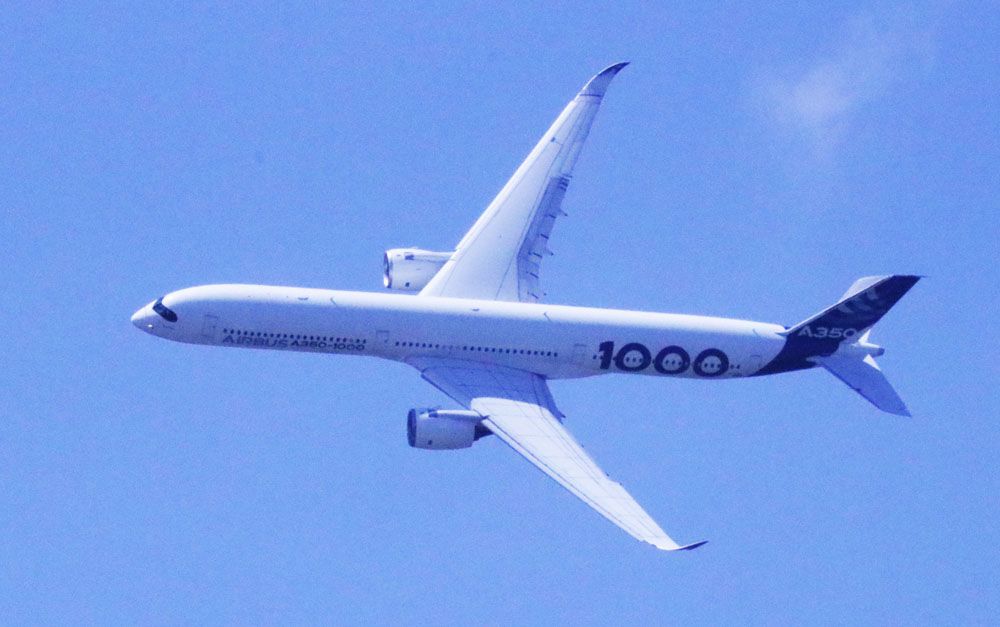 A few days in Honfleur with US friends was a welcome tonic after the heat and chaotic ground transport that goes hand in hand with the air show. Once in the air-conditioned chalets and halls (thank you Thales for brilliant media hospitality) business was full pelt, as usual. There were orders certainly, not the high numbers of yesteryear but some significant signings, including IAG's commitment to 200 Boeing B737 MAX (800 and 900 series).
What made this show stand out however, was the emphasis on next-gen – vertical lift, urban mobility, personal air taxis – because, just like the excitement of world-class women's football, our industry needs new talent from millennials coming in.
No surprise the OEMs are in on the act, poised to take a slice of a market estimated at around US$1.3trn, alongside entrepreneurial independents like Eviation from Israel, which celebrated a multi-digit order at the show from Cape Air of the US for its all-electric craft, Alice.
Fresh from announcing its purchase of US-based SETops manufacturer Quest Aircraft and its utility/cargo/floatplane Kodiak 100 (the CEO is ex-TAG Aviation's Rob Wells), Daher announced it is joining forces with Airbus and Safran on a new hybrid-electric EcoPulseTM, based on a TBM fuselage. First flight is scheduled for 2022. In a nod to the new disrupters, show organisers reinstated the Paris Air Lab as a venue for discussions and presentations, mirroring EBACE's well-attended Innovation Zone.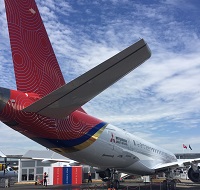 For many, these personal air vehicles can't come soon enough. Among other things, they are seemingly a swift way to get in and out of the show – as soon as their safety is proven, challenges such as battery power density and weight overcome an agreement reached on the airspace they can occupy. Already, Airbus is working with RATP Group to explore the feasibility of introducing VTOL vehicles to Paris for the 2024 Olympic Games.
A market of 40,000 GA aircraft worldwide has been identified by Eviation, reckoning that 700 aircraft are being replaced each year. Alice and other electric/hybrids stand poised to usher in a new way of affordable point-to-point travel and so serve as saviour of many under-threat small airfields.
This plethora of new eVTOL and hybrid VTOL concepts pitching OEMs like Boeing, Airbus, Embraer, Bell with tech companies like Uber, Intel and Amazon is reminiscent of the 1980s and that high number of commuter regional aircraft – this time adhering to environmental pressures.
According to Aerospace, a notable fact is three generations of chief technology officers from Airbus are involved in hybrid-electric projects. They are the Airbus E-Fan X, a hybrid-electric aircraft demonstrator based on the BAe 146 and due to fly in 2021 (Grazia Vittadini); United Technologies' Project 804, which specifies the Dash-8 Q100 as test-bed for a new Hybrid Electric Propulsion engine (Paul Eremenko), and Cassio from Italy's VoltAero (Jean Botti).
The revival of the de Havilland brand, by the parent company of Viking Aircraft, was a welcome development. Bombardier itself is now out of commercial aviation, reported as having sold its regional jet line to Mitsubishi of Japan. Mitsubishi showed off its new M100 'SpaceJet' and in Paris it highlighted an undisclosed US customer for 15 units.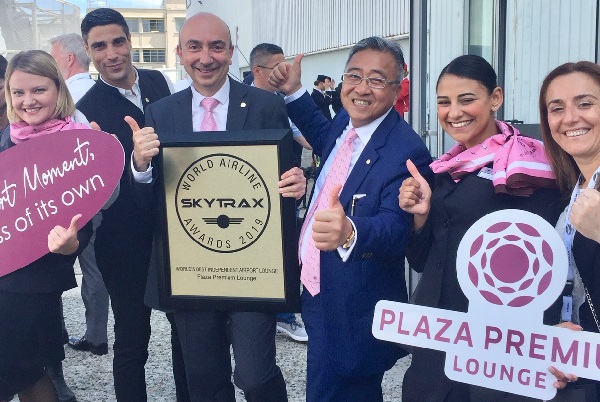 ATR announced 17 orders for its new ATR42-600S (S for STOL) designed for 800 m runways. Launch customers are Air Tahiti and Dublin leasing company Elix Aviation. ATR is finalising the process for official launch of the 42-600S, having obtained approval to take in orders, subject to the final launch confirmation from its board, expected before year end.
Denmark's Nordic Aviation Capital (NAC), the largest independent regional aircraft lessor, further bolstered its ATR portfolio, placing orders and options for 100, including 35 ATR72-600s; and taking options on 35 and purchase rights for another 35. Deliveries of the first 35 will begin in 2020. NAC chairman Martin Moller, having previously stated it was "not a matter of if, but when" (it would order the C Series) confirmed a contract for 20 Airbus A220s – both Dash-100 and Dash-300 versions.
Embraer signed 78 new orders, including 15 E195-E2s from KLM Cityhopper plus 20 more on LoU. Binter Canarias firmed up an order for two and the US scope clause-compliant Embraer E175 garnered an order for 20 from United Airlines, plus two from Fuji Dream Airlines.
Out in the sunshine to the L'Musee d'Air location, the Oscars of the airline industry, the World SkyTrax 2019 awards, brought colour and cheer. Qatar Airways – prominent in France currently as lead sponsor for the football – celebrated winning Best Airline for the fifth time, described by group chief executive Akbar Al Baker as "A landmark achievement. Combined with three other major Skytrax awards, it is testament to the tireless efforts of our entire team." More loud cheers went up for other winners, especially for Air Astana, Best Central Asia and India winner, and Ethiopian Airlines for best airline in Africa. Vietnam Airlines celebrated its four-star SkyTrax status.
The Plaza Premium Lounge at Heathrow Terminal 2 was named World's Best Independent Airport Lounge for the fourth consecutive year. Founder and CEO Song Hoi-see said: "As a world leader in airport hospitality, we are committed to continuously enhancing our experience to alleviate the pain points of travellers," The group announced a new Plaza Premium Lounge at Helsinki Airport catering to family travel, including sustainable educational toys, a STEM wall and selection of kids' TV channels.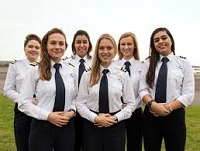 International training provider CAE held an airshow press conference to highlight its first three winners of its Women in Flight scholarship, a new initiative to encourage more women to become pilots and role models and influencers for future female aviators. The scholarship programme welcomes five pilots each year, with CAE contributing the total cost of training, plus helping to arrange airline flying jobs.
Group president Nick Leontidis said: "This is a catalyst to promoting more diversity in the cockpit, and we congratulate these winners as they pave the way for a new generation of pilots. The industry needs more than 300,000 new pilots. With women representing less than 5% currently, our scholarship initiative is a positive step in fostering better gender balance and encouraging a new generation."
For newly-enrolled recruits Georgina Thomas-Watson, of the Generation easyJet cadet programme; Daniella Saucedo Orozco, Aeromexico Cadet programme winner; and Bisma Petafi, CityJet Climb High Mentored Cadet programme, it is their "their time to shine".
www.worldairlineawards.com/a-z-airline-awards-winners-2019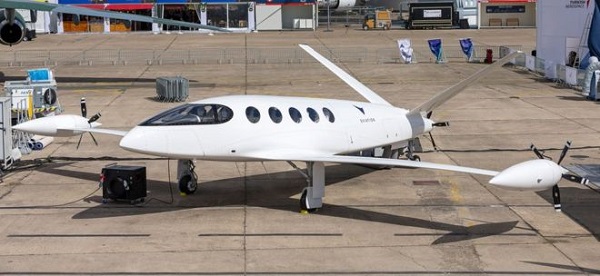 ILLUSTRATED IMPRESSIONS FOR BUSINESS TRAVELLERS
Ken Brookes, former president of the Chartered Institute of Journalists, reflects on the Salon de l'Aeronautique 2019:
"One of the best ever"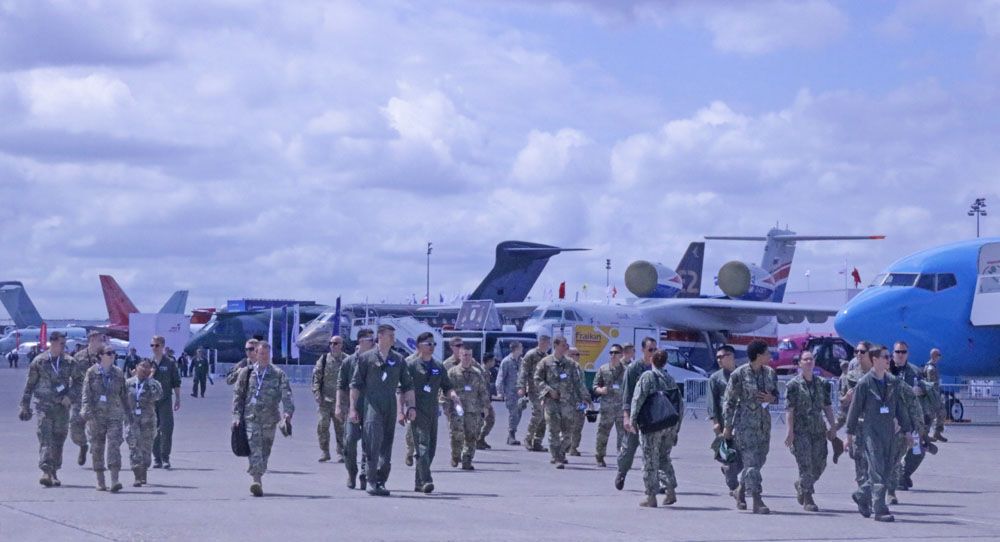 The Paris Air Show well deserves its proud boast of the biggest commercial air show in the world, at any rate in odd-numbered years. Unless you have a very restricted objective, it's now hard work rather than entertainment to negotiate the multitude of exhibits and increasing number of halls. Increasingly, larger companies have individual pop-up buildings scattered around the campus, often adjacent to flying-display exhibits or hospitality chalets. Come to think of it, it's even more of a chore if (as in my case) your technological interests are so specialised that no-one has even attempted to index them in the hefty catalogue.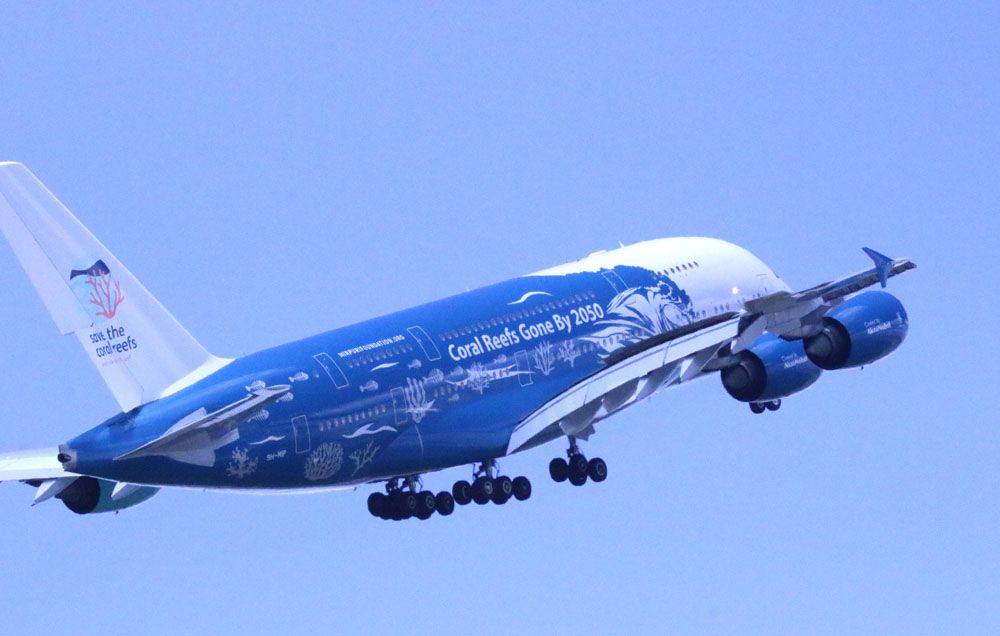 As always, the flying displays on public days eclipsed those aimed at the industry, including some spectacular efforts by '39-'45 wartime and more recent fighters, from Morane, Spitfire and Mustang to Rafale and F16. Commemorating D-Day, invasion stripes were much in evidence but, whilst they remain evocative on the Spitfire and C53 Skytrooper, (Douglas Dakota in the RAF), they looked incongruous on a 21st-century fighter, though clearly painted with best of intentions. Unfortunately, lack of space means I can't illustrate the perennial Patrouille de France demo team, which always opens the flying display.

A major story for current business travellers is the increasing deliveries of new-generation airliners like the Boeing 787-9 Dreamliner and Airbus 350-1000. With the increased design freedom imparted by carbon-fibre reinforced plastic, these are nothing less than beautiful, a far cry from the dumpy Marcel Dassault MD315 Flamant from the late 1940s, flown on the public days and contrasting with today's Dassault Falcon 8X.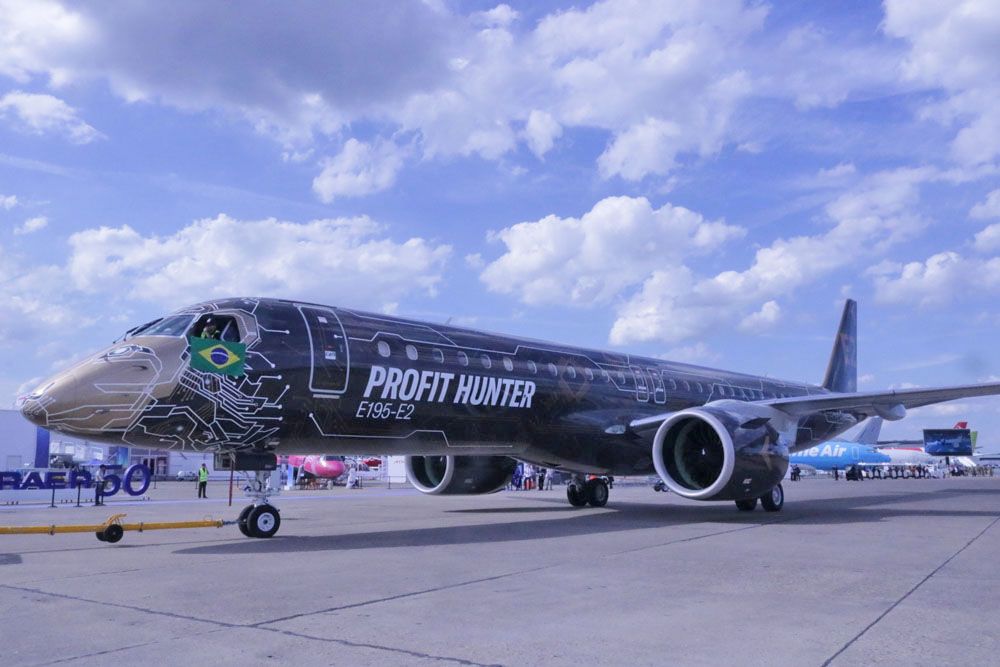 But for once other airliner manufacturers - like Embraer, with its cheeky boast of "Profit Hunter" for its E195-E2, and Mitsubishi's misnamed 'Spacejet' - gave the two majors a run for their money. Grumman showed off its latest G550 bizjets in front of Le Bourget's iconic control tower. This company's newly announced G600 is designed to fly at Mach 0.9. Interestingly, Airbus is still looking for A380 orders, though the version flown was an expensively painted flying billboard for the worthy "Save the Coral Reefs" campaign.

The static display of aircraft would have been more than decimated had it not been for an impressive contingent from the United States' Department of Defense, requiring more than 150 uniformed servicemen and women to man the barriers and answer questions. As they made little contribution to the flying display, could this have been a friendly arrangement between Macon and Trump?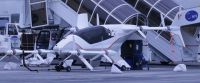 Though it hasn't yet flown, hit of the show for me was the Israeli company Eviation's Alice three-engined electrically powered nine-seater passenger 'plane (see above). It's taken more than thirty years since my photo of the world's first electric aeroplane appeared in the Guinness Book of Records, and that one was basically a showcase for Varta rechargeable nickel-cadmium batteries, The Eviation design, with claimed 600-mile range, has been carrying out taxying trials in Israel, but may transfer to the United States for its first flight. Production electric motors and batteries have yet to be chosen.
Elsewhere, genuinely flyable electric aircraft ranged from Pipistrel and Airbus single and eight-engined lightplanes to Boeing's Aurora showcased in a dedicated pavilion. Parked amid a clutter of airstairs, registered to Airbus Group HQ in Salt Lake City, Utah and apparently not yet flown, the experimental VAH001 flaunted an electric motor, eight in all, on just about every extremity.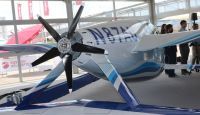 Boeing's Aurora experimental electric commuter plane had a five-blade pusher propeller on the nacelle and three more lift motors on each of the outrigger booms. Built mainly of carbon fibre, total aircraft weight was allegedly no more than 1000kg. The Aurora was accompanied by a large multi-rotor drone-type model which might have been an earlier project for a passenger carrier. Interestingly, no large electric aviation motors with corresponding propellers seemed to be in the offing, though I'd hazard that there are some interesting projects hidden away in Rolls-Royce, GE and other design centres.

In a Salon de l'Aeronautique bigger and better than ever, I would in retrospect have been pleased to spend even more time in the fascinating, crowded and increasingly extensive exhibition halls. But that could have taken days or weeks rather than the few hours available.

Text and photos Copyright © Kenneth J A Brookes 2019.
OUR READERS' FINEST WORDS (All times and dates are GMT)
All comments are filtered to exclude any excesses but the Editor does not have to agree with what is being said. 100 words maximum
---
No one has commented yet, why don't you start the ball rolling?
---