In his 10th year at the helm of London Gatwick, CEO Stewart Wingate reflects on a decade of airport transformation and the changing face of aviation. An airport veteran, Wingate was previously managing director of Stansted Airport and CEO of Budapest Airport. He started his career in engineering, becoming a chartered engineer for Black & Decker.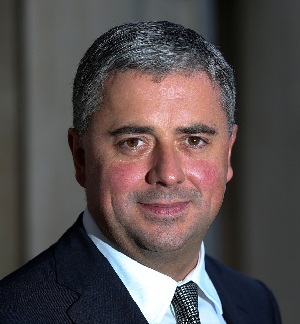 As I enter my 10th year at Gatwick, I've been taking stock of how much the aviation industry has changed – and what could lie ahead. Even at a time of uncertainty for the UK, as Brexit and the contest for who will be our next prime minister dominates headlines, I remain hugely optimistic about the future of the industry.
People still want to travel. We see strong demand for our services and across all the routes we serve – now more than 220 around the world. However, it's clear that people are travelling differently. They want more choice and competitive fares. They are willing to self-connect through airports or pay extra for what's important to them. Of course, they still want a slick and efficient service through the airport too – and this remains a huge focus for us.
Since 2010, Gatwick has invested more than £2bn in improving the airport. It looks and feels completely different today. We have invested in new security areas, with the latest technology designed to move passengers through quickly and safely. Today, 95% of passengers pass through our search areas in under 5min.
We have taken more time in recent years to understand the specific needs of our airlines and passengers, challenging accepted practice to do things better. Our Airline Moves project gave us the opportunity to work with easyJet, British Airways and Virgin Atlantic to improve and modernise key areas of the airport for their passengers, including check-in, self-service bag drop and lounges.
It's also this approach that means we strive to be an airport that gives everyone an equal opportunity to fly. This focus led to Gatwick winning ACI Europe's Accessible Airport Award last week. This recognises the investment we have put into new facilities for passengers with disabilities – both visible and hidden – and the extensive training our staff have had to recognise particular passenger needs.
The growth of long haul at Gatwick is another story I'm incredibly proud of. When I started at Gatwick, we had fewer than 30 long-haul routes. We now serve more than 65 to every corner of the world. In the past year alone, we've launched services to Doha, Buenos Aires, Rio de Janeiro, Shanghai, Miami and San Francisco. One in five Gatwick passengers is now flying long-haul.
Five years ago this week, we saw the launch of innovative low-cost, long-haul routes by Norwegian. It seemed like a revolution of the industry. Since then, we've seen the Norwegian network develop across North and South America with great success.
This growth has important knock-on effects. More long-haul feeds a growth in cargo – which is up 11% year on year at Gatwick. More inbound passengers offer huge opportunities for UK tourism – and not just for London but in the local areas around Gatwick. Additional services mean more trade opportunities, with businesses around Gatwick 50% more likely to export than the national average.
With this propensity to travel comes a much greater sense of responsibility from passengers and businesses. Now, more than ever before, people are aware of their impact on the environment and want to travel sustainably and support businesses which strive for more sustainable operations.
This has been an area of great focus for Gatwick. Our Decade of Change programme, which we launched in 2010, set ambitious targets for the airport across key areas from energy consumption to carbon emissions – all for us to deliver by 2020. Last week, we published our report for 2018 and I'm proud to see further progress. From achieving a 7% reduction in the airport's noise footprint compared to 2017 to increasing waste reuse and recycling to 64%, Gatwick continues to make strides forward.
We'll be continuing to invest and develop Gatwick, with another £1.1bn due to be spent up to 2023. We are in the process of finalising our master plan, which looks ahead to the next 15 years of airport development and, as we look forward to the final year of our Decade of Change programme, we fully anticipate sustainable operations and growth will remain a top priority.
Our new ownership structure supports this approach, with a long-term partnership between VINCI Airports and Global Infrastructure Partners committed to building on the work we have achieved and striving for an ambitious future for Gatwick.
I look forward to the development of the government's Aviation Strategy, to which Gatwick has recently submitted its response. We welcome the government's acknowledgement of the important role aviation plays in the UK economy and its support for continued growth, particularly in terms of making best use of existing runways. As we consider this, we remain fully committed to minimising the impact of our operations where possible.
One of the biggest initiatives uniting our industry is the airspace modernisation programme, which will deliver increased capacity and open up opportunities to reduce the aviation industry's contribution to noise, carbon emissions and air quality. This will take a concerted effort and we're playing an active role.
I've thoroughly enjoyed seeing the industry evolve to meet changing demands. Gatwick will continue to make the case for strong competition in the market – and sees itself as a case study of what competition can do for the passenger experience. Passengers would also welcome a more joined-up approach. We continue to focus on collaborating with partners to deliver efficiency, tackle local and global environmental issues and ensure the best passenger experience.
These approaches have ensured Gatwick's transformation into a world-class airport and global player. I'm looking forward to the next chapter.
OUR READERS' FINEST WORDS (All times and dates are GMT)
All comments are filtered to exclude any excesses but the Editor does not have to agree with what is being said. 100 words maximum
---