Tim Huppler and Jane Stanbury head out to the frosty landscapes of the Eastern Townships of Quebec.

Just a 90-minute drive from downtown Montreal are the Eastern Townships of Quebec. This undulating landscape of agriculture, forest, national park and mountains is a world away and delivers a unique Quebecois linguistic and cultural experience. Tourists are as likely to bump into the likes of the Clintons, Nicole Kidman, Sir Anthony Hopkins or various royals, as local Quebecois who own hidden forest cottages.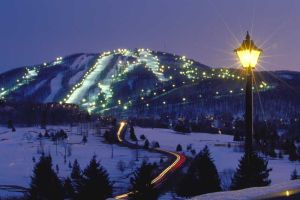 The principle settlers were the Empire United Loyalists farmers who left New England following the Declaration of Independence in 1776. Following the American Civil War (1861-1865) the region became popular with the wealthy from South of the Mason-Dixie Line who were seeking cooler summers. It is said when travelling north by rail, carriage curtains were often closed in protest when passing through New England. Much of the construction features houses with sweeping, richly foliaged, colonnaded verandas, servant's quarters, stables, and of course grand family rooms. These properties are juxtaposed by ramshackle shiplap fishing-huts and contemporary glass-walled, Bauhaus structures.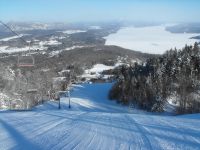 Winter here is a time of energy and fun, even on the coldest, snowiest of days. Skiing is a given with four major winter resorts, each offering their own charm, Mount Bromont is the largest night skiing area in North America and has a 361m vertical drop across 142 slopes, of which 102 are lit. Owl's Head, whilst a little old school, boasts the most majestic views imaginable across Lac Memphremagog and can move an incredible 14,400 skiers per hour, across its 52 trails. Mount Sutton features some of the best glade skiing in North America. And finally, magical Mount Orford, delivers the highest slopes in the Townships. Cross country skiers can make the most of some 200km of trails. Training is readily available, and at very affordable prices visitors can opt for a fabulous blend of winter sports packages.

If you feel like connecting with traditional native activities, then try a dog sledding expedition. There is nothing more magical than the silence of the crisp white landscapes being broken by the sound of the runners cutting through snow. The dogs simply love to run and remain insouciant about the weight behind them. For wannabe "mushers", learn a whole new vocabulary and take control of the sled as a number of kennels provide training sessions.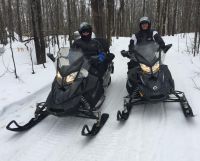 Riders sit astride motorbike-style seats while a single caterpillar track gains traction to pull the vehicle and passengers along the snow; parallel skis act as the steering mechanism. It is an effortless way of seeking out the heart of the forests as the powerful engines tackle even the steepest inclines delivering riders to magnificent, but icy vistas.
Easy to use but taking a while to master snow-mobiling is a regional past time, with an extensive track network, not just in the Townships but across Quebec. It is such a popular sport that snow mobile races are a regular occurrence but not for the faint hearted. Even Red Bull has got in on the act with the Red Bull Sledhammer race making its second outing in Quebec in April.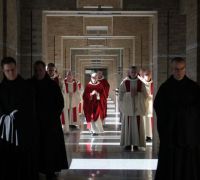 A calmer experience can be found at the Township's Abbaye de Saint Benoit du Lac, a contemporary monastery built in 1912, it is home to practising monks following the way of St Benedict. The monks revived the tradition of Gregorian chants and it is a serene, mesmerising experience to sit in the pews and listen to the glorious voices bringing peace to even the most chattering of minds. When not singing or chanting the monks work the land and produce cheese which can be purchased at the abbey.

Towards the end of winter visitors are encouraged to visit a local sugar shack. An annual tradition the ritual celebrates the first tapping for sap from the maple trees which after extensive boiling becomes maple syrup. A sugar shack visit will invariably include a horse drawn tour of the forest and a celebratory meal of hearty fare including tortiere (traditionally a Quebec game-meat pie), syrup glazed ham, poutine (best described as French fries, curds, and gravy), and various rural dishes all washed down with Caribou – a Quebec fortified wine. The final highlight is the taffy-on-snow which consists of dipping a lolly-stick into a vat of maple syrup and rolling the cloying sauce in the snow to form a lolly. It is no simple matter of eating the very sticky frozen syrup off the stick, delicate teeth beware.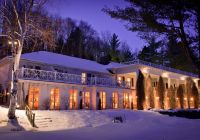 The gorgeous, 36-room Manoir Hovey Hotel is one of the best places to explore from with its fine blend of extreme comfort and essence of Quebec. Situated above Massawippi lake it is surrounded by English style gardens populated by more than 80 floral varietals and an unexpected teepee which pays homage to the Abenaki, the local first nation tribe. Inside there is a central fire and benches with sumptuous blankets and furs where residents can enjoy playing board games or contemplate a simpler life of times gone by. In winter guests are invited to build snowmen on the lawn outside to create a winter village scene.

The individually decorated rooms infuse Quebec style with many featuring natural looking gas fires. The restaurant serves the finest haute-cuisine using local produce, and the dishes are so good that the Canadian Prime Minister occasionally visits for lunch. Of special note is the home-made birch syrup. Requiring more than twice as much sap to make a maple syrup it is lighter with an earthy molasses taste that complements both sweet and savoury palettes alike and is the prime ingredient during sugar shack season. Manoir Hovey has been keeping guests warm for 40 years and will be marking the anniversary with a variety of singular events through 2019.
www.easterntownships.org www.manoirhovey.com
OUR READERS' FINEST WORDS (All times and dates are GMT)
All comments are filtered to exclude any excesses but the Editor does not have to agree with what is being said. 100 words maximum
---
No one has commented yet, why don't you start the ball rolling?
---