Brexit is a challenge we are ready for, says airport boss.
In his message for 2019, Heathrow Airport boss John Holland-Kaye looks to the future as the airport prepares to expand, and reflects on the drone scourge.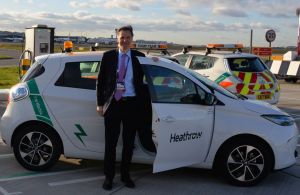 "The end-of-year holiday period is one of the most stressful periods for airport operators – even more so than the summer months. Most services were full. Usually, the biggest challenge is the weather – snow and ice, storms or fog, which disrupt the schedule, causing delays and cancellations. Fortunately this was not the case for 2018. Heathrow ran very smoothly, and our staff were able to assist their colleagues at Gatwick during a most stressful period.

This year, we had the added challenge of drones, which ruined Christmas for many travellers. At Heathrow, we have been preparing for deliberate or accidental drone attacks, and tested most of the systems on the market before investing in our drone protection system. We lent one of our drone teams to Gatwick when that airport came under attack, and took in as many diverted flights as we could. If there is a positive to come from that terrible experience, it will be that the technology to protect against drones will accelerate and legislation will be strengthened to protect civil aviation.
We pulled out all the stops, with extra people, including reservists and volunteers, available to support passengers, and our engineers were on standby to keep critical equipment working. We made the airport festive, with decorations, entertainers, and kids-eat-free promotions. For the vast majority of passengers this year, the journey was a smooth one and they could relax as soon as they arrived at Heathrow.

We are proud that over the past decade Heathrow has moved from being rated in the bottom 10 airports worldwide to being rated now in the top 10. This has not been just through privately-funded, world-class terminals 2 and 5, but through a consistent focus on putting the interests of passengers first. For example, we have invested in better equipment and trained more colleagues to help passengers with special care needs. The improvement in service, and a reduction in airport charges, have helped us to attract more passengers, 80m of whom chose in 2018 to travel through Heathrow.

Over the past few years, we have invested in technology to make it quicker for passengers to check in, drop their bags and get through immigration using e-Gates. This year, we will see that continue and by the summer passengers from seven more countries, including the United States, will benefit from using e-Gates. That will show that Britain is open for business as we leave the EU as well as freeing up Border Force officers to focus on more complex casework.

We will start to see technology improving the security experience, with new scanners reducing the need for physical searches and screening equipment allowing liquids and laptops to be left in bags – just like we did in the 1980s! We'll also start testing a facial recognition system which will allow passengers to travel through the airport without having to use passports or tickets – another world first.

The biggest service improvement has been in punctuality. It may seem obvious, but the better the punctuality the better the passenger experience and the more efficient the operation for all the businesses at the airport. Stands are available when the aircraft arrives, handlers are waiting to unload bags and turn the aircraft round, immigration officers are at the desks. The passenger journey is quick and smooth and there is less resource wasted.

Heathrow now has the best punctuality of any major airport in the world and is the only one that has improved punctuality over the last five years. We have pioneered Airport Collaborative Decision Making and Time-based Separation, which are now being adopted by other airports globally.

But when passengers do face delays when going on their summer holidays, the cause is increasingly airspace congestion. The routes in the sky are B-roads, when they should be motorways. Airspace reform is difficult because any change to flight paths can mean new people are affected by aircraft noise. However, as the problem has become more acute and as airlines have invested in quieter aircraft, the government is now getting on with airspace change.

Airspace change is also necessary to accommodate our new runway. Heathrow expansion is a huge opportunity for Britain – the chance to add up to 40 new long-haul routes, provide better connections to UK regions while creating tens of billions of pounds of economic growth and tens of thousands of new jobs. Heathrow will be the best-connected hub airport in the world, and Britain will be the best place to do business.

We're now getting on with delivering. This year we will carry out two consultations – this month on Airspace and Future Operations Consultation and in June on Airport Expansion, including our detailed masterplan.

It's a chance to share our latest plans and hear views on them. We are determined to work closely with our neighbours to deliver the project in a way which is fair to local communities, and creates a legacy for the next generation.

As well as being sustainable, our expansion plan is financeable and affordable. There is a real prize of cheaper air fares for consumers through greater competition and choice of routes and airlines. We will play our part, and are working to deliver the project at close to 2016 charges.

This year will pose a particular challenge in the form of Brexit – in particular maintaining smooth journeys for our passengers and our cargo operations. We are pleased that arrangements agreed between Britain and the EU, even in the event of a "no deal" Brexit, mean flights will be unaffected and that passengers can book their travel with confidence.

A key part of our Brexit plan is to protect our people. As a global hub airport, we need a diverse range of nationalities to serve our passengers, and EU citizens will always be a welcome and valued part of our team. That's why we're committing to support all colleagues who wish to apply for the new 'Settled Status' that will allow EU nationals to remain in the UK after 2020, including covering the cost of the application process.

As the world's best connected airport, and Britain's biggest port, Heathrow is one of this country's competitive advantages, and this will be even more significant post-Brexit.

We deliver great service and value for passengers and our airline customers; value for colleagues by making Heathrow an industry-leading employer and value for communities by creating jobs, skills and opportunities.

It's a record we're proud of and one we are determined to maintain over the years ahead".
John Holland-Kaye became CEO of Heathrow Airport Ltd in July 2014 after successfully masterminding the construction and opening of T2. He joined the company as commercial director in May 2009 from Taylor Wimpey Plc, having held a number of positions including operations director of Taylor Woodrow Developments and commercial director of Taylor Woodrow Inc.
OUR READERS' FINEST WORDS (All times and dates are GMT)
All comments are filtered to exclude any excesses but the Editor does not have to agree with what is being said. 100 words maximum
---
Kevin Oliver, U. K.
Thank you for a very up market message, sadly slightly blighted by the Drone event at L.H.R.
---