THE DISNEY DREAM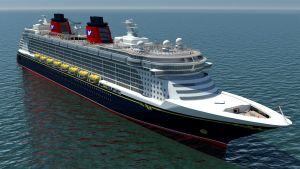 26 January 2011 may seem a long way off as we prepare for Christmas 2009 but in fact it is just over one year away. Cruise aficionados will already be looking at their calendars and noting that a new floating palace for children will make its maiden voyage on that date.

The Disney Dream is the first new Disney cruise ship since Disney Wonder entered service in August 1999, joining Disney Magic introduced a year earlier. In 2012 Disney Fantasy arrives. The two new Disney ships are a great deal larger than the earlier vessels at 126,000 tons, over 1,000ft long and each featuring 1,250 staterooms.

The Disney ships have been a resounding success mainly operating in the Caribbean and normally calling in at Castaway Cay, a private island in the Bahamas designed as an exclusive port of call. The ship actually berths at Castaway Cay saving the usual problems associated with using tenders. Mickey and his friends are ready to entertain the children but parents are looked after too. One of the three glorious beaches is designated "adults" only.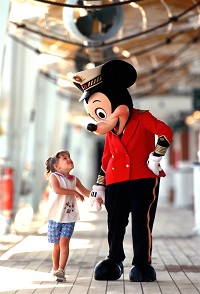 And there is even better news for those who need a Disney fix but don't like the idea of flying to Florida. In 2010 Disney Magic is crossing the Atlantic. Disney Magic is about the same size as the original Queen Elizabeth (83,000 tons), has two funnels and can carry up to 3,000 passengers. In these "eco times" one funnel is a dummy which includes a teen centre called Aloft. Sounds fun.

On a series of 13-day cruises out of Dover, Disney Magic will overnight in St Petersburg, giving guests plenty of time to experience the city known as the "Cultural Capital of Russia". Copenhagen, Oslo, Stockholm and Warnemunde, the gateway to Berlin, are on the list of ports visited. At Warnemunde the train to the German capital sits actually at the dockside waiting for its passengers.

Departing out of Barcelona, Disney Magic will sail four 10-night and four 11-night cruises in the Mediterranean in April, May, August and September.

Disney Dream
Let's stay with the adult theme when taking a look at Disney Dream. Just like its sister ships, whilst the children are having the time of their lives in the elaborately themed youth areas, adults can look forward to incomparable indulgences and relaxation with exclusive areas and offerings designed exclusively for them. Wither you are parents, grandparents, or even great grandparents, Disney will look after you, away from the kids. However there is one negative for some. Gambling is banned on board.

If your pocket does not run to the balcony cabins do not fret. All inside staterooms on the Disney Dream featuring a Virtual Porthole that provides guests with a real-time view outside the ship. High-definition cameras placed on the exterior of the vessels feed live video to each Virtual Porthole.

At night adults can escape to The District on Deck 4, a night time entertainment area with five unique venues. There is Cove Café, District lounge, Metro Pub, Skyline and Vista Café. Everything for grown ups has been thought out, after all it is them who are paying for the trip. Palo is a unique dinner experience at sea offering ocean vistas with a pianist softly serenading guests. The Senses Spa & Salon again offers adult tranquillity with 17 private treatment rooms, spa villas with indoor treatment rooms and private outdoor verandas, and Rainforest, a special section of the spa offering the benefits of steam, heat and hydrotherapy to relax the mind and body.

AquaDuck Water Coaster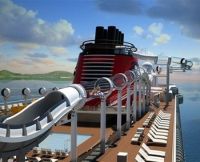 At the end of the day however well the adults are treated Disney is fun ships for children. Without doubt unique is the AquaDuck! Guests will get swept away on an exhilarating high-speed flume ride featuring twists, turns, drops, uphill acceleration and river rapids all while traversing the upper decks of the ship. AquaDuck stretches 765ft in length – more than two and a half times the length of a soccer pitch – and spans four decks in height. Guests slide 13ft over the side of the ship in a translucent "swing out" loop allowing them to look down on the ocean 150ft below! They experience coaster-like thrills as high-powered water jets push them upwards and forwards at 20ft per second. AquaDuck continues through the forward funnel, encounters a 335ft stretch of river rapids and splashes down to an end on Deck 12.

Whether parents (and indeed grandparents) will want try AquaDuck remains to be seen.

A Magical Oasis for Children

Repeated on the new ships Disney's Oceaneer Club and Disney's Oceaneer Lab, children ages 3-12 years old play in spaces fuelled by Disney storytelling and participate in a variety of activities hosted by specially trained, caring Disney counsellors. From pirate training with Captain Hook, do-si-do-ing with Snow White, a slumber party with Goofy and much more, kids are immersed in Disney fun that will be remembered for years to come. Disney also offers the longest operating hours at sea, so the fun doesn't have to end for kids; and parents can also enjoy a night out knowing their kids are well taken care of and having a ball. The clubs are open continuously from 9 a.m. until midnight and provide kid meals during lunch and dinner hours at no extra charge.

The list goes on and on. They can play among larger-than-life characters from "Toy Story" in Andy's Room; Explore the Laugh Floor with loveable monsters Mike and Sully from "Monsters, Inc" and dive under the sea with Nemo and friends or visit Tinker Bell's fairy forest. At Disney's Oceaneer Lab, children feel as though they are embarking on a great seafaring adventure in a room filled with maps, maritime instruments and swashbuckling artefacts. Here youngsters can try their hand at animation, become a pop star or navigate ships through digital seas.

Teens have their own exclusive club aboard the Disney Dream with Vibe, a trendy and inviting indoor/outdoor space created especially for guests ages 14 to 17. A "teen-only" swipe card provides access to the nearly 9,000sq ft club. They can create and edit videos, play computer games, access the onboard social media application or try their hand at spinning and mixing dance tracks. Teens have their own private outdoor deck area with chaise lounges for sunbathing, two wading pools, misters and pop jets for cooling off, and deck games such as ping-pong and foosball.

Personal Touches with Rotational Dining
Disney Cruise Line continues its innovative rotational dining concept onboard the Disney Dream with elaborately themed restaurants, distinctly Disney touches, and world-class cuisine to create a magical dining experience. Throughout the cruise, guests rotate through three different restaurants for dinner with their servers accompanying them, providing guests with friendly, familiar, personalized service each night.

Disney Dream is scheduled to depart on its maiden voyage from Port Canaveral, Florida 26 January 2011.
www.disneycruise.co.uk/Overview.asp
AND OUR TEN NEWS HEADLINES

2010 could be a boom year for the UK cruise industry in spite of the prevailing economic outlook. At least 16 new ships are expected to be introduced and those dedicated to the UK market include P&O Cruises' Azura, Cunard Line's Queen Elizabeth and Celebrity Cruises' Celebrity Eclipse. P&O have announced just in the last few days the resurrection of the name Adonia, with the re-badgeing of Royal Princess with just 700 passengers the smallest P&O liner for many years.


AZAMARA CLUB CRUISES is the new name of Azamara Cruises the two-ship brand launched in 2007 by Royal Caribbean Cruise Lines. The 694-guest Azamara Journey and sister ship Azamara Quest are refocusing with a newly refined focus, and a series of fresh attributes designed for upmarket, experienced travellers. Azamara Club Cruises will visit 140 ports in 50 countries in 2010, with itineraries featuring more overnight stays to allow guests to immerse themselves in communities and cultures. Among the overnight locations are Istanbul, Turkey; Sorrento, Italy, which offers a host of tour options along the Amalfi Coast and Capri; a full three days and two nights in St. Petersburg, Russia, on Azamara's Scandinavia and Russia Itineraries; and multiple overnight stays in Azamara's Southeast Asia region, including Ho Chi Minh City, Bangkok, Singapore and Hong Kong. www.azamaraclubcruises.com

CRYSTAL has broken with traditions and will from 9 January trial a six weeks Saturday opening of its reservation centre. It will enable both travel agents and potential cruise clients to talk to the real experts at the company when hopefully they are more relaxed. The timings are 10:00 to 15:00. Also for the European 2010 season Crystal is offering more seven-night options than ever. Six itineraries in the Mediterranean, Northern Europe, Baltic and British Isles allow travellers to enjoy the award-winning Crystal Experience and a wealth of intriguing ports in a shorter time than Crystal's more prevalent 11- and 12-night European cruises. www.crystalcruises.com

DISCOVERY, part of the All Leisure fleet (which includes Minerva, Hebridean Princess and the recently acquired Alexander von Humboldt – see next month) has just completed a major revamp of the public areas and cabins. These latest projects are part of a continued investment programme which includes the refurbishment and improvements to the Yacht Club, as well as a further roll out of cabin upgrades. Discovery will winter mainly in the Indian Ocean before returning through the Suez Canal for a spring programme which includes the Black Sea, the Mediterranean, followed by a season operating out of Harwich. www.voyagesofdiscovery.co.uk

HAPAG-LLOYD CRUISES in August will operate a 24-day Northwest Passage itinerary on the 184-passenger Hanseatic. The bilingual voyage will depart Kangerlussaq (Greenland) on 16 August to sail along Greenland and near the Arctic Circle, ending in Nome (Alaska) on 9 September. The Hanseastic premiered the Northwest Passage for Hapag-Lloyd Cruises in 1994. Since then, both Hapag-Lloyd expedition ships, the Hanseatic and the Bremen, have successfully cruised through the Northwest Passage a total of 12 times. Last summer, for the first time, both ships travelled in opposite directions and met in the Northwest Passage. www.hl-cruises.com

HOLLAND AMERICA LINE for 2010 will feature seven ships cruising the Mediterranean, Baltic and Northern Europe from Civitavecchia (Rome), Venice, Barcelona, Dover (London), Rotterdam, Copenhagen, Athens and Amsterdam. Both Nieuw Amsterdam and ms Noordam will sail the Mediterranean all season. The Nieuw Amsterdam, which debuts on 4 July 2010, will offer 12-day sailings while the Noordam will feature seven and 10-day cruises. Ryndam will sail a series of Mediterranean and Northern Europe cruises ranging from seven to 21 days. Rotterdam will also sail Northern Europe and Mediterranean itineraries of seven to 12 days, including some that feature the Black Sea and the Holy Land. Rotterdam will also sail two nine-day historic transatlantic cruises mid-season. The Eurodam begins her 2011 season with two seven-day Mediterranean sailings and then offers ten- and 12-day cruises in the Baltic. Both the Prinsendam and Maasdam will also feature European cruises, the Maasdam again sailing its traditional transatlantic roundtrip itinerary from Boston that visits Greenland and Iceland. www.hollandamerica.com

HURTIGRUTEN is offering this summer a series of expedition cruises that takes guests to the front line of climate change research in the Arctic. The 11-day voyage, aboard one of the world's newest polar exploration cruise ships, MS Fram, offers guests the opportunity to visit research stations, track wildlife, participate in field studies and meet with some of the field's top research scientists – getting the facts from those who are best informed. Together with partners from some of the most prominent scientific communities Hurtigruten will provide passengers with up-to-date climate information and show how to observe basic indicators of climate change in a high Arctic environment. Hurtigruten's goal is to create ambassadors for Arctic Norway and Svalbard and the wildlife threatened by the drastic changes in climate. www.hurtigruten.co.uk

MSC has put out some figures which show that an estimated 1,085,000 passengers will have cruised with the company by the completion of this year, an increase of 36% on 2008. In the UK, which represents about 15% of the total market, growth was more than 60%. In 2010 the 2004 launched 60,000 ton MSC Opera will operate out of Dover for the summer season offering a really modern mostly balcony ship, and much more capacity. There are rumours that MSC will transfer to Southampton for 2011 and with that port adding the Mediterranean on a regular basis to the list of ex-UK destinations. www.msccruises.co.uk


QUEEN ELIZABETH will make her debut in October 2010, the third incarnation and a sister ship to Queen Victoria. No doubt Cunard's most active PR team will find for the maiden voyage people who have cruised on its two predecessors. The new QE comes in at 92,000 tons and will carry just over 2,000 passengers. Fully booked out for her inaugural Canaries cruise the ship will depart on her maiden world cruise 5 January 2011. In total Queen Elizabeth will call at 38 ports in 23 countries as she makes her way west around the globe with maiden transits of both the Panama and Suez Canals and calls at Los Angeles, Auckland, Sydney, Hong Kong, Singapore, Dubai and Lisbon. All three Cunard Queens will meet in New York. www.cunard.co.uk


STAR CLIPPERS' three historically styled, fully-crewed four-masted, tall ships will return to Mediterranean waters in April 2010. The company is offering new short break trips for cruises for those looking for an unusual long weekend or three-night break that combines the comfort of a private yacht with the exhilaration of travelling full sail. Star Flyer will be based at Cannes and it is this clipper that is offering the short break trips, a taster for something longer. The ship can carry up to 180 guests, has 70 crew, and even Jacuzzis in the higher grade cabin. It was never like that on the Cutty Sark. www.starclippers.com
OUR READERS' FINEST WORDS (All times and dates are GMT)
All comments are filtered to exclude any excesses but the Editor does not have to agree with what is being said. 100 words maximum
---
No one has commented yet, why don't you start the ball rolling?
---