Passengers at Heathrow are routinely facing 2hr queues at passport control in what British Airways chief executive and chairman Alex Cruz writing in The Times last week called a "border farce".
Heathrow's queues were "significantly worse" than elsewhere in the continent, he said, adding that tackling the problem should be a priority for the government rather than a reported idea of designated lanes for UK passport holders post-Brexit.
Cruz said: "Two-hour queues are fast becoming the norm for those visiting from outside the European Economic Area (EEA), despite a target of no more than a 45min wait.
"Even EEA citizens wait almost an hour. This is unacceptable, yet Nick Jariwalla, the head of Border Force at Heathrow, said recently that things were unlikely to change and it was unreasonable for his team to be expected to meet their targets."
Cruz said the airport has missed its target for non-EEA arrivals more than 6,000 times this year. He wrote: "What kind of message does this send, as we try to build links outside the EU?"
Border Force said: "We understand the frustration for those who have experienced longer waits. At the same time, we will not compromise the essential checks we carry out at the border which keep our country safe."
www.gov.uk/government/organisations/border-force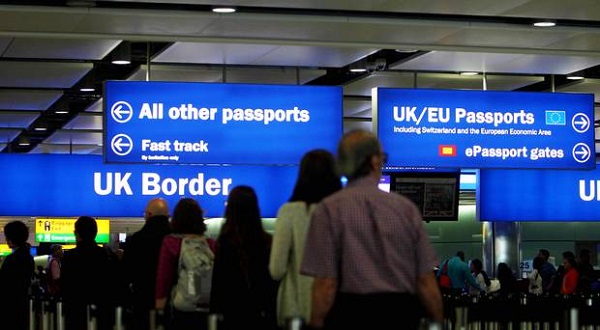 OUR READERS' FINEST WORDS (All times and dates are GMT)
All comments are filtered to exclude any excesses but the Editor does not have to agree with what is being said. 100 words maximum
---
Simon Grigor, Harrow
And of course the border problem can often be problem no.2, after a frustrating wait (Terminal 5 especially) for a stand to become free. Too many times in the last two years an on-time landing has become a half-hour (or worse) 'on stand' time after one of these frustrating sit-arounds.
---
Steve Rogers, Guernsey
It would help if the E gates were not closed after 2300. I was given to understand, by one of the Border Agency staff, that these are run by Heathrow Airport and they close them at 2300. Terminal 2. 3 agency staff on and 15 E gates not being used. They would have sped up the process considerably. End result was, by the time we got through immigration the last hotel bus had gone and we had to pay a taxi to get to our hotel at 10 times the cost of the bus.
---
Michael Preston, GB/ZA
Whilst Cruz is correct in criticising UKBF, perhaps he should get his own house in order before attacking others. Pot, kettle, black, comes to mind. I refuse to use the E-gates, self service checkouts at supermarkets, self service check in at airports, and all of that ilk. I detest the dehumanising of so much in our lives.
---
Graham Greenwood, United Kingdom
It would help if systems were maintained adequately and the government were prepared to fund border force adequately, if the stupidity of brexit goes ahead, it will get a lot worse.
---
P G, London
I tend to avoid flying into Heathrow. I sometimes spend more time getting through immigration that I do in the air
---
John Baxter-Smith, Wiveslfield Green
I complained last time I was through LGW - half the E-Gates were not working and long queues. Border Guard supervisor said because he was short of staff. Though the gates were meant to be automatic! And agree with other comment - half the time the e-gates don\'t work when they are open. I travel to UAE quite regularly - e-gates always work like a charm.
---
Graham Harrison, United Kingdom
My UK passport seems to work ok in the e-gates. There does seem to be a knack to it. I've watched other people getting frustrated when it doesn't work first time and that seems to make things worse. One gent went in wearing glasses and when the machine rejected him took his glasses off and it still rejected him. One of those actions was wrong because the machine is looking to match you with your digital photo. It also rejects a few randomly anyway!
---
Ian Hamer, UK
The Border Force appear to think that the laws of supply and demand don't apply to them. It is Summer, more visitors will want to come to the UK. LHR is the UK's biggest gateway, point of entry airport. By not meeting the demand for their services the Border Force have and are letting everyone involved down, including those in the UK who rely on tourism for their livelihood. Take action, platitudes and excuses won't solve it.
---
Steve Banham, Reading UK
Perhaps if the UK Passport Office issued passports that actually work at the Heathrow E Gates it would help ease the queues!
---