Now in its fourth generation Toyota Prius has "quietly" established itself as one of the great cars of all time.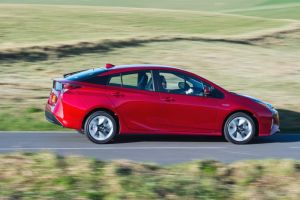 Launched as the world's first mass produced hybrid car in 2000 well over 6m versions have been produced. It is a boring car without any pretensions and just gets on with the job in hand virtually inaudibly. If you want a similar semi-electric package with a little more style and panache maybe its sibling the Lexus CT 200h is for you, the same engine and drive train in a less slinky box that is marginally smaller 4350mm x 1765mm v 4540mm x 1760mm). (See BTN 12 February)

Unlike some of its competitors in the hybrid market the Prius is self-sufficient and only requires a fuel top-up say every 400 miles. It does have a range of 20mi on electric power alone if you were daft enough to run out of petrol, easily enough to get one to a garage in most parts of the UK. Plug-in for a period, and where hopefully there is a facility, is not for the Prius owner.

Unlike a conventional car, where braking is bad news, a gentle foot on the pedal when coming up to the lights increases the amount of electric power gained from the car's regenerative system. With this latest Toyota you can monitor what proportion of your journey has been covered on electric power using the multi-information display in the instrument binnacle. Using the steering wheel control buttons, the driver can toggle to see more information on the screen, for instance the journey time so far and average speed.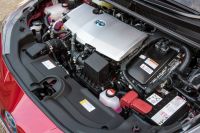 The Toyota's family of Prius hybrid electric models – the Prius hatchback, Prius Plug-in and seven-seat Prius+ – have undergone changes for 2018 and are the first of the manufacturer's UK models to adopt new fuel consumption and CO2 emissions data linked to the forthcoming WLTP (see below) programme for vehicle testing.

BTN's test car was the Business Edition +2 with an on-the-road list price of £26,895. Toyota quotes a 0-60mph time of 10.4sec, not electric (and forgive the pun), but certainly respectable. Top speed is given as 112mph, fast enough even if you are taking the car to certain continental countries. There is no point to a family saloon suggesting 140mph on the dashboard. Toyota quote anything up to 85mpg for fuel consumption, which is a nonsense. Expect around 50mpg, still very respectable.

Under conditions defined by EU law, the Worldwide Harmonised Light Vehicle Test Procedure (WLTP) laboratory test is used to measure fuel consumption and CO2 emissions from passenger cars, as well as their pollutant emissions.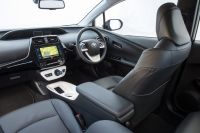 The new Prius is also more refined to drive than before thanks to increased sound insulation, a new CVT (continuously variable transmission) gearbox, that doesn't ask the engine to rev as much as before, and the hybrid system spending more time running on silent electric power. Under the bodywork a host of innovations makes manufacturing easier, improves the quality and reduces the weight of the finished car.

The Prius has three distinct driving modes – 'Normal' gives a suitable balance between fuel economy and throttle responsiveness; 'Eco' optimises the powertrain and air conditioning to save fuel; while 'Power' mode gives more acceleration. It is peaceful on the motorway with a smooth ride and low wind noise, but around the pot hole riddled local streets the bumps and jolts can be felt. It is just not that nimble.

Toyota went for 17in wheels with the Business Edition as tested. If you are thinking of buying one try the 15in version and make your own mind up. The larger wheels increase fuel consumption but its marginal.

Toyota Safety Sense assistance provides a layer of protection that can help prevent accidents from happening. And should an impact occur, it can help lessen the consequences.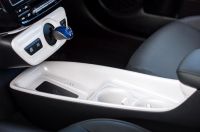 The safety programme includes what is termed a "Pre-Collision System", to warn against a potential collision with a vehicle ahead and provide emergency braking and seatbelt tensioning if required; Adaptive Cruise Control, automatically keeping the car a safe distance from the vehicle in front at speeds above 25mph; Lane Departure Alert, should the vehicle unintentionally veer away from its traffic lane; Automatic High Beam for maximum illumination in night-time driving; and Road Sign Assist, automatically showing speed limits, warning and command signs on the driver's multi-information display when driving on major routes.

The overall design of the Toyota Prius is futuristic both outside and inside and might not be to everyone's taste. Hardly noticeable, but built on Toyota's New Global Architecture platform, it has a lower overall height and centre of gravity to the mark 3 which adds to its handling capability, however minutely. With the colour head-up display (HUD)Toyota can be forgiven for the universal control panel in the centre of the car. It matters not which market the finished product is aimed at (as long as the steering wheel is on the correct side). BTN is a keen advocate of HUD as it allows the driver to concentrate on the road ahead and not be distracted on other matters.

The Prius is not a sports car, the dashboard doesn't wrap itself around the driver; it doesn't feel cosy for either front seat occupant. Instead it feels like you're on the deck of a spaceship. With an upper screen containing all sorts of info like the hybrid system seemingly floating in mid-air, it is a tranquil place to be – especially when the car is running in full electric mode.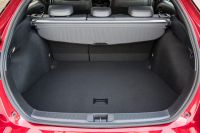 Storage in the 'Business Edition' of the Prius is reasonable. The white tray in the centre console is a good place to place smartphones which are charged wirelessly. The glovebox is large enough for a one-litre bottle of water and under the armrest between the two front seats is a large cubby-hole that can store all sorts of things like sweets and other paraphernalia. Both front seats are heated and the driver gets power lumber adjustment. Toyota's Touch 2 system is very easy to use with touch-sensitive buttons around the screen for different menus and functions, but they must be dealt with when the car is stationery. You don't want to take your eyes off the road when searching for something. If you want 'park assist' an upgrade is required to 'Business Edition Plus' but you also do get leather seats.

There is plenty of space up front but at the back the news is not so good, OK for three with plenty of kneeroom, but offering restricted height. This is due to the inevitable compromise with the lower roof line, Toyota relocating the Prius battery from the boot to under the rear seat. The Prius is clearly the Uber driver's favourite and BTN has found itself in the back several times recently. The space problem balances itself out with a larger boot with 502 litres available with the seats up, and an enormous 1,633 litres with just two people in the front. A new rear double wishbone rear suspension system also helps, not taking up so much space.

Like all Toyotas, the Prius comes with a five-year, 100,000-mile warranty; a five-year warranty for the hybrid system; a 12-year anti-corrosion and perforation warranty and a three-year paintwork and surface rust warranty.

If you are looking for a very reliable multi-purpose family/business car take a look at the Prius. Until we get the all-electric simply charged electric car this hybrid must be the way ahead.

www.toyota.co.uk/new-cars/prius


Some of the competition

BMW i3
Nissan Leaf
Hyundai Ioniq
Kia Soul
Renault Zoe
Volkswagen Golf

STAR RATINGS (out of 10)

Performance 7
Handling 7
Transmission 9
Noise 9
Economy 7
Ride and Comfort 7
Accommodation 7
Styling 7
Brakes 8
Finish 8

Price as tested £26,895

TOTAL: 76%
OUR READERS' FINEST WORDS (All times and dates are GMT)
All comments are filtered to exclude any excesses but the Editor does not have to agree with what is being said. 100 words maximum
---