The latest version of the Beluga transport used by Airbus to carry aircraft components has been unveiled in Toulouse with a special livery with a whale-style nose, blue eyes and a big smile.
The aircraft, based on the Airbus A330-200, became known as the Beluga because it resembled the whale. The design for the new version was chosen by Airbus staff in a poll in which they were asked to choose from six options. The whale scored 40%.
The original five Belugas, which have been in service since 1994, carry aircraft parts from manufacturing sites across Europe to final assembly facilities in either Toulouse, Hamburg or Tianjin.
Airbus says an increase in production meant it needed a version with more capacity – the originals can carry the wings of an A340 or a fuselage section for the A350, but are too small to transport many of the parts for the A380 "superjumbo".
The BelugaXL is 6m longer and 1m wider, with 30% more capacity and can lift six tons more. It is due to undertake ground tests before a first flight later this year and will enter service in 2019.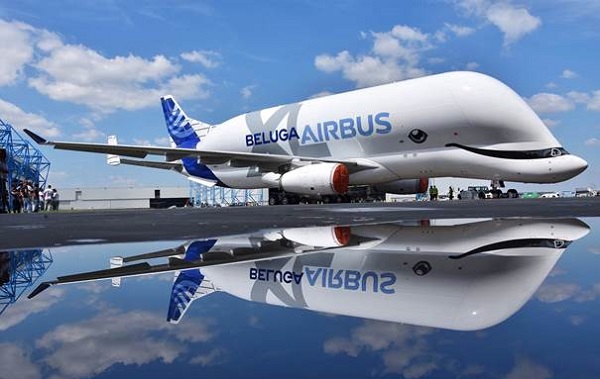 OUR READERS FINEST WORDS (All times and dates are GMT)
All comments are filtered to exclude any excesses but the Editor does not have to agree with what is being said. 100 words maximum
---
Paul Kay, London
Ask and it will be given thee! Inspiring words...Thank's Michael I will ! I remember as a small boy walking right up to the Pan Am hanger north side at Heathrow back in the late 60's early 70's you could in those pre-security days and seeing the early prop driven 'Guppy' belonging to the American company Aero Spacelines it was a fairly regular visitor transporting Pan Am's engines. The hitch a Guppy ride you described here at BT News sounds memorable I'm on to the Airbus CEO right now Michael with added enthusiasm for my own whale of a request. Thank's again for your reply!
---
Michael Bartlett, Sandy UK
I wish Paul Kay well in cadging a lift aboard the Whale. Airbus Consortium gave me a couple of flights aboard the ir Super Guppy F-GEAI back in 1984 from PAris Le Bourget aiport to Manchester Ringway and then onward to Bremen. An exciting day that was. Flying time was 3 hours and 56 minutes and the distance flown 828 miles. I was on the flight deck throughout. I have been eternally grateful. Paul.. ask and it shall be given thee!!
---
Mike Griffith, Oxford, UK
Somebody please tell John Davidson that Airbus is only making these to transport parts for it's own airplanes between factories. This is not a passenger carrying aircraft, but a specialist transporter.
---
John Davidson, Paris France
Once again Airbus thinks that bigger is better. Sadly, building a freighter craft like this Beluga is yet another sign that they haven't figured out that smaller is better. Point to point, rather than hub to hub. Nobody (except the Emirates) wants the A380. Even with their order, production is down to one a month.
---
Paul Kay, London
...cadge a lift in one of these from Chester aerodrome (Hawarden Airbus Plant) to China (Tianjin) now their is a potential money spinning route!! Seriously, anyone at the greatest plane makers in the world who could let me donate something monetary to a good cause in exchange for a lift from anywhere to anywhere in one of these and I'll write up as many flight experience reports all excellent of course to as many people (Aicraft Mags) as you would like... Train to Chester, 'Tick'....I'm at the bus stop for Hawarden already!! See you soon...'Fingers and Chop sticks Crossed'.
---