The story of Heathrow's third runway reaches an important milestone later today (Monday 25 June) when the government's national policy statement goes before Parliament.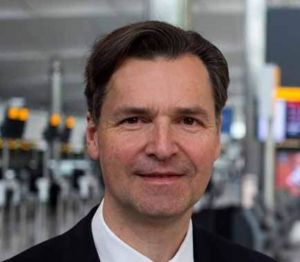 John Holland-Kaye became CEO of Heathrow Airport Ltd in July 2014 after successfully masterminding the construction and opening of T2. He joined the company as commercial director in May 2009 from Taylor Wimpey Plc, having held a number of positions including operations director of Taylor Woodrow Developments and commercial director of Taylor Woodrow Inc.
Eighty-eight years ago this month, the first airfield at what is now Heathrow was declared operational. The process of building had started two years before in 1928, and by June 1930 aircraft were arriving and departing. At that time, the site was little more than an airfield and a hangar.
The modern airport began to take shape after the second world war when the Labour government, led by Clement Attlee, approved significant extensions. The airport was opened for civilian use in May 1946.
The decision then, like today, did not come without controversy, but the government at the time could see the importance that investing in air travel would have for the future. Its decision paid off.
Since then, Heathrow has become the jewel in the crown of the UK's aviation industry, handling 78m passengers a year, 1.5m metric tonnes of cargo and connecting the UK to 84 countries. In addition, 30% of the UK's exports by value that travel to markets beyond the EU each year go through Heathrow.
Heathrow is now a vital part of the UK's economy and our national infrastructure. Its impact goes well beyond London and the south east of England, and every part of the UK benefits from having a successful hub airport in our country.
That is why the decision that MPs make today is so important. This isn't just about what happens in the next ten or 20 years, it's about preparing the country for the next generation, just as the government did in 1946 when it decided to open a civilian airport at Heathrow.
A positive decision by MPs today to expand Heathrow will prepare our country for the future, and whatever challenges and opportunities lie ahead. With Brexit around the corner, making sure that the UK can go forward as an outward-looking trading nation is essential. Without Heathrow expansion, we will be tying one hand behind our backs as we attempt to strike new trade deals around the world.
It will also make us globally competitive. While airports in Europe, the Middle East and China have expanded in the past decade and added new routes to key emerging markets, in the UK we have not built a new full-length runway in the south east of England since the War. With the airport now running at 98% capacity, there is no room for growth and the UK faces losing valuable opportunities to other countries.
The opportunities for jobs and growth are a large part of the reason that this project is backed by trade unions and businesses up and down the country, who understand its potential to boost the UK economy. Heathrow expansion means tens of thousands of new skilled jobs across the UK, thousands of apprenticeships, a major boost for the UK construction industry and more orders for UK steel.
And we will do all of this while maintaining rigorous targets to reduce our impact on the environment Already at Heathrow, we have cut our carbon emissions by 37% since 1990 and we are working towards operating a carbon-neutral airport by 2020, a key step toward being a zero-carbon airport by 2050. We will be held to account on our environmental commitments through the Development Consent Order (DCO) process. Minimising impacts and maximising opportunities for our local communities will always be a priority of our work.
The message to MPs today as they make their decision is absolutely clear: the world is waiting. It is waiting for the UK and its businesses, waiting for us to compete on the global stage, and waiting for us to stop the dither and delay that has held this project back for decades.
It's time to get on with the job. It's time for Heathrow.
John Holland-Kaye
CEO, Heathrow Airport
OUR READERS' FINEST WORDS (All times and dates are GMT)
All comments are filtered to exclude any excesses but the Editor does not have to agree with what is being said. 100 words maximum
---
David Mason, uk
In 2008 an aircraft on final approach to Heathrow lost power, crept over the perimeter fence, and crashed. If the same fuel supply fault had happened two minutes earlier it would have decimated parts of London and killed thousands of Londoners. A technical fault or act of terrorism could cause just such a disaster. Flying an approach over a major city is criminally irresponsible. Heathrow should not be expanded. It should be closed and its traffic moved elsewhere.
---
David Starkie, United Kingdom
We would wait for a shorter time to get some extra capacity if the new runway was built in two phases. First, construct out to the boundary of the M25, create a safety zone to protect the workforce whilst they extended the runway across the M25,but use the first 2000m for extra short-haul. This would bring forward some capacity by two years and phasing would make the project more affordable.
---
Barry Graham, United States
The fact that Heathrow would still only have 3 runways makes it stunning that anyone could object about the third.
---