The coming together of Brexit and Heathrow was inevitable. Nigel Milton, the airport's Director of Communications explains the philosophy of the largest ever public transport open discussion, which is about to get under way. –

Nigel joined Heathrow from Virgin Atlantic in March 2010 where he had spent six years in the External Affairs department. Prior to this he worked for the Department for Transport (DfT) where he had been Assistant Director for International Aviation since October 2000. Previously Nigel was Private Secretary to the UK Deputy Prime Minister and Secretary of State for Transport, John Prescott, between 1998 and 2000.

Nigel has a law degree from Oxford University and a Masters degree in Transport Planning and Management from the University of Westminster.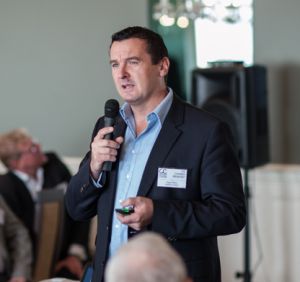 Expanding Heathrow has been on the cards for some time now, but with Brexit on the horizon and the UK's place in the world more important than ever – we have to get on with expanding Heathrow, our nation's gateway to the world.
This month, Heathrow took a major step towards delivering the extra hub capacity the future generations in Britain will need to stay connected to the world and prosper, while making our plans work for our local communities and the environment. Our 10-week consultation launched on the 17th January and is running until the 28th March – giving the public an early opportunity to help shape Heathrow's future and how the airport will serve local communities and the UK economy. With 40 events taking place across London, it's one of the largest public consultations in the UK and we encourage everyone to come along and see us to learn more and make sure their voices are heard to ensure we get the best plan to expand Heathrow.
There are two parts to our consultation: the first relates to the physical changes on the ground needed to build a new north-west runway and operate an expanded airport – including options on the location of terminals and aprons, the realignment of the M25 and local roads, as well as on our proposed approaches to important topics, including noise, air quality and surface access.
The second part of the consultation relates to potential principles, or 'rules', that could apply when designing the new airspace required for an expanded airport. Airspace across the country is being modernised as it has changed little since the 1960s. Changes to airspace will ultimately improve resilience and punctuality for passengers while reducing noise, emissions and the number of late-running flights for local communities. At this early stage, future flight path options are not being consulted on. This is a once in a lifetime opportunity for our communities to work with us to transform the airspace around Heathrow, and help reduce noise, delays, and emissions by accommodating the latest technology.
Our multi-stage consultation process is a central part of delivering our plans. This is the first opportunity for the public to feedback on our proposals since the Airports Commission, and it is vital that everyone can have their say. It is an opportunity for anyone to share views on the options for how we expand. We'll use this feedback to develop a preferred masterplan on which we will then seek further views in a second planning consultation next year.
Any infrastructure project of this size will create some impacts and disruption locally, and for that, we are sorry. Heathrow is working to be a better neighbour to the communities around the airport, and wherever possible, we want to minimise the negative effects that expansion could have both during and after construction. While we've been working hard with local stakeholders and our airlines to reduce the cost of expansion by £2.5bn, we will not compromise on the commitments we have made to local communities – including a world class property compensation scheme, the pledge to introduce a 6.5 hour ban on scheduled night flights and the promise to only release new capacity if air quality limits can be met.
But it's important not to forget the reason we're expanding Heathrow. It is about more than just a runway. It is about opportunities for our local community, inside and outside the airport's boundary. It is about securing the country's economy and connecting the whole of the UK to global growth. And it is about legacy – building the infrastructure today that our children will need for tomorrow.
Today, businesses across the country, from Scotland to the South West depend on the global connections Heathrow creates. With 194 routes to over 80 countries, we connect the whole of Britain to the world and drive investment back into and across the country.
Expanding Heathrow is essential to ensure future generations can compete for global trade. It will create up to 180,000 new jobs and up to £187 billion in economic benefits across the country. We will double cargo capacity, support British exporters and leave an infrastructure skills legacy.
But expanding in the national interest must not come at the expense of our local communities. We want our local communities to share in the benefits of Heathrow's growth. Expansion will create up to 40,000 jobs in the local area and create a wealth of new opportunities for local businesses. Thousands of young people will have a chance to launch their careers at Heathrow as we double the number of apprenticeships, giving the opportunity to end youth unemployment in the areas around the airport. Our Skills Taskforce, led by Lord Blunkett, will help shape our future workforce, leave a skills legacy behind, and help make Heathrow a role model for diversity and social mobility.
When the Government announced its support for Heathrow expansion it made a clear commitment to keeping Britain open for business. We want an expanded Heathrow to be the world's best airport, ensuring that our country and its future generations have the infrastructure they need to thrive.
We need feedback to help deliver this opportunity responsibly and to create a long-term legacy both at a local and national level. Heathrow is consulting to ensure that we deliver benefits for our passengers, businesses across the country but also, importantly, for those neighbours closest to us too. Expanding Heathrow doesn't have to be a choice between economic growth or the environment – we can deliver for both. This consultation is an important step in delivering expansion fairly, unlocking opportunities which will secure a prosperous future for generations while delivering our commitments. Please get involved.
OUR READERS' FINEST WORDS (All times and dates are GMT)
All comments are filtered to exclude any excesses but the Editor does not have to agree with what is being said. 100 words maximum
---
Stephen Hillcoat, UK
Nigel is correct. The key focus will inevitably be the local community. Whilst not all will agree - the fact that you are listening and responding to their concerns will be key in preparing a much smoother transition from concept to construction.
---