John Holland-Kaye became CEO of Heathrow Airport Ltd in July 2014 after successfully masterminding the construction and opening of T2. He joined the company as commercial director in May 2009 from Taylor Wimpey Plc, having held a number of positions including operations director of Taylor Woodrow Developments and commercial director of Taylor Woodrow Inc.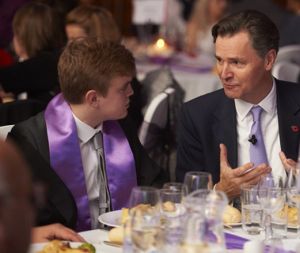 It's been an eventful and exciting year for our industry. Since the government's decision last October to back Heathrow expansion, we've been getting on with delivering Britain's new runway – working with airlines, improving our plans and preparing our supply chain and skills strategies.

Now we are looking ahead to the opportunities and challenges ahead.

Brexit is a pivotal moment for Britain's future. The government has already taken important steps to prepare our country for life outside the European Union. One example is the Industrial Strategy launched last month, which highlights the crucial economic role major infrastructure projects can play.

Heathrow expansion means that in the early years of Brexit we will have strengthened our connections to global markets. We are building infrastructure the country needs to remain a confident, outward-looking trading nation after the UK leaves the EU.

And if Brexit is to be a success, Britain must also keep goods and services flowing out to the world and bring visitors to all parts of the UK.

I believe the government understands the importance of aviation as an enabler for trade, and our unique position with no World Trade Organisation rules to fall back on. Our priorities for Brexit are to remain as close as possible to the single market for aviation, and to have a competitive immigration and customs process, highlighting that Britain is open for business.

Aviation is a British success story. The UK is the biggest aviation market in Europe and ACI (Airport Council International) projects that by 2040 we will be the only European country where the sector will still rank in the top 10 worldwide. It is a great source of competitive advantage.

There is huge demand globally to travel to and trade with the UK. It has been frustrating to watch Britain fall behind in the rankings, as Paris has overtaken London as the best-connected city in the world due to lack of capacity at Heathrow.

We have more than 30 airlines who want to operate from an expanded Heathrow, and expansion will add up to 40 new long-haul trading routes – that's 40 new markets with opportunities for British businesses. With up to 120 direct long-haul destinations at Heathrow, Britain will once more be the best-connected country in the world, and can be a winner in the global race.

But expansion cannot be at any cost. Since the Airports Commission recommended Heathrow expansion in 2015, we have been working hard on improving our plans to ensure they are affordable for our airlines and passengers, and environmentally sustainable for our communities.

We have worked closely with airlines to improve passenger experience and efficiency, and to significantly reduce the cost, with the prospect of delivering expansion at close to current charges. We have also visited airports such as Hong Kong, Charles De Gaulle and Atlanta to learn how they have addressed similar challenges.

Next year we will enter our first formal, non-statutory planning consultation which will help us to make our plans even better. Stakeholders and local communities will be able to give their views on some of the options we have been developing, with more detail than in previous consultations. Their views can have a real impact in improving our plans.

What's more, Heathrow expansion is an opportunity to bolster Britain's construction and manufacturing industries and create a legacy of skills and new technology that the UK can export to the world.

We are creating at least four logistics hubs right across the country to help us to build our new runway. These centres will support construction and pre-assembly as we deliver our expansion plans – safely, efficiently and affordably.

Expansion will help to connect the UK's regions and nations to growth, via a direct air link to Heathrow. This will be a vital way to boost UK productivity and help to rebalance the economy.

Heathrow expansion retains strong support from businesses and unions, locally and nationally, and from a significant majority of MPs from across the major parties. That stands us in good stead for the vote in parliament in the first half of 2018 giving formal approval to the government's national policy statement.

Heathrow expansion will connect all of Britain to global growth, allowing us to remain one of the world's great trading nations and ensure future generations benefit from the opportunities our generation has enjoyed.
OUR READERS' FINEST WORDS (All times and dates are GMT)
All comments are filtered to exclude any excesses but the Editor does not have to agree with what is being said. 100 words maximum
---
Gordon Macfarland, United Kingdom
I'm amazed how an expansion programme can be considered when LHR cannot manage the current capacity with complete standstill at the airport with a spattering of snow and minus on thermometre. Get your act together on what you have now.
---
Andrew Sharp, United Kingdom
My thought on David Starkie's comment is that it is important to get the principle right first, then gradually refine down to the detail, then when that's right, start digging. So the Davies Commission started with a relatively blank sheet of paper, refined down to three leading options, then homed in on one (which is where we are now). So now is the right time for HAL to spend time and money to refine that single option to ensure that it's optimal.
---
David Starkie, United Kingdom
I am puzzled why HAL has been working hard to significantly reduce the costs of the Third Runway project. HAL should have attempted to minimise the costs in the first place. Did HAL think they could get away with gold-plating the scheme? I would be interested to learn how costs have been cut.
---
Angela Stevens, United Kingdom
If Manston Airport gets a DCO/NSIP granted, as a cargo Hub, being applied for by RiverOak Strategic Partners, that will also help alleviate capacity problems at Heathrow & Gatwick too.
---
Graham Greenwood, United Kingdom
Additional international runway capacity, together with regional hubs is of course welcome, if the government actually ever make up their minds on where. But brexit is the most crazy, idiotic, unwise public policy ever conceived. If it happens, the shift of businesses away from the UK will kill future prosperity and air traffic flows.
---