Declan Collier has been chief executive of London City Airport since March 2012. Previously chief executive of the state-owned Dublin Airport Authority from 2005, and prior to that with ExxonMobil, Collier is chair of the World Board of Airport Council International (ACI), the airport equivalent body of IATA, and formerly chair of ACI Europe.
In April, he announced his decision to stand down at London City, 30 years since the Queen officially opened the LCY terminal, his post taken at the end of this month by Bristol Airport's CEO Robert Sinclair.
Here, Mr Collier reflects on his six years at the helm of London City Airport and what he sees as the priorities for the industry in the years ahead.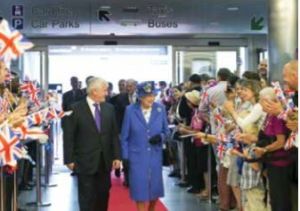 In one of my first interviews as CEO of London City Airport, a journalist from The Daily Telegraph speculated that LCY would feel like an oasis of calm after the DAA. Well, I can happily say it has been anything but. Instead, it has been a time characterised by growth, by change and by significant achievement. In early 2012, we were a business of around 1,400 staff, eight airlines and around 3m passengers. We were a business that was rightly proud of the fast, efficient service it provided, in particular for the dynamic businesses of the City and Canary Wharf. Now, as I write in 2017, LCY is an airport that serves 4.5m passengers, connects to 50 destinations, employs 2,100 people (65% of whom are from East London) and still manages to offer a market leading fast, efficient and punctual service.

Last year, 2016, was the stand-out year for the business as it was the first time we reached 4.5m passengers. It was also the year in which we successfully sold the business and, after four years of campaigning, secured permission for the £370m City Airport Development Programme (CADP).

CADP is our vision for our future airport; an airport that will help to meet demand in the London market, welcome the next generation of aircraft, connect to new global destinations and not only serve London's financial, business and government districts but be a catalyst for the continued regeneration of East London.

I'm proud to say that work will begin on CADP later in the year, which is, in my opinion, an absolutely appropriate way to mark our 30th year of operations.

While personally I am optimistic about the future of London City Airport, there is a risk to the industry in terms of the ramifications of Brexit.

As airports and airlines, we are now having to face down the question of how will we fly to and from and maintain connectivity with Europe and what will be the scale of our operations on 30 March 2019? At the moment, we are hearing different answers from London and Brussels. This does not make us any different from other businesses, but the risks certainly are. We will begin to see them manifest themselves next year, 2018, as airlines plan their routes and sell tickets for 2019, unless both sides take the sensible step of rolling over existing arrangements for an agreed period of time while the longer-term plan is thrashed out. Unlike other industries, aviation cannot revert to WTO rules.

It is now absolutely essential all parts of our industry, whether in the UK or the EU, collaborate to make the case to the negotiating teams that aviation is crucial to trade, to jobs, to tourism, to manufacturing, to growth and for our futures.

It's a point I've made to airline partners and directly to Airbus when I visited its world-class facility in Toulouse in August. Don't get me wrong, the points we've been making reinforce each other, it has been made clear that if you hurt aviation, you hurt the wider economy. But now is the time for real, constructive collaboration between us all. It would make the industry harder to ignore and also easier to engage with, especially for government at a time where it needs to be able to call upon all the expertise, intelligence and dynamism that exists across our businesses.

The other significant opportunity for the industry is through the forthcoming Aviation Strategy. Firstly, we should congratulate the Department for Transport on taking forward this highly complex, but much needed, consultation, at one of the most challenging periods in its history. That, in itself, demonstrates that the government recognises the vital role aviation will play in Global Britain.

This is our chance to show aviation will help to deliver the government's Industrial Strategy, can attract further inward investment by offering world-class connectivity and can be a stimulator of technology, innovation and skills in schools, colleges, universities and cities across the country.

The strategy will be our blueprint from the next 30 years, but it's absolutely fundamental that it must be flexible and can adapt to passenger expectations and, crucially, demand. In 30 years, more people will be flying to and from the UK in aircraft that are even more sophisticated than today's market-leading Airbus A350 and Boeing B787. We will need airports that can welcome them; that is why the strategy must enable airports to make full use of their potential.

We live in interesting times, but in my experience it has always been that way when working in airports, and often risk fuels our creativity and propels us to even greater levels of success. I've seen this first hand in Dublin and now in London. The challenges we now face are unique, but they are solvable, and especially if the industry collaborates on key issues.
OUR READERS' FINEST WORDS (All times and dates are GMT)
All comments are filtered to exclude any excesses but the Editor does not have to agree with what is being said. 100 words maximum
---