Two important pieces of news for September. Firstly, the publication last week of Douglas Ward's 2018 Berlitz Cruising & Cruise Ships volume, and the start of a second series of Channel 5's Cruising with Jane McDonald.

Plus Southern Norway on NCL Jade, with more in ON TOUR.

Berlitz Cruising & Cruise Ships 2018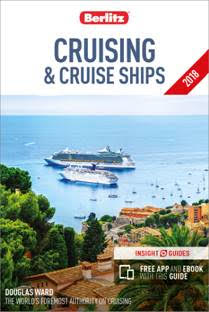 Douglas Ward's love of the sea dates from a trip on the first Cunard Queen Elizabeth in 1965. Now his guide is the 'bible of the cruise industry' after 33 issues, the first one dating from 1984 and covering just 120 ships (one can wonder how many are still operational?).

For 2018, the number has jumped past the 300 mark, but there are many repetitions with operators ordering a series of ships, each one essentially the same. Princess 'Grand Class' is an example. And don't bother with "From the Author", the introduction. It is as last year. The mistakes are repeated too. Crystal's sliding roofs cover the Trident dining area and have done so for some years since the indoor swimming pools were withdrawn.

One could argue over the actual ratings. He rates the tiny and very exclusive Hebridean Princess at 1,669 points – 2,112 tonnes – 50 passengers, nearly as highly as Queen Mary 2 – 1,683 points – 150,000 tonnes – 2,705 clients. Utterly different concepts.

For all the criticisms above, this book is invaluable when wanting to choose a cruise.

If you are new to cruising, or considering a waterborne holiday, part one is a 'must read', providing a wealth of information about life aboard, covering cuisine and dining choices, types of accommodation, spa facilities, entertainment, and themed cruising. There are chapters on Solo Travellers, Romantics, Seniors and those with special needs (which the industry as a whole looks after very well). It is comprehensive but essentially a repeat of the 2017 tome. This section also details the major cruise lines including AIDA, Carnival, Costa, Holland America Line, MSC, Norwegian, Princess and Royal Caribbean International. Even for experienced cruisers, it is useful, as not many of us have experienced all the companies noted.

For whatever reasons, Ward has relegated P&O to the 'smaller cruise lines' section, which is not likely to go down well at Southampton, home of Britain's largest cruise line.

Part two is a working document with more than 300 vessels rated and reviewed, from large resort ships to boutique boats, while the clearly laid-out ratings and scores index makes it easy to compare ships.

No change at the top, with Europa 2 top of the pile, although Hapag Lloyd is not a well-known name in the UK. Ward describes it as a ship for 'stylish internationals'. She is 42,000 tonnes, accommodates 516 passengers looked after by 370 crew, which translates into 0.83 staff for every client, a remarkably high figure. The new Silver Muse is 0.78 but with a typical large cruise ship 0.37 is good with Norwegian Jade (see this issue), while Fred Olsen's Balmoral is only 24.9.

Thirty-two new ships are listed for delivery in 2018/2019, including Royal Caribbean's Symphony of the Seas at 230,000 tonnes and 5,400 passengers. At the other end of the scale, Scenic, 5-star river cruising, makes its seaborne debut with Eclipse at 16,500 tonnes and 228 passengers.

Douglas Ward would never have thought it possible in 1984 but the latest edition of his digest comes with an app and eBook, giving would-be cruisers easy, instant access to ship reviews and practical information. www.insightguides.com


Cruising with Jane McDonald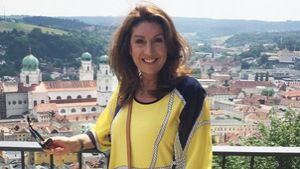 Following the ratings and critical success of the first series of Cruising With Jane McDonald, Channel 5 has commissioned another four programmes, the first broadcast last Friday (for those in the UK, look for it on Catch-Up). The bubbly bird from Wakefield had a whale of a time accommodated in the sumptuous Owners suite. We never know how the 'plebs' were housed, but it would seem that while they gained less space they lacked for nothing.

McDonald's trips aren't about facts, figures, history and geography – they are about fun, frivolity and how to get the best out of a cruise or any holiday. They are true travelogue, with a cruise ship holding the stories together.

Friday 1 September: Viking Sky via delightful Tallinn (Estonia), St Petersburg, the jewel of the Russian crown, Helsinki, and one of the world's design capitals and finally Stockholm and the ABBA Museum. Viking is luxury cruising.

Friday 8 September: The other end of the scale according to Douglas Ward (see above). Celestyal Cruises is rated 3-star but probably fits in well with Cuba, the focus of McDonald's journey. It is still unspoilt, but for how long? Havana is the start point and Club Tropicana, then Cienfuegos and a salsa lesson, a flying visit to Jamaica, followed by Santiago de Cuba and a house party before retreating to Havana and a pink (Russian powered) Cadillac convertible – and it is every bit as fabulous as she thought it would be! Ward gives Celestyal only a 26% staffing level, very low. We shall see.

Friday 15 September: The western Mediterranean and what might be considered a typical Med cruise out of Naples taking in Messina, Valetta, Barcelona, Marseilles, Genoa, and Capri on board mega-ship MSC Meraviglia, all 172,00 tonnes of her and 4,500 passengers. Somehow McDonald managed the on-board roller coaster simulator, a 70's party night and visits at each of the destinations. Robust lady.

Friday 22 September: The final trip, a little less hectic, on Avalon Poetry - a river cruise down the Seine with ancient, unspoiled French towns and villages, wine tasting and a hot air balloon ride!

All at 21:00.


Southern Norway on NCL Jade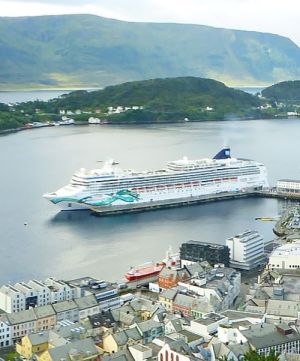 First time around, nearly 10 years ago, we were impressed with Norwegian Cruise Line's Jade. It was a large ship by the standards of the time. Now it is in the medium-range group. She carries 2,400 passengers, is capable of 25 knots if needs be and with Azipod propulsion is capable or mooring by the tightest small quay. No rudders on this ship.

Our previous review still stands scrutiny and the prices of some of the extras have gone up, but not that much. Sadly, the ship operates in dollars and that is where UK passengers can be caught out. NCL is aware of the drop in the value of the pound sterling and now with the launch of Premium All Inclusive for UK & Ireland guests, all service charges and gratuities are covered.

Earlier this summer, Jade emerged from a three-week major refurbishment as part of the Norwegian Edge, Norwegian's dedicated investment programme encompassing the entire guest experience across the fleet.

Nothing has changed dramatically in terms of layout since 2009, as sensible as you can get with most of the popular daytime facilities on deck seven, a proper walk-around promenade and two exceptionally large swimming pools, one on deck 12 for adults only. Four hot tubs too. The ship was full and surprisingly in mid-August only 190 (well-behaved) children. In all the corridors the fish on the carpets point to the bow, whilst the red ones show the stern. It is difficult to get lost.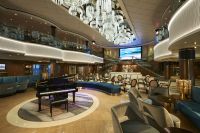 Once again, the hotel management were very visible. Stefan Antonescu, the hotel director, was confident enough to host a very well-attended question and answer session on the last day at sea. He is a protégé of Klaus Lugmaier, legendary regional vice-president of Fleet Hotel Operations at NCL. When on board, nothing escapes his keen eye. Antonescu was described by one passenger as "son of Klaus". Yes, there were some minor moans, but the sincere round of applause after one hour was well deserved. Other lines please copy.

NCL introduced Freestyle back in 2001, and it has been much copied and has matured over the years. Basically, you can turn up at the Grand Pacific dining room at the stern of the ship any time between 17:30 and 21:00 and you will be very well fed at tables seating from two to 10 persons. Occasionally, especially during the first days of a cruise, it might cab be a bit crowded and they then offer a bleeper to call you when a table is available.

You can then go to one of the lounges and listen to the music, or have a walk around the deck – weather permitting – until you are called on the bleeper. With a glass of prosecco, it was not too much of strain.The dining itself is of a fine standard with plenty of choices and as many courses as can be devoured. Vegetarian and specialist requirements are catered for as well as kosher without extra charge.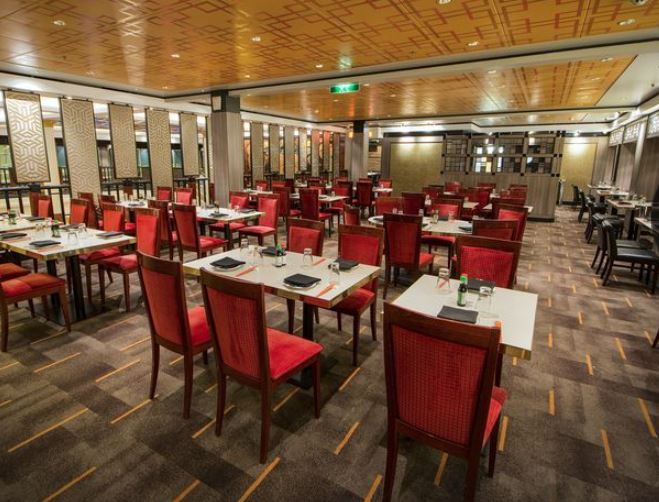 Seemingly open all hours (06:30–23:00), the Garden Café is spacious and well laid out on the pool deck with the Great Outdoors an extension over the stern. The food is of good variety, catering for most international tastes. There is courtesy ice cream, tea and coffee and soft drinks always available. No trays, a subject brought up during the hotel director's talk, and it is something NCL is looking into. There is always plenty of assistance available for those that need it and like all modern cruise ships Jade is wheelchair friendly. Three banks of four lifts seems to be just right. We were never kept waiting.

The Atrium, the heart of the action on Norwegian Jade, has been enhanced with a refreshed look and décor brought to life with an eye-catching, custom-designed marquee chandelier. New and seemingly very successful is O'Sheehan's Neighbourhood Bar & Grill situated on either side of the Atrium and on the deck above is the main reception area with its café and bar. Served is quality fast food including the best beef burgers many had experienced either at sea or elsewhere. O'Sheehan's is open 24 hours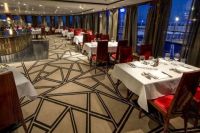 There are four major alternative restaurants plus three Asian diners. Situated high up overlooking the pool, Moderno Churrascaria is Brazilian and the waiters come around with sizzling meat on skewers. Delicious. Adjacent is the new Sugarcane Mojito Bar with a variety of speciality cocktails and next door is Cagney's Steakhouse, always popular with Norwegian. Magnums Champagne and Wine Bar and live music is just by the Bistro, a quiet diner deep down in the ship. You have to book, but it is spacious and a late request is sometimes accommodated by the friendly staff. The charges here and the equally popular Italian La Cucina high up on the pool deck are à la carte, but once again a (dining) package makes it all very reasonable.

Norwegian Jade feels and looks like a new ship even to the extent of the seamless promenade deck floor covering as you board and the colourful hull. What's new and what is refurbished it is difficult to know, unless you are familiar with the ship.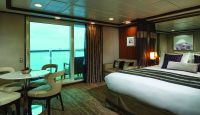 Every stateroom has been refurbished with new carpeting and fittings, a flat screen TV and for the European season, a coffee/tea machine. The balconies are of a good size with continental breakfast available and for a small charge various hot omelettes. No cheese on the list, but by writing on the form it arrived. There is 24hr room service with a delivery charge.

Jade is in some ways a two-class ship but that is hardly obvious for passengers. The Haven is a small private area amidships very high up and only accessible via a key card. Here, luxury has been taken to the next level with a complete remodelling. Guests in these top villas and suites can soak up the sun on four new plush cabanas or take a dip in the newly-refinished pool surrounded by modern furnishings and new artwork. Breakfast can be taken privately on your suite, in the Haven Lounge or in Moderno Churrascaria with clients in the suite class. Lunch is likewise but in Cagneys.

Those looking to dance the night away aboard Norwegian Jade can now do so in the chic new Bliss Ultra Lounge on deck seven, which has the feel of an upscale Miami nightclub. It doubles for films, quizzes and game shows during the day. High up at the front, the Norwegian Jade's Spinnaker Lounge also received a complete redesign. It is the place for the late-night DJ.

There is a upgraded Photo Gallery all digital and the wi-fi worked well in the cabins or you can use the Internet Café .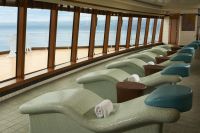 Norwegian Jade's fitness area is large and offers enthusiasts the opportunity to work up a sweat with all-new TechnoGym equipment and new rubber flooring, ideal for weightlifting and plyometric workouts. Bring your own headset and watch and listen to the world's news and sport, or on screens fitted to the equipment.

Junior cruisers aboard Norwegian Jade can now enjoy playtime with new floorings in Splash Academy that include noise-reducing mats so kids are free to play into the evening hours. Four age groups are catered for, with parents taking control at meal times except when in port. Children can remain on board at Splash Academy and be looked after for dining, with a small charge. Teenagers can take part in the various activities but are free to come and go as they please.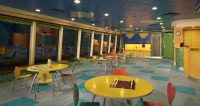 Sim was the name of the Cruise Director responsible for all the entertainment on board. With a very international clientele, Norwegian goes in for what we used to call a variety show, with dancers, illusionists, and speciality acts flown in at certain ports to perform the next evening. No comedians and not needed with the crazy multi-lingual Mexican keeping all very amused in a variety of languages. The 860-seat Stardust Show Lounge was always packed out for the twice an evening performance, but in the evening it certainly was not the only place for music and entertainment. The ship hums.

It is easy to summarise Jade and the Norwegian Edge. It is a totally different package from NCL's Epic and her later sisters. They are family ships catering in the main for those who want to be active at sea. Jade is for the more casual holidaymaker requiring all that a big ship offers, without too much hassle. It was always good and the 2017 version is even better. www.ncl.com
OUR READERS' FINEST WORDS (All times and dates are GMT)
All comments are filtered to exclude any excesses but the Editor does not have to agree with what is being said. 100 words maximum
---