"Is Mach 1.6 good enough," questioned Oscar Garcia, Chairman of US-based InterFlight Global speaking about supersonic business jet travel and definitely on theme at Quaynote Communications' 3rd annual Future of Business Jets Conference in London last week. The conference highlighted that private jet clients already enjoy luxury cabins and efficiency with a whole raft of aircraft available for charter, but supersonic speed is the remaining box not yet ticked.

Andrew Hoy, Managing Director, ExecuJet Aircraft Trading, gave an update on the Aerion Super Sonic Business Jet (SSBJ) which looks set to be first to market in 2015 – if a manufacturer confirms it will build it – and here, discussions are progressing, he said. Furthermore, ExecuJet, the sales representative of the aircraft for most of the world (excluding America) confirmed there were already 50 letters of intent from private individuals, along with an undisclosed airline, who have placed MoUs for the $80m 12-seat jet. It may well pick up more sales at the Dubai Airshow next week. David Macdonald, Sales Director for Air Partner plc, agreed his clients are already showing interest in flying on the aircraft. "As experience has shown," he said, "if manufacturers produce something nice, people will buy it."
Sub-orbital RocketPlane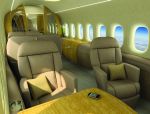 So while the SSBJ may well be a reality, InterFlight Global really is definitely futuristic. It is advocating the development of a mutant-style sub-orbital RocketPlane (using a solid propellant fuel made from a combination of laughing gas and rubber!). The cost of such development – an anticipated $2.5bn. So it seems for the present, a speed of 1.6 Mach, the speed Aerion is working toward for FAA certification, is enough. (Only in the US are speeds restricted to below Mach 1). The company also says its jet will be compliant with Stage 4 regulations and the latest emissions standards.

However, for the rest of the business jet community the future seems far away from supersonic with new regulations, taxes and negative publicity hampering development. Countering the recent negative publicity brought about earlier this year by the three top auto executives flying into DC in their private jets to ask for funding, Brian Humphries Chief Executive of the EBAA presented persuasive evidence revealing just how important to a region's economy business aviation is.

According to a study by Price Waterhouse Coopers, 2007 saw business aviation contribute $19.2bn to the European economy, both directly and indirectly. A total $12bn of this moved through the European heart of Germany, France and the UK. Corporate activity represents 80% of the business and as Humphries, along with others, argued, business aviation is about productivity, generating commerce and ensuring long term economic growth in a sustainable manner. It is not about strawberries and champagne. That's reserved for the 3% leisure users," he said. Air Partner highlighted that its client base of leisure users has actually increased from 5% five years ago to 30% today. "These people have made a lifestyle choice switching to private jet travel. The elite and wealthy will be true to it," he said.

ARINC Managing Director EMEA Dave Poltorac highlighted that increasingly business jet clients are coming to them before making a decision on which jet they buy to ensure they have good inflight communications – another important aspect in the future of business jet travel, delegates heard. Many clients will want to replicate their office at 31,000 ft. There is an increasing array of packages/communications channels now available to keep connected dependent on range and speed of sending messages. Satellite connection equipment is getting smaller, faster and less expensive and if business users want to be able to email and check messages on their Blackberry, there are a number of options, he added.

"Green shoots, or brown leaves," challenged conference chairman Sean Gates of Aviation lawyers Gates and Partners as presentations were made indicating the beginning of the end of the downturn for business aviation. The year 2009 saw the business jet market in a very depressed state with around 18% of the global fleet grounded and for sale, highlighted Embraer's Claudio Camelier. This has now reduced to 16.9% and in recent months worldwide inventory has declined. On the upside, delegates heard that banks are beginning to consider financing again, albeit with stricter terms. Whilst the light jet market movements remain distinctly flat, the mid and heavy jet movement figures are increasing.
Entry Level Jet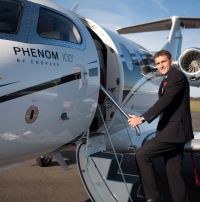 The new Very Light Jet or Entry Level Jet as the OEMs prefer to call it, is aiming to broaden the customer base for corporate aviation offering a lower entry cost for private jet charter. During the conference Air Partner announced it has added the Very Light Jet as one of two new categories on its popular 25-hour prepaid JetCard, becoming the first in the industry to do so. And London-based Oriens Advisors, the newly formed light jet consulting business, confirmed it is looking to tap emerging markets in Central Europe and with the recent formation of Central Europe's first Business Aviation Development Association, headed by Dagmar Grossman, expansion is likely there.

Less optimistically, Andrew Hoy stated "flat is the new growth," discussing the existing market. He confirmed the view of several speakers that looking to China, India and other developing markets will ensure long term sustainability for many business aviation companies. In 2005 China had just 13 aircraft in its business aviation fleet, yet by the end of 2009 it is anticipated to have 90 and the number will just continue to increase exponentially with current predictions seeing a fleet of 300 by 2011, he said.

The one dark shadow hovering over these developing areas is infrastructure. Andrew Hoy commented "aircraft need love on the ground," and currently there is a real lack of facilities in both India and China. Peter Edwards of Jet Aviation expanded on this arguing emerging markets have significant challenges to face in terms of culture, tax, understanding and development of regulatory structures. Both Hoy and Edwards agreed that integrated aviation businesses that work with OEMs and use local knowledge are those that will become successful in the emerging markets. Interestingly, the CAA in Singapore attended the conference to learn more about trends in Europe.
Emissions Transfer Scheme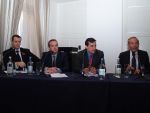 These areas will also be challenged, just as the rest of the world is, by complicated issues of environmental protection, a subject hotly debated by delegates and speakers alike. Stephen Boyle from the UK's Department of Transport commenting on the impending Emissions Transfer Scheme (ETS) controversially stated "it is not a tax." However the business aviation community believes it is, and they argue they are being singled out unfairly because they operate in a completely different way to commercial airlines. The ETS may see business jet costs increase by up to £200 per hour of flying time. As Sean Gates commented, "If it smells like a tax, walks like a tax, and quacks like a tax, then it probably is one." With the average business jet in Europe being less than two years old, offering point to point city pairing poorly served by scheduled airliners, and flying to task not to schedule, there are strong arguments to develop a system more akin to business aviation's methods of operation, delegates heard.

"Nothing flies without an airport," stated Bud Slabbaert from St Gallen Airport in Switzerland and with increasing congestion at the major airports the future for regional airports looks promising. Steve Jones Managing Director of Oxford Airport commented "aviation needs regional airports to relieve the congestion," but warned "airports need to think laterally to be a viable long term proposition," citing how Oxford has developed not only its airport infrastructure to cater for smaller scheduled flights – an example being Swiss regional Baboo starting an Oxford – Geneva weekly service this winter, but it also operates as a real estate company with over 25 other businesses based on the airport site.

Inflite Jet Centre, the Stansted FBO confirmed at the conference a creative way of seeing that its business jet operators don't lose out on purchasing duty free or luxury goods. In September it ratified a deal with BAA and World Duty Free whereby private jet passengers can select their duty free via the World Duty Free website and collect on their return via Inflite. The deal even extends to Hamleys, the premier toy store. "We've had a rocking horse in our terminal and several clients have said they want to order it for Christmas," said Director Penny Stephens. Inflite regularly caters for private charters using aircraft up to 200-seats, but as a result of its unique deal with BAA, crew and passengers flying out on smaller Learjet-sized jets benefit. Inflite is the first FBO to introduce such a scheme. Other FBOs present (namely Assistair and Oxfordjet) said they do not have the passenger volumes for such a scheme, but agreed product placement and aligning the FBO with a complementary, luxury brand is a good idea. Omega is one example of a company keen to work with FBOs to expand their reach.

Ironically at a conference entitled "The Future of Business Jets" there was a news announcement from BAE that they have just signed an order for a BAE 146-200 to be converted into a VIP 46-seat executive shuttle role from the UK-based Gill Group. "ABJ sales have really taken off in the past 18 months," said the company's Stewart Cordner. British companies Design Q and Inflite Engineering will provide the design and aircraft modification work, respectively. The typical customer purchasing an Avro BJ conversion is often a first time owner who eventually will upgrade to a newer jet, Cordner said. "Right now the time is great for conversion aircraft, it's the value proposition of converting airliners to luxury VIP configuration that is so compelling."


Jane Stanbury
Emerald Media Spain
jane@emeraldmedia.co.uk

www.quaynote.com
www.execujet.net
www.interflightglobal.com
www.airpartner.com
www.arinc.com
www.ebaa.org
OUR READERS' FINEST WORDS (All times and dates are GMT)
All comments are filtered to exclude any excesses but the Editor does not have to agree with what is being said. 100 words maximum
---
No one has commented yet, why don't you start the ball rolling?
---