Another Brexit angle

Nick Caunter has been managing director of Airport Parking and Hotels (APH), since 2003, joining from Retail Decisions, now part of ACI Worldwide, a leading global provider of electronic payment and banking solutions. He also heads sister company Crawley Down Group with interests in forecourt convenience stores, auto repairs and property involving the motor trade.
A keen cyclist, he recently joined a group from APH on a 92-mi ride from the firm's Gatwick headquarters to Southampton, in support of his alumni university's cancer charity. Caunter's words focus on the leisure tourist but are also true for the business traveller. Brexit involves all of us who travel.

Brexit: What does this mean for the British holidaymaker?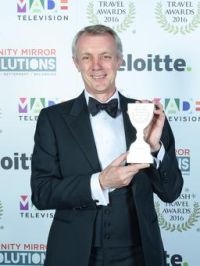 Following Britain's decision to leave the European Union, the UK travel industry has been faced with a number of uncertainties, foremost of which is how this will affect the travelling consumer's plans for the years ahead.

APH has been operating since 1980, offering a range of services across the UK. They include airport parking at all major UK airports, airport hotel and parking packages and airport lounge access and APH has built a loyal following with a wide range of UK travellers across varied socio-economic groups. As a result, our booking data provides us with an in-depth insight into the outbound travel market, particularly for leisure travellers who make up 90% of our customer profile.

Following a survey carried out in January 2017 on the UK's travel plans following Brexit, we saw 22% of respondents claiming they were 'more likely' to visit the continent and 53% reporting 'no difference' to their Euro-travel plans compared with 12 months earlier. However, as we have now moved past the trigger point of Article 50, it appears UK travellers are becoming more aware (or wary) of the implications that leaving the EU will have on international travel and is taking into consideration how this will directly affect them.

With the value of the pound bumbling along at its lowest level in years and sterling not expected to recover very far from its post-referendum low, the average cost of a holiday and spending abroad has now significantly increased and will remain so. So are consumers looking to offset the negative effects of sterling's decline?

It appears so. We're only a few months into 2017, but following a comparison of the UK holidaymaker's travel habits for the same period last year, we've already seen some signs of change. From our data, the average airport parking duration across all UK airports reduced from 8.7 days in the first quarter of 2016 to 8.4 for this year. Moreover, our data at the largest airport, namely Heathrow, with its obvious bias towards long-haul (hence longer duration), shows the largest drop in average duration, down from 12.4 days to 11.5. Gatwick, Birmingham and Manchester airports all saw drops in duration for Q1 this year versus last, although not as marked as Heathrow. Manchester was close, at 0.6 of day drop to 8.5. Only Stansted has bucked this trend among the larger airports, growing from an average of 5.2 days to 5.3.

So, our theory is that some UK outbound travellers are now booking slightly shorter stays where they are able. Clearly, this is more manageable for self-packaged travellers and comparing the data by airline appears to support this view. So far this year, our booking data includes airline details in around 66% of cases and when taking the largest of the low-cost carriers, we can see the average duration for our customers flying with easyJet this year is at 6.3 days, down from 6.5 for the same period last year. For Ryanair, our data is also showing a similar change, with bookings dropping to 6.4 days this year from 6.6 last year, whereas Thomson Airways has remained static year-on-year at an average of 10.5 days, perhaps unsurprisingly as a predominantly packaged carrier.

The British public has always shown resilience when it comes to travelling, and an annual holiday continues to remain high on the UK consumer's wish list. However, as our data may be showing, the 'sterling slump' is causing even this resilient market to trim back holiday costs by reducing time away.

Whether we like it or not, Brexit is happening and as we look to the years ahead we need to work through this period of uncertainty and continue to monitor how this is impacting the UK traveller's needs in both the short and long-term. Faced with huge change, the travel industry may also need to adapt to ensure travelling abroad remains attractive to the UK holidaymaker.

Nick Caunter
OUR READERS' FINEST WORDS (All times and dates are GMT)
All comments are filtered to exclude any excesses but the Editor does not have to agree with what is being said. 100 words maximum
---
Michael King, Brough
As someone who has been travelling across Europe since before the advent of the EU I have some difficulty understanding what the fuss about post Brexit travel is all about. Yes, there used to be some delays getting in to Franco's Spain from France. There used to be problems crossing from the UK to Ireland. Even moving around the Benelux area could be tiresome from time to time. But the most difficult times were always at peak times which I learned to avoid. Travelling now is, if anything, worse than then but not because of the EU per se. Rather, it is extraneous forces (terrorism) that has been the cause. Anyone going through the degrading security checks at a UK airport or who is stuck in the queue at the Tunnel will know what I mean. It is very difficult to see how much more difficult things might get simply because we have made the decision to leave the EU. The plain fact is that whenever the UK traveller faces change they adapt and get on with things. As one of the most travelled nations on earth it is what we do and O do not foresee any EU bureaucrat putting a stop to it.
---