On 9 February 1969, the aviation world was stunned by the first flight of the Boeing 747. It could carry twice as many passengers as anything else around and also had a massive cargo hold. Now, well into the 21st century, it is still with us with 1,500 built and the latest Dash-8 version still rolling off the production line.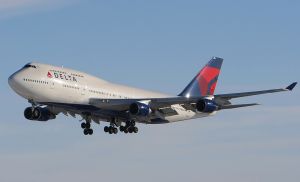 An estimated 3.5bn people have flown on a 747, about half the population of the world.
In 1988, Boeing introduced the 747-400 with many updates including a digital or "Glass Cockpit" requiring only two pilots, winglets for fuel efficiency (a first), and much increased fuel capacity. Typically, London to Hong Kong could be made non-stop in around 11hr.
After an amazing 15,000 man-hour transformation, ship 6301, the very first Dash-400, has finally landed at a parking spot outside the Delta Air Lines Museum within the airline's HQ complex on the north side of Hartsfield-Jackson Atlanta International Airport.
Ship 6301 was delivered to Northwest Airlines in December 1989 and joined Delta's fleet when the two companies merged in 2008. It has flown 61m miles, which equals about 2,500 trips around the world or 250 flights to the moon. Some 4.9m passengers have been flown, or the equivalent of the total population of Scotland. It has a main cabin width of 19ft 9in and 171 miles of wiring.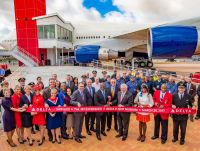 The 747 is now the centrepiece of the Delta Air Lines Museum, open to the public, and sits next to a Douglas DC9 and the second-ever Boeing 767 – both, like the "Queen of the Sky", in pristine condition.
The new Dash-400 exhibit is likely to become an award winner. Never before has an aircraft of this size been taken down to its bare essentials, to its carcass, for all to see. It is the skeleton of an aircraft, but in its own way very much alive. Randy Tinseth, vice president, marketing for Boeing Commercial Airplane, and guest of honour, agreed that is probably unique, a world first, not a stripped-down aircraft to be used as a restaurant or film back-up, but an example of engineering excellence by Seattle's finest, and also a tribute to the volunteer work of the Boeing Museum team and the Delta Tech Ops organisation.
In the massive fuselage, the exhibit gives visitors a unique look behind the scenes. An exposed ceiling and glass floors reveal the insulation, wires, air conditioning ducts and more, essential for the operation of a commercial airliner. The walls are lined with mementoes of historic achievements in aviation, specific 747 graphics and statistics and a video screen capable of projecting various multimedia displays.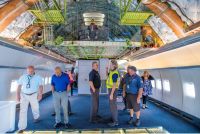 Tinseth was keen to point out the large unused space behind the upper cabin which could be clearly seen. No airline ever took up the opportunity to use this area. "Revenue lost" as Tinseth put it.
You can wander into the cockpit and see the flight deck crew rest area and walk over the exposed cargo hold. Visitors can climb up in the tail area to where the cabin staff are able have a sleep on a long flight. Examples of Delta One and Economy cabins have been left "as was" with overhead bins, the rest of the aircraft stripped out. It is a "straight up" staircase to the upper passenger level (and cockpit), much more spacious than on the original Dash-200, which needed a spiral staircase for entry.
For those less mobile, a lift has been provided for access to the main deck from apron level. And 6301 is also available to hire for corporate events, dinners and as a film set.
BTN last visited the museum in January 2012. It was extensively remodelled two years ago (www.btnews.co.uk/a/201202)
The 68,000sq ft exhibition, housed in hangars that date from the 1940s, traces Delta's history from crop-dusting and air mail service to its first passenger flight from Dallas to Jackson, Mississippi, on 17 June 1929. The airline's headquarters were in Monroe, Louisiana, until it moved to Atlanta, Georgia, in 1941. The carrier changed its name to Delta Air Lines in 1945.
The museum includes Delta's first Douglas DC-3 and its first Boeing 767 jet plus the only Boeing 737 simulator available for public use. Fascinating is "The Propeller Age", which includes five aircraft, three interactive touchscreens, 72ft of exhibit cases and wall graphics showing how Delta and the airline industry developed from the 1920s to the arrival of prop-jets in 1959.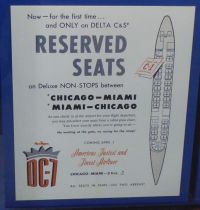 In 1990, a group of Delta retirees launched an effort to locate one of Delta's first 1940s Douglas DC-3 aircraft. This combined with an effort to consolidate Delta's memorabilia and archival collections, created a groundswell of support that expanded into a museum. Today it survives with volunteer assistance and charity donations.
On 23 May 1995, the Delta Air Transport Heritage Museum Inc was incorporated as an independent non-profit corporation. It is devoted to collecting and preserving the history and heritage of Delta Air Lines and all the 40-plus airlines that have merged with Delta in the past.
This includes Chicago & Southern Air Lines (1953), Northeast Airlines (1972), Western Airlines (1987), Northwest Airlines (2008), and there is much information about the acquisition of Pan Am's transatlantic and shuttle routes (1991), acknowledged as a great airline that has passed into history.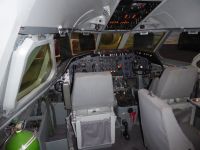 The museum is very popular for school visits, even more so now that the traditional airborne flight deck tour is forbidden. "Can you find?" is a paper chase for children touring the facility, but for BTN readers we offer a simple quiz: From what aircraft is the cockpit on the left? Answers please to info@btnews.co.uk. No prizes and all will be revealed next Monday 10 April.
BTN has three suggestions for the Museum. And there is space available to park them. A Lockheed Tristar from the desert in Arizona, a Lockheed Electra when the last of the firefighters has finished active service in Canada. And a DC6. There is one available in the UK.
Museum hours and 747 hours: Daily except Wednesday 12:00–16:00.
General admission is $15 for adults, $12.50 for seniors (65 years or older), $10 for children under 18 and free for children under 5.
OUR READERS' FINEST WORDS (All times and dates are GMT)
All comments are filtered to exclude any excesses but the Editor does not have to agree with what is being said. 100 words maximum
---
John Davidson, Paris
A great story. Thank you.
---