Civil aviation enthusiast Brother Michael Bartlett is known in airline circles as the Mad Monk and is the Guinness World Records aviation champion. This is his account of his latest exploit — round the globe in 57hr 17min. The claim is in for another GUINNESS WORD RECORD.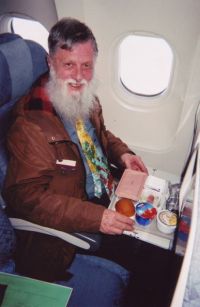 For my new RTW (round the world) venture, I had calculated a route circumnavigating the globe via the antipodal airports of Shanghai and Buenos Aires with a scheduled block time of 54hr 55min. To prepare, I flew to Shanghai with Virgin and in one of several pleasant surprises, the same crew took me back after the trip.
Beginning at Shanghai, I was to fly with China Eastern to Auckland, switching to Air New Zealand's service to Buenos Aires and thence to Frankfurt with Lufthansa.
From Frankfurt, the original booking was to be aboard China Eastern back to Shanghai. Sadly, China Eastern had cancelled for that day. I was transferred to Cathay Pacific, which flew me to Hong Kong and then north. The amended scheduled block time was now 58hr 15min. In the event, take-off from Shanghai Airport to the final touchdown back there was 57hr 17min, knocking 1hr 27min from my record time of 58hr 44min in February 1995.
The original idea had been to fly with China Eastern to and from Shanghai before and after the run. My travel agent suggested Virgin instead. I was a little disappointed because I had thought it good and best to be flying with one airline for most of the adventure, but I found the service by the Virgin crew was excellent.
When the Dragon Air flight KA 802 from Hong Kong touched down at 10:20, I was hoping for a quick move to the terminal and thinking there to be plenty of time for the transfer to VS 251 scheduled to depart at 11:50. I was wrong. We were delayed waiting for a gate.
The crew radioed ahead and arranged for a member of the ground staff to guide me through immigration, check-in, passport control again and the final security. By the time we got to the check-in desk, the flight had closed. Fortunately the supervisor was still at the desk and worked wonders. The service was excellent. I had no luggage of course and was accompanied throughout and taken to the aircraft just in time. The transfer had taken more than an hour. The aircraft were only a few gates apart!
I was welcomed aboard, the crew having begun to consider that I had not made it. I was offered an upgrade, which I politely declined. I wished to be with the same cabin crew as on the outward journey. There being plenty of spare seats, I was offered a row of three.
In celebration, I had my first alcoholic drink, made the most of the space, had a short nap and enjoyed the 12hr 16min flight. After landing at Heathrow, I was invited to the flight deck. And then while walking up the passageway to the terminal, I was called back to have a photograph taken. Oh dear. I had left the aircraft and the security guard on duty at the door said I was not to go back on board. We compromised. I invited him to take the photographs and as he took hold of the camera I jumped aboard and stood with the crew.
The most difficult thing of the whole journey was travelling home from Heathrow Airport carrying a large bottle of champagne without any bag or brief case in which to put it!
It was a great journey. The seating aboard China Eastern's Airbus 330 was comfortable, though there was half an hour of serious turbulence. Even the cabin crew put away their trollies and sat down with seat belts on. It amazed me that even then some passengers stood up out of their seats, putting crew members in danger when they had to get up to remonstrate kindly with them.
Elsewhere, Air New Zealand's ice cream was as it always ought to be, high quality. Lufthansa gave good service aboard its Boeing 747, although the seating was ruined by there being a "box" on the floor where one wanted to place one's right foot. I had a nose bleed on that flight, but was rescued by a fellow passenger with medical equipment.
Cathay Pacific's B777 was full, due I suspect to the Lufthansa pilot strike in operation that day. I read that a third of Lufthansa's flights had been cancelled. Cathay's service was good but the seats were uncomfortable; however, the two gentlemen sitting beside me were great fun and I enjoyed the flight.
The short-haul flight aboard Dragon Air's Airbus 330 from Hong Kong to Shanghai was relative luxury. The seating was very comfortable, the service excellent, the snack meal very tasty. There were few passengers aboard. Whether full or empty, flying is fun. Wherever next?
THE ROUTE:
The RTW route was Shanghai, Auckland, Buenos Aires, Frankfurt, Hong Kong and Shanghai.
Times are LOCAL times: * = next day
21.11.16 LHR/PVG VS250 Boeing 787-9 G VAHH 13.43 -08.22*
-------------------------------------------------------------------------------------
23.11.16 PVG/AKL MU779 Airbus 330 -2 B 5908 01.03-17.01
23.11.16 AKL/EZE NZ030 Boeing 787-9 ZK-NZC 20.47-16.33
23.11.16 EZE/FRA LH511 Boeing 747 -8 D-ABYP 17.47-10.36*
24.11.16 FRA/HKK CX288 Boeing 777-3 B-KPK 12.50-06.32*
25.11.16 HKK/PVG KA802 Airbus 330 B-HLK 08.13-10.20
--------------------------------------------------------------------------------------
25.11.16 PVG/LHR VS251 Boeing 787-9 G-VCRU 11.50-16.06
01:03 at PVG 23.11.16 is the time of the brake release.
10:20 at PVG 25.11.16 is the time of touchdown, the times measured by Guinness World Records, making a time of 57hr 17min. The record to be broken had been 58hr 44min.
The time from start to finish of the adventure was 98hr 23min = 4 days, 2hr 23min. Mileage (according to OAG) for the rtw journey was 25,823.
Return mileage to Shanghai: 11,434.
Total land miles covered: 37,257.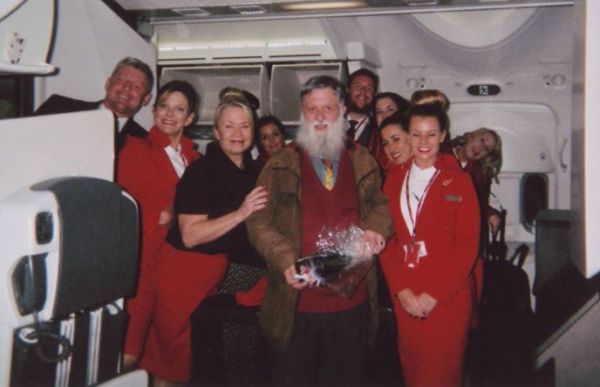 OUR READERS' FINEST WORDS (All times and dates are GMT)
All comments are filtered to exclude any excesses but the Editor does not have to agree with what is being said. 100 words maximum
---
No one has commented yet, why don't you start the ball rolling?
---