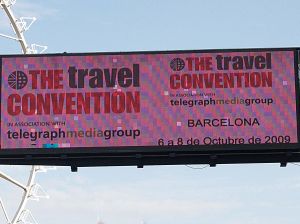 Jane Stanbury reports:

"We're at the beginning of the end," declared Norman Lamont, former Chancellor of the Exchequer. He was referring to the state of the recession in his opening address at the 2009 Association of British Travel Agents (ABTA) travel convention in Barcelona last week. "The recovery will be slow and gradual, but that is better for consumer confidence, and consequently better in the long run for the travel industry," he added. His words were cold comfort for travel businesses suffering under this year's economic landscape, where many have had to endure aggressive cost cutting strategies to survive.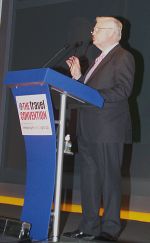 Unsurprisingly, the recession, customer financial protection and future forecasting dominated discussions at the three-day gathering. "Adapt or die" was the clear message from Malcolm Preston, Partner at Price Waterhouse Coopers (PWC) presenting research which suggested companies should think of the recession as a 'pit stop in a commercial race.' "Use this time to adapt your business to the new market and make the necessary changes," he advised.

PWC's research shows the recession consumer is an altered buyer who will research travel options extensively. He is trading down in terms of spend, and will seek out the best offers. These buying habits have changed permanently and will exist beyond the current economic climate. With limited brand loyalty it is the companies who adapt their product range, and pricing strategy that will survive. Preston suggested that as consumers are now 'buying clever' companies need to 'sell clever'. "WOW factors are great, but make sure it's a WOW the client values."

Greg Ward of von Essen

The audience heard from a number of key players about just how significant the business travel decline is. Greg Ward, Sales and Marketing Director of luxury hotel group von Essen spoke about the sharp dip in corporate bookings, conferences and events. Its response has been to invest in adapting its product, and training staff for servicing the leisure industry. Discounts and deals have helped play a big part in filling von Essen rooms, he said.

Fellow panellist Richard Tams, Head of UK and Ireland Sales for British Airways, confirmed the carrier had also seen a shift in business travel. Fixed schedule tickets were up as businesses select cheaper options. First Class travellers are downgrading to Business, he noted and Business Class to Premium Economy. BA has enlarged its Caribbean and Egyptian programme, and has maintained Premium Economy seats for both holiday destinations. But whilst aircraft seem busy, the yield per aircraft is decreasing. "British Airways is trying to find new revenue areas," he said, commenting on the latest controversial move from the company to charge passengers for seat selection. "We even expect the newly launched London City to New York route (32 seats in an Airbus A319 which clears customs at Shannon Airport) to be an option for the leisure traveller. We're not assuming it is just going to be the 'Banker's Express,' as it has been dubbed, he said.

PCW research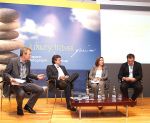 It seems the luxury sector, however, remains untouched and in a surprisingly optimistic presentation Guy Gillon, partner at PWC, presented astonished delegates with research claiming the market had actually grown 5% in 2009. The very wealthy are immune, it seems. A panel of luxury travel operators questioned this, arguing this was not their experience. Derek Jones from Kuoni commented on how they are now developing one to one CRM systems to maximise their offering, and Frances Geoghagen of Africa Travel commented it's not enough to just be specialised, companies have to get closer to customer requirements, and offer clever product and pricing strategies. Luxury travellers are also changing their buying habits and the industry must respond.

A 30-minute MBA course presented by Richard Reeves and John Knell of the Intelligence Agency shed years of traditional business models and leadership theory. They claimed there are five key factors for business success: sustainability, leadership, conversation, cash and culture. "Sustainability will become a key module of every MBA course in the next five years," challenged Reeves.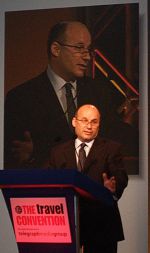 Mark Tanzer, Chief Executive of ABTA, announced the launch of an ambitious sustainability programme for the travel industry. Tourism 2023 sets out an agenda encouraging travel professionals and companies to actively take on the "green" issue. Stating the objectives of the plan Tanzer said: "We are launching Tourism 2023 to encourage good business principals in strategic management of companies, customers and strategy to ensure longevity for a strong and profitable business and consumer travel sector". Founding partners, which collectively cater for over 45 million passengers annually, include British Airways, Thomas Cook, Tui, The Co-Operative Travel and Carnival UK. All are committed to creating practical and innovative solutions to ensure a successful and profitable future for the industry. James Goodman from Forum for the Future alarmed the audience with four 'what if' scenarios, suggesting that if the initiatives such as Tourism 2023 do not happen the future for tourism would be deeply challenged. "Tourism cannot just muddle through this one." he said.

Customer protection and safety

Customer protection was also high on the agenda with a call for a European wide Health and Safety policy for all involved in tourism to be developed. Likewise the confusion around customer financial protection in the UK was under debate and ABTA is moving forward with government support to create an unpackaged financial protection plan.

Recognising customer needs, and making travel uncomplicated and stress free was also deemed as valuable. Call Uma is just one company that is contributing to reducing the stress. Designed for the regular traveller, this 24-hour advisory membership service offers users a luggage tracking facility, multilingual service aid, and advice on any destination in the world providing information as simple as recommending a good restaurant through to translation services in medical emergencies. Currently offered by monsterUK, Expedia.co.uk and lastminute.co.uk the service will soon be rolled out to corporate booking agencies with The Co-Operative Business Travel as the first corporate customer.

Making the travel process smoother through airports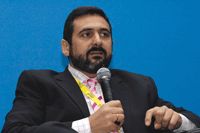 Vueling, the innovative Barcelona-based Spanish low fares airline, highlighted here that it has worked closely with Spanish airport authority AENA to introduce mobile phone check in services at Madrid and Barcelona airports, so speeding up transit. A barcode is sent to the passenger's mobile phone which is then scanned as if a printed boarding card. Following on the sustainability theme, Vueling is hoping that around 40% of its passengers will use the option and anticipates this will save over 2,400 trees, or 14 million sheets of paper per year. CEO Alex Cruz was part of a panel of Captain's of Industry and took the opportunity to highlight how his airline was focusing a lot on the business traveller. "We value the business customer, and recognise the importance of sustainability within the industry. We see this product as supporting both of these areas," he commented.

With the general agreement that the "staycation" has just not worked this year, it is certain that short to mid haul travel will be back high on travellers' agendas in 2010 which is good news for the outbound travel industry. If the election sees a new government, there is anticipation that the APD will be reviewed, and emerging markets are shaping up as strong economies for companies such as TUI to explore. Peter Long, CEO of Tui Travel, pointed to some "green shoots" of optimism and Russia and CIS are some of them.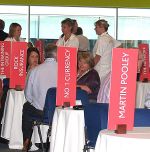 Hosted by Barcelona Turisme, delegates were treated to a display of Spanish hospitality at the various conference hotels. My hotel was Hotel Zero, opened just six months ago. It offers smart executive rooms with free wi-fii, mini bar, and a microwave, all carefully hidden in stylishly carved furniture. Situated directly across from the convention centre it also offers guests a fabulous view of the Mediterranean from its roof-top executive lounge. If the theme of this year's convention was about savvy travellers, smart selling and singular experiences then the Hotel Zero, part of the Catalunyan SB hotel group, should do well – as it is superbly priced, well located and offers friendly staff and service.
www.abta.com www.forumforthefuture.org www.calluma.com

JANE STANBURY jane@emeraldmedia.co.uk
Jane Stanbury runs Balearic Discovery offering luxury travel services to Mallorca for individuals, families and corporates looking for an authentic Balearic experience. www.balearicdiscovery.com

Next week is the monthly cruising issue and AERBT will look at this aspect of the market discussed at Barcelona
OUR READERS' FINEST WORDS (All times and dates are GMT)
All comments are filtered to exclude any excesses but the Editor does not have to agree with what is being said. 100 words maximum
---
No one has commented yet, why don't you start the ball rolling?
---