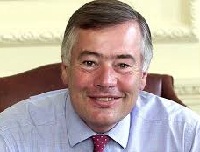 Last week I stepped down as Chairman of Heathrow. The past nine years have been an incredible journey and I am very proud of what we have achieved.

Despite a major recession, Heathrow has been transformed over the past decade into a world-class airport through an £11bn private investment programme – demonstrating the scale and long-term commitment of Heathrow's shareholders.

We built Terminal 5 – voted the best airport terminal in the world for the past five years running – and we opened Terminal 2 on-time and on-budget. Both projects were among the largest infrastructure projects in the UK and were successfully delivered while keeping one of the world's busiest airports running at full speed.

Memories of athletes arriving for the successful London 2012 Olympic Games remind me of the role that Heathrow plays as Britain's gateway to the world.

As someone who left school at 15 and had to make his own way in the world, I know just how important it is to be given a chance. I am personally pleased with what Heathrow is doing for social mobility in our local communities – equipping young people with the training and skills for quality, long-term jobs at the airport.

My one regret is that the government has not yet taken the critical decision to expand Heathrow.

Last month's referendum makes Heathrow expansion more urgent than ever. A confident, outward-looking trading nation needs regular direct links to every country in the world. That is what Changi does for Singapore and Heathrow does for Britain. Expand Heathrow and we can leap ahead of France to be the best-connected airport in the world. Gatwick can never be that. I am a regular traveller through Gatwick, and as a businessman I have seen the way their shareholders run their business. It is frankly inconceivable that government could choose their plan.

Gatwick won't deliver the long-haul connectivity that Britain now desperately need to reach markets beyond Europe. Nor can it provide the much-needed cargo capacity that is needed to support the export-led growth vital to securing Britain's post-Brexit economic future – only Heathrow, the UK's biggest port by value, can do that. Which is why Heathrow's expansion plans are backed by 32 chambers of commerce and 38 airports throughout the UK and an overwhelming majority of MPs from across the political divide. The UK has plenty of airports that can offer low-cost short-haul flights, and we don't need another.

All Gatwick's local councils and local MPs are fiercely opposed to Gatwick's expansion plans and commuters are worried about the added pressure an expanded Gatwick would put on an already over-crowded Brighton mainline – the only railway line into the airport. Nor does Gatwick have the policy footing to support its expansion. The independent Airports Commission gave a unanimous and unambiguous recommendation to the government to expand Heathrow.

Gatwick's owners do not have the experience of delivering complex infrastructure projects. Their annual capital expenditure is equivalent to what Heathrow spends in a month. People often tell me that the runway is just another piece of concrete – how difficult can it be? But when millions of people and businesses across Britain are counting on that runway to get them and their products where they need to go, you can't afford to tempt fate. Just ask the Germans. They are renowned for their engineering expertise, but there is a fully-built airport in Berlin that was meant to open in 2010 and is still dogged by delay. That risk is very real with Gatwick.

Airlines have been clear that there is no business case to expand Gatwick. Just last week, IAG threatened to pull out of Gatwick if the government backs it, and easyJet, their biggest customer, supports Heathrow to expand. The decision to leave the EU, Gatwick's biggest market, is the final nail in the coffin. Gatwick lacks the resilience to complete expansion. By catering in the main for the low-cost leisure market, Gatwick's business is inherently vulnerable to the inevitable shocks in the economy. In the last recession alone, Gatwick passenger numbers dropped by 11% and took more than six years to recover. If there is recession during their 20-year construction period, investors can walk away, leaving Britain with a building site.

The reality, I suspect, is that like any property speculator, Gatwick's owners just want to sell with planning permission. Earlier this year they sold their other London airport – London City – in a transaction that resulted in a £1.25bn profit. They have a duty to their investors to achieve that profit. They are in this to sell Gatwick – preferably with Heathrow constrained; that's what motivates them, not a desire to secure the future of the British economy.

British workers and families need the government to get back to business after the delays and distractions of the European referendum. The government needs to pull our country back together and take the long-term decisions to that will help Britain stay competitive, connected and compete in the world.
And in uncertain times, any government needs ready-to-go, privately-funded infrastructure investments to create jobs and growth. Heathrow has the track record, the funding, the business case and the right plan to connect all Britain to growing markets around the world, to remain one of the world's great economies.
Heathrow is the right choice for a stronger Britain.
OUR READERS' FINEST WORDS (All times and dates are GMT)
All comments are filtered to exclude any excesses but the Editor does not have to agree with what is being said. 100 words maximum
---