This month's issue comes to readers as the cruise season reaches its UK peak, with virtually every operator offering a round-the-British-Isles trip. BTN will be reporting on such a journey next month, visiting Kirkwall, where on the longest day of the year the sun sets at 10:29, and Dublin, south but to the west, at 21:57. Guernsey, which does not have a dock, will play host to 111 ship visits in 2016, with up to 170,000 passengers and crew visiting St Peters Port by ship tenders. See also ON TOUR Le Lyrial.
The new, wider locks on the Panama Canal have opened but don't expect a rush of very large cruise ships using the facility. It will take a number of years for the company schedulers to fit the canal into their plans. Princess Cruises' Caribbean Princess is programmed to make a series of 13 10-day cruises through the canal beginning 21 October 2017. At 118ft wide, she could not fit into the 110ft locks that were opened in 1914. The new offerings rely on tugs rather than electric locomotives to move ships through them. Doubts have been raised about the ability to fit the tugs in the locks along with the longest ships, but at 951ft, the Caribbean Princess will have room to spare in the 1,400ft locks which are 180ft wide. Much will depend on the overhang of a ship (lifeboats etc) as to whether they can pass through the locks. The world's largest cruise liner, RCCL's Harmony of the Sea, is 1188ft long and 217ft at the broadest point. However, at the waterline it is just 155.6ft.
In CRUISE INTELIGENCE, two items of cruise news really stand out; the revitalisation of Queen Mary 2, and Crystal Serenity taking the historic North West Passage made famous by the ill-fated exploration of Sir John Franklin in 1845.

Cruise Lines International Association (CLIA) has published its annual European Economic Contribution Report, revealing that the cruise industry is now worth €3.26bn (£2.58bn) per year to the UK economy.

Employment in the UK cruise industry grew by 4.1% to 73,919 jobs and accounted for 20% of the market share in Europe. The port of Southampton has maintained its position as the number-one embarkation and disembarkation port in Northern Europe, with a total of 1.75m passengers passing through in 2015.

It was another successful year for British ports overall; in total, more than 1m UK and international passengers visited a UK port during a cruise, a figure that has more than doubled in six years.

"The figures released today bear testament to the cruise industry's contribution to the UK economy. Cruise may have once been considered a travel niche, but the multi-billion valuation shows that cruise is a major player within the travel sector," said Andy Harmer, CLIA Europe VP operations, last Tuesday.

"The cruise industry continues to make significant contributions to Europe's economic recovery," noted Pierfrancesco Vago, chairman of CLIA Europe and executive chairman of MSC Cruises. "The impact is clear. More Europeans are choosing a cruise holiday, more cruise passengers are choosing Europe as a destination, and more cruise ships are being built in European shipyards. This translates into great economic benefits for the entire continent, including coastal areas that were hit disproportionately hard by the economic downturn."

Europe's economic contribution is a direct result of the impressive growth the cruise industry experienced in 2015 as it reached 23.2m ocean cruise passengers globally. There are 39 cruise lines domiciled in Europe, operating 123 cruise ships with a capacity of around 149,000 lower berths. A further 73 vessels with a capacity of around 100,000 lower berths are deployed in Europe by 23 non-European cruise lines.


REGENT REFRESHED: Our motoring correspondent Ted Wilkinson has been to sea. Here is his report.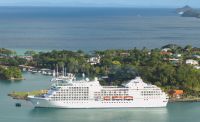 Coming back into the water in mid-April after an extensive dry-dock overhaul, Regent's Seven Seas Navigator proved an impressive experience during a 10-day Mediterranean and Adriatic cruise, literally days after re-commissioning.

This is my type of cruise ship, providing highly-comfortable suite accommodation of about 450 passengers (the cruise being totally sold out) and with a good choice of dining experiences in relaxed, informal but professionally-managed situations. The menu choices showed imagination and a lot of scope, the cellar stocking wines of a good quality.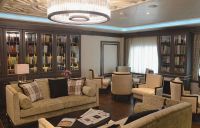 Evening entertainment in the comfortable theatre received high ratings from usually full audiences. Obviously, this bright, new-feeling ship, was just getting into its stride after the re-fit and as an avid book reader, I found that the cosy library was not yet fully stocked, the lower cupboards clearly awaiting more books or some board games etc.

Special features included excellent deck furniture, plenty of places to lounge around, a generous bar area and an afternoon tea service, complete with an accomplished pianist, that was always well attended.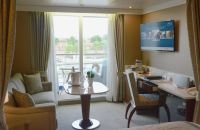 Starting in Rome and culminating in Venice with several in-port overnight locations, the on-shore trips were well organised and efficiently presented with well-researched printed leaflets.

For attentiveness and ability, I rate the staff performance as the best I have experienced on all cruises I have been on. A gem of a cruise ship that has to be experienced to be believed. www.rssc.com


CRUISE INTELLIGENCE

Abu Dhabi Port: With the region's 2015/2016 cruise season coming to an end, Abu Dhabi Ports has released figures showing an increase of 16% in passengers and 20% in vessel calls with 103 ship visits. The opening last December of a brand new purpose-built terminal proved to be the highlight of an unparalleled expansion period which also included both AIDA and MSC cruises adding the facility as a home port. A fusion of traditional Arabic ornaments and modern architectural elements define the building's distinctive style, combining the UAE's rich history with ultra-modern facilities that are among the best in the world. Cruises based from Abu Dhabi are of limited length which suits the mainly expatriate passengers wanting a few days' relaxation away from their working environments. www.adports.ae

CMV, the fast-expanding British cruise line based at the London Cruise Terminal Tilbury, has confirmed the addition of Columbus to the fleet in June of next year. Once very popular as the P&O Arcadia, the 63,000-ton, 1,624-passenger vessel will be the largest ship in the CMV fleet and joins Magellan at 46,000 tons, 1,250 passengers, in offering a very British adults-only product available at UK regional ports including Bristol, Dundee, Greenock (Glasgow), Hull, Leith (Edinburgh), Liverpool and Newcastle. CMV has also announced its programme of port lunches and overnights available to prospective cruise passengers and for those wishing to view the ships. www.cruiseandmaritime.com

Costa Cruises has launched a new summer-cruise programme on board Costa Luminosa, allowing guests the unique opportunity to visit Moscow for a day. The "Jewels of the Baltic" itinerary is available throughout August with weekly sailings from Stockholm. The new "Sapsan" bullet train takes just four hours to reach the Russian capital, where there is a fully-inclusive tour including the Kremlin. While a day out in Moscow may seem ambitious, a similar trip from Warnemünde to Berlin has for some time proved very popular with cruise holidaymakers. Tourist visas are included and bookings can be made right up until the day before. Costa guarantees to get you back on to the ship before she departs. www.costacruises.co.uk

Crystal Cruises' 2016 inaugural Northwest Passage voyage sails 16 August from Anchorage to New York and will have the RRS Ernest Shackleton icebreaker to provide operational support. This will be the first time that a luxury passenger ship has attempted the expedition. The voyage sold out within three weeks, but there is still space on the 2017 journey beginning 15 August, with prices ranging from £15,591 per person for a deluxe stateroom with picture window to the Crystal Penthouse at £78,165pp.

Prior to making the voyage, Crystal Serenity will be outfitted with state-of-the-art forward-looking sonar, ice detection radar, ice searchlights and thermal imaging, as well as an ice navigation system that will display near-real-time satellite ice imagery and ice forecasts. In addition, the Master and bridge team will attend ice navigation training at a simulator in St John's, Newfoundland, and two veteran Canadian ice pilots will be on board to assist the bridge team in managing the information provided by additional equipment which is not typically found on cruise ships.

The first call in the Canadian Arctic is planned for the hamlet of Ulukhaktok, Northwest Territories, a settlement of just a few hundred people on the shores of the Amundsen Gulf, just 1,400 miles from the North Pole. www.crystalcruises.co.uk

Cunard's Queen Mary 2 has been "revitalised", the latest euphemism for the refreshment of what is now an 11-year-old ship that certainly is retaining its popularity more than ever with the North Atlantic offering remarkable value.

This summer, take a week's cruise from Southampton to New York, get an extra hour's value most days as the clocks change, and fly back, saving VAT. Or even go both ways, with a US sojourn between voyages.

The iconic ocean liner has just spent 25 days out of water at the Blohm and Voss shipyard in Germany, where 5,200 men and women worked over a million hours to overhaul her machinery, refresh the exterior of the ship and transform her reception rooms, dining areas and cabins. The refurbishment, which is the biggest makeover Cunard has witnessed in its 176-year history, included adding 6,000 pieces of new furniture and 4,000 pieces of art to the ship's rooms. The makeover of makeovers cost in the region of £90m. www.cunard.com

Royal Caribbean International has announced that its high-speed internet service, branded VOOM and first introduced on Anthem of the Seas this time last year, is now available on all its 24 ships. BTN can vouch that; it has experienced VOOM, which is just as quick as any land-based consumer system. Surf packages start from US$12.99 (approx £8.84) per device, per day with additional family devices added at a discount. www.royalcaribbean.co.uk
OUR READERS' FINEST WORDS (All times and dates are GMT)
All comments are filtered to exclude any excesses but the Editor does not have to agree with what is being said. 100 words maximum
---