Our intrepid man in Germany, a Brit by the name of Alan Lathan, ex-Jeppesen (since 2000 a Boeing company), has been off on his travels again. (see Aero India). Not too far this time, but by train to the island of Sylt, in the Federal State of Schleswig-Holstein, northern Germany.

The island of Sylt lies off the coast of Denmark in the North Sea but is part of Germany. During the 17th and 18th century, whaling, fishing and oyster breeding were the main industries and in 1927 a rail causeway to the mainland was built, the Hindenburgdamm, named after war hero Paul von Hindenburg, president of Germany at the time. During World War II, Sylt became a fortress, with concrete bunkers built below the dunes at the shore, some of which are still visible today.

Here is what he has to say. He took most of the the pictures too.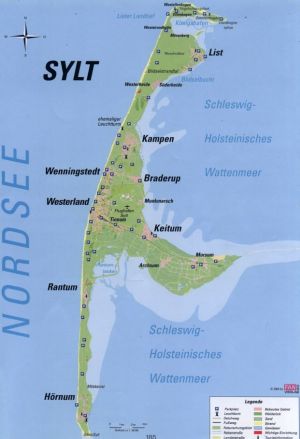 "I must admit right away that Sylt was never on my list of 'must see' places, for whatever reason, probably due to false impressions.

However, a group of friends stayed there over Christmas and the New Year and came back full of enthusiasm.

One owns an apartment near Westerland, the main town of the island, which he and his sister use off-season and rent out the rest of the time. As a coincidence, my dear wife decided to participate, together with a woman friend and their three dogs in what Sylt Tourist Authority calls 'Hundstage' or 'Dog Days', a series of courses and training for dog owners held in the first weeks of March and November and including an agility obstacle competition. They went by car, although you can fly with Air Berlin and Lufthansa Regional serving the airport year-round from Dusseldorf, Frankfurt and Munich, plus Berlin-Tegel, Munich, Nuremberg, Stuttgart and Zürich in the summer.

However, I was persuaded to look for a train ticket from Frankfurt to Westerland.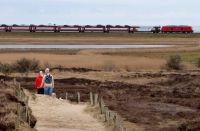 I battled with the online DB website until I found a connection costing under €50 including seat reservations, which I thought most reasonable. Travel time, including a change of trains in Hamburg would be 7hr, my luggage would go in the car with the dogs, my ticket I had in my smartphone (and as a printout too, just in case).

We all left at about the same time, 7am, and stayed in touch via WhatsApp. In the end, it was rather like a Top Gear race, with yours truly winning by just 20min.

The white BMW X3 arrived, was duly unloaded, doggy beds, doggy food, kitchen equipment, and a happy reunion was celebrated with a good Merlot San Giovese.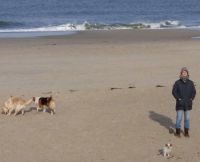 The ladies already had plans to walk the dogs across the heath to the Kupferkanne (Copper Pot), a well-known woodland cafe with large portions of cake and their own coffee. Then it was over to the Congress Centre to check on the Dog Days events, only to learn that the first few wouldn't be taking place due to sudden illness of the course leader. Good news - it meant I had an X3 at my beck and call.

If you are arriving by car, you need to drive to the Shuttle station at Niebüll on the mainland. There you wait in line for the Sylt Shuttle that runs every half hour. It's similar to a mini-Dover-Calais run but without the need to book in advance. Daylight too. You sit in the car for the 35min journey and drive off at the main station at Westerland / ZOB.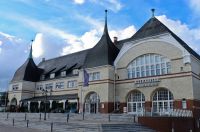 Sylt is mainly a tourist destination, famous for its sandy beaches and healthy climate. The 40km (25-mile) west beach has a number of surf schools and several sections for nude sunbathing. The Windsurf World Cup Sylt, established in 1984, is held annually at Westerland's beachfront.
Sport is written big on Sylt. Facilities include excellent opportunities for golfers, though the costs may be high. Sylt also boasts some 600 horses for those of you who like to ride, and the bridle paths across the island are well-marked. The same website gives information on bicycling, tennis and watersports. Cycling can often be reduced to a one-way trip due to the ever-present wind, but the island's buses are all equipped with bike carriers. The alternative would be an e-bike.

The airport has already been mentioned, and it overflows with private aircraft as soon as the season starts, this year around mid-March.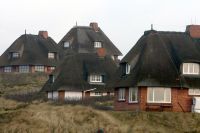 Aviation enthusiasts will doubtless know that Sylt was a major seaplane base, centred on List in the north of the island and from whence, in 1930 one Wolfgang von Gronau set off in an Dornier Wal D-1422 in spite of orders not to, on the world's first east-west Atlantic crossing to New York. Two years later he went round the world.
Because the welcome in New York and the publicity was so tumultuous, he was apparently forgiven. The story goes that even the crew were unaware of their destination. Anyway, Herr von Gronau lived to a ripe old age and is buried in the cemetery in List. There is also a memorial to him. The RAF was once based here too. Sylt is especially dog-friendly but there are seasonal rules to abide by for the sake of good neighbouriness. There are even special fenced in doggy walking areas set up. As a Brit I am against dogs in restaurants, but have become accustomed to it here. The one night we didn't eat in, we ordered a table at a local restaurant but with three dogs were politely requested to sit in the extension. No problem, and the meal was just as enjoyable.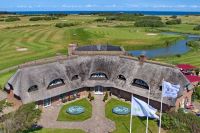 Every morning we walked the dogs along the beach before breakfast. The sand is wonderfully smooth and firm underfoot and the dogs enjoyed chasing whatever we threw for them. After breakfast, or rather brunch, we set off to visit one of the many villages on Sylt. The one that impressed me most was Keitum, full of beautiful thatched cottages, a museum, very old church, and a copper-stone-age grave site.

Before I forget, Sylt is a spa, and in the main season from 1 May to 31 October you can expect to pay €3.20 per person a day, and €1.60 outside that period. Children under 18 and dogs are exempted. Next to the steps we used to climb down to the beach there is a hut where you swipe or show your Spa Ticket (KurKarte). The people you have rented from will provide the ticket. We weren't officialy renting, so we were also exempt, I guess.
Sylt is not for everyone. The weather can be described as bracing. But I will go back, and possibly sample the trip by air next time. www.sylt.de/entdecken/sport/golfen.html http://en.sylt.de
OUR READERS' FINEST WORDS (All times and dates are GMT)
All comments are filtered to exclude any excesses but the Editor does not have to agree with what is being said. 100 words maximum
---
David Starkie, London
There was a major RAF bombing range off-shore. The station was a favourite posting because Sylt is a major nudist colony. Perhaps the weather was too bracing at the time of Alan's visit for him to notice.
---