Leonardo DiCaprio won an Oscar for undertaking the performance of his life in The Revenant. In his acceptance speech he made an impassioned plea to protect the environment. He was then immediately reprimanded by a tabloid newspaper for flying home from LA in a private jet! Alison Chambers reports on the BBGA annual meeting.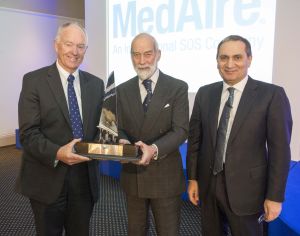 "We have to scale up and expand our education efforts to new audiences," stated Brian Humphries, president, European Business Aviation Association (EBAA) addressing the British Business General Aviation Association (BBGA) – "because the more they know, the better the perception."

He took the opportunity at the Selsdon Park, South Croydon gathering to outline the findings of a new survey which canvassed 100 people in 13 countries alongside leading European agencies and regulators to determine their view of the sector.

A total 65% of both respondents reported a good or excellent impression. 53% of policymakers were less convinced about the connectivity benefits, yet the average time saved using a bizav flight rather than the fast commercial jet alternative is 127 minutes per trip.

Some 20% of bizav flights are more than five hours faster than their commercial counterparts and the average employee flying this way enjoys a 153-minute higher productive rate, he stated. Vis a vis economic performance the perception of business aviation from policymakers was 29% acceptable. In contrast 45% of customers surveyed regarded economic performance as not important. So there is still work to be done – in both camps, with bizav users more optimistic.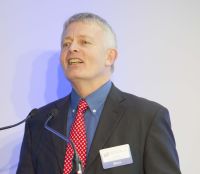 Brian Humphries conceded that the USA's heavily promoted No Plane, No Gain campaign wouldn't work in Europe – "but we can work on the environmental benefits especially and turn the indefensible to the indispensable," he said noting that business aviation accounts for 7% of aviation traffic and under 1% of emissions. "With new generation aircraft coming in this will reduce even further".

But are we missing a trick, delegates learnt, taking into account the notable growth that is coming from the light jet, business turboprop sector, with activity now accounting for 44.9% of movements in the UK these past 12 months. Meanwhile larger jet activity is falling and medium cabin activity is negative, according to Richard Koe, managing director, WINGX Advance. (The survey didn't look at anything smaller than the King Air.)

Delegates heard that the industry could fare well in its perception battle by celebrating a return to its 'grass roots' in general aviation. "We are at the 'nursery' end of business aviation with some of our operations", stated Richard Kearseym managing director, Close Brothers, and this meeting heard there will be significant changes in the landscape – and as early as this autumn.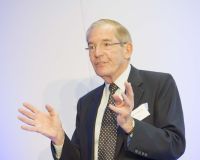 "The UK CAA is poised to back a call to endorse commercial Single Engined IFR operations in Europe, which would be a shot in the arm for our industry", said Edwin Brenninkmeyer, CEO of Oriens Aviation, who has recently taken over the sales distributorship for the Pilatus PC-12 single engined turboprop, seating up to 10. He reported that Geoff Parker, head of UK CAA flight operations policy had already held two public meetings with EASA and advised the CAA would use its 'exemptive powers' to approve such flights by as early as October this year. Eurocontrol is already working on developing new low level routes to accommodate these aircraft, noted Martin Robinson, CEO of AOPA UK.

Richard Koe stated the market for aircraft like the Cirrus, Socata TBM and PC-12 has seen a 16% compound annual growth rate this last decade. Around 2,000 such aircraft active in Europe, and almost all flying privately, with the PC-12 the most popular. North America has a vastly more active market, with a large number of charter and fractional operations based on single engine fleets. The proven appeal of these aircraft, with their great operational versatility and low pricing, is just the sort of opportunity which online brokerage disruptors like StrataJet should want to exploit in Europe, he said.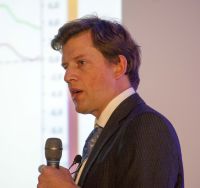 London Oxford Airport reports a hike in business turboprop and piston engined aircraft flying. Business Development Head James Dillon-Godfray suggested these aircraft would be ideal for 200-300 mile journeys where the car journey is too long and train service indirect and typically expensive.

The rugged Cessna Caravan, a regular at Oxford mainly performing cargo flights, is good for road or train trips that would normally take up to four hours and the Pilatus PC-XII flying at up to 300mph (285 kts), for those journeys that by ground transportation take four hours plus. The Caravan can fly at 200 mph and can beat a UK four-hour train journey in terms of costs per seat mile. Likewise, the PC-XII hits its economical sweet spot on trips say from Oxford to Edinburgh or Paris. "This could be a real transformation for our industry", he said, adding these new aircraft could also breed a new range of mini-FBOs at smaller general aviation airports. Redhill, Denham and Goodwood aerodromes were popular destinations.

"Our industry has always stood out as entrepreneurial", said Marwan Khalek, CEO of Gama Aviation and Chairman of BBGA, whose own business started in 1983 out of Fairoaks Airport with a Beech Baron. "If it brings new entrants in, it can only be a good thing. But we do need to know what the restrictions are as if there are a raft of them, the proposition becomes less attractive".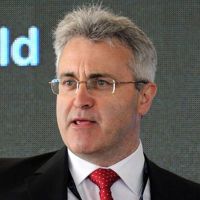 The day also gave Marc Bailey, CEO of BBGA, a platform to talk up the work the association has worked hard on to achieve for its members these past 12 months.
Central to the work is a strong relationship with the UK Civil Aviation Authority. CAA Chair Dame Deirdre Hutton praised BBGA and the work it does. In her address she highlighted the outstanding work CAA inspectors do but how they are frequently getting poached by other parties. Performance based reporting is important, she said, an area that the association is working on with BBGA and being able to share a database of general aviation incidents Europe wide will serve to improve safety standards.

Richard Koe, in his health of the UK bizav industry address, took a sideways look at the impact of Brexit on the sector too. Since 2013 the UK has traded well above the rest of Europe, he said – 4% ahead over the last 12 months. Some 92% of the 94,539 departing bizav flights were headed for Europe and there was a big hike in bizav flights to Spain. A review of the 2015 movements by airport showed that London was the most active for departures (at 52,115 movements) up 2.5%, ahead of Paris and Geneva.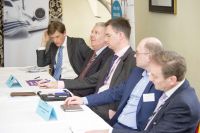 There was an upbeat keynote speech from Paul Kehoe, CEO of Birmingham Airport (BHX). He values the business aviation activity at his airport greatly, he said. BBGA member Marshall Aviation Services is seeing a good upturn in VIP airliner operations, led by Cello Aviation and GainJet at its FBO.

Paul is an advocate of connectivity and believes Birmingham Airport offers considerable opportunity for growth as the debate on the third runway lingers on. This could be 15 years away, he notes, stressing that Heathrow isn't the only way to fly to new markets. BHX is worth £1.7 billion and 40,000 jobs to the UK economy, he said. The airport markets itself as Shakespeare Airport to the Chinese. "They love us," said Paul. "They love Stratford-upon-Avon, home of the Bard and they love shopping in Bicester Village".

Here is an afterthought. How long would a journey take in the rush hour from Selsdon Park (using London's Biggin Hill airfield just six miles away) to Birmingham 150 miles mainly on the M25 and M1 using a light jet, or even a small single v a car! Paul had to rush away to miss the evening traffic. All photos Billy Pix. alison.chambers@emeraldmedia.co.uk https://bbga.aero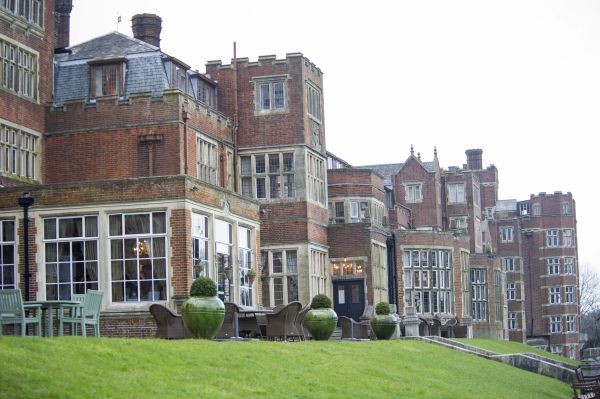 OUR READERS' FINEST WORDS (All times and dates are GMT)
All comments are filtered to exclude any excesses but the Editor does not have to agree with what is being said. 100 words maximum
---
No one has commented yet, why don't you start the ball rolling?
---