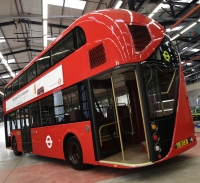 The last Bendy Bus blocking London's streets is expected to be off the roads by the end of the year. With Mayoral elections due in 2012 it will be interesting to see if Ken Livingstone, who introduced the unpopular vehicles, will put a return in his manifesto.
Current Mayor Boris Johnson has unveiled its replacement, the first bus designed specifically for London in more than 50 years, built by Wrightbus factory in Ballymena, Northern Ireland. In just under two years the bus has gone from the drawing board to a fully functioning prototype.
Critical design features include three entrances and a double staircase to deliver the speediest possible boarding for passengers; and an open platform at the rear, in common with the iconic Routemaster. But will it be named after that most popular of buses?
A key feature is the two staircases, at front and rear, which provide quick and easy access to and from the upper deck. There is grooved flooring on the stairs and entrances just like the original. Other innovative design features include a new lightweight bench seat with specially designed moquette and a new wireless bell push that is seamlessly blended into the hand pole. www.tfl.gov.uk