Alison Chambers reports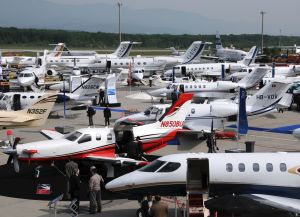 The perception of business aviation as a luxury form of transport must be quashed. That was the message that rang out from the ninth European Business Aviation Convention in Geneva last week as EBAA Chief Executive Brian Humphries called on OEMs (original equipment manufacturers) and operators to promote business jets as a business tool.

"We fly to task," he said. "Flutes of champagne, lobster and luxurious cabin interiors are not what we want to be portraying right now." He continued: "Rather, magazine advertisements should show business people getting ready for the meeting they are travelling to, hunched over their laptops, drinking coffee and working inflight. We really are our own worst enemy when we portray business jets as luxury. This is not the core of our business."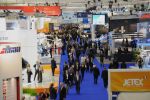 The flurry of aircraft order announcements that usually dominates EBACE was missing this year, but event organisers claimed the show was the third-largest ever, 10,917 visitors attending the three-day event. A total of 411 exhibitors, occupying approximately 1,900 booth spaces, were at Palexpo and 65 business aircraft showcased in the static park, up from 60 the previous year. And far from being downbeat, there was a sense of optimism in the halls and out on the static, despite the rain clouds that marred the opening day.

While the business aviation fraternity has suffered in this current global economic crisis – an estimated 20,000 jobs lost at OEMs and second tier suppliers – and business aviation traffic down an average 20% in Europe since January – EBAA sees this as a temporary retrenchment.

"We still have huge potential," said Brian Humphries.


Fresh business models in the form of emerging private air taxi operators are ushering in a new dimension of business transport. This will bolster the industry, introducing cheaper access to business aviation," he said. "However, the prediction two years ago at EBACE that the skies would be black with Very Light Jets has not happened yet. Today, they are not even grey," he said.

Amid this passion for growth Europe's business aviation industry has regulatory obstacles to overcome – in the shape of EU-ETS (European Union Greenhouse Gas Emission Trading System), security and the rewriting of operational manuals to comply with the latest EU directives. There is pressure for the sector to impose more airline-type security at airports, even at secondary airports which EBAA (The European Business Aviation Association) wants to make more use of as business aviation continues to get squeezed from the major hubs – owing to high prices and competition from LCC (low cost carrier) traffic. Rather than see its business aircraft operators having to be involved in the expense of direct carbon trading, EBAA is advocating Eurocontrol's simplified carbon calculation model – known as the Pagoda system. It has the support from the Directorate for Energy and Transport. Now it needs endorsement from the Directorate for Environment, which is responsible for the rule-making.

"Under Pagoda, operators would pay a combined monthly bill that would include their Eurocontrol fees and carbon emissions. As for the requirement to rewrite the current EASA (European Aviation Safety Agency) Ops rulemaking the industry isn't in the right state to put a lot of effort into rewriting these rules while its struggling for its survival," Humphries challenged.

During EBACE, EBAA highlighted the essential role business aviation plays in supporting jobs, mobility and economic opportunity around the world with the publication of recent research commissioned by PWC (PriceWaterhouse Coopers). This sector now embraces 3,000 business aircraft (1,000 more since 2001) and it is the second largest air transport sector to the LCC fraternity in Europe, accounting for 8% of IFR traffic (but less than 1% of emissions). Private individual aircraft owners account for about a mere 3% of flying activity, compared with corporations and governments at 80%.

The sector is responsible, according to PWC, for 164,000 jobs and E19.7bn (equivalent to approximately 0.2% of combined GDP of the EU, Norway and Switzerland.) The UK is home to 30% of these business aviation employees, followed by France (24%), Germany (21%) and Italy (7%).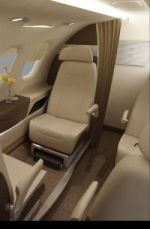 Embraer, marking its 40th anniversary this year, was particularly strong, showing off its new Phenom 100 and 300 family for the first time in Europe, along with the new Lineage 1000, a derivative of the Embraer 190 and the largest in its expanded executive jet family. It has amassed 800 orders for the Phenoms and starts delivery of the 100 into the UK in July. From September, new operator JetBird of Ireland – which has ordered a 50-plus fleet, will commence air taxi operations.

Aerion, the US company that plans to bring the world's first supersonic business jet to market in 2014 said here that is it edging close to securing a deal with an OEM to build the aircraft. Aerion's owner US entrepreneur Robert Bass came to EBACE to emphasise the programme is very much on track – with still 40 orders logged (down from the previous 50 milestone of last year).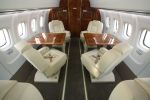 Franco/Italian consortium ATR announced its intention to tap the VIP conversion market with its popular ATR42/72. It sees a market for VIP, corporate shuttles seating 20/25 passengers and even a QC variant. It pledges to unveil more details at the Paris Show next month. The ATR family will join the Dornier 328 jet and Bombardier CRJ, established mainstay regional airliners that are already enjoying sales success with VIP versions. 328 Support Services GmbH announced the placement of two 328 Jets into Dubai for VIP use at EBACE – one of just a handful of order announcements (another was Jordan-based Rayajet signing for a Hawker Beechcraft Premier II). Later this month, airliner conversion specialist Dubai-based Project Phoenix will deliver its first 12-seat Phoenix CRJ to Jet Asia in Macau.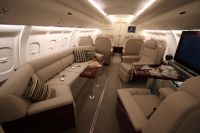 Contrasting the new with the old BAE Regional Aircraft made its debut in the static park to show off a recently configured VIP Avro RJ now flying for the owners of Bulgaria Air. This example, the work of Inflite Engineering and DesignQ of the UK, featured Club 4 seating, a dining area and divan, large plasma screen and 12 business class seats for support staff. These newly converted jets are selling for about USD10m, a price point that is impressing potential clients, BAE says.

And illustrating the complementary role that airlines and business aviation can play, a new dedicated business aviation subsidiary of Swiss International Air Lines, SPA (Swiss PrivateAviation) was launched by Lufthansa PrivateJet. SPA will manage business aircraft for private owners and provide operational support to Lufthansa PrivateJet whose Cessna Citation fleet of jets (including the first XLSs to fly inEurope) will fly first class passengers from German and Swiss hub airports for a fixed fee.

Will Curtis, CEO of expanding Middle East private jet company Rizon, which will establish a brand new charter, FBO and MRO operation at London Biggin Hill Airport this autumn concludes that business aviation is the barometer for the economy's growth. "Lawyers, accountants and consultants will start chartering private aircraft as they need to move to broker mergers and acquisitions. The private jet will get them to the negotiating table first."

The view from EBACE is that the market has started to pick up. Charter is improving. Some companies, such as VistaJet, even giving it a boost with the announcement of a 25% price reduction on return trips for all its programme members. ExecuJet, which manages a fleet of 150 aircraft all over the world, reports charter interest has improved significantly since March, but notes that clients are leaving it much closer to the travel time when they book. While new deliveries are deferred or delayed, the leading airframers report that the much increased pre-owned aircraft inventory has started to stabilise. Luis Carlos Affonso, Executive VP Executive Jets at Embraer, speaks for his industry colleagues when he suggests that recovery will come in 2010; aircraft sales will recover in 2011 and deliveries will recover in 2012. www.ebace.aero

Alison Chambers

Alison is a regular contributor to AERBT and is Principal of Emerald Media, a specialist aviation agency. All the photographs of EBACE are by Jane Stanbury, Emerald Media, Spain. www.emeraldmedia.co.uk