There was a blend of the old (tried and trusted) and the new at the recent European Regions Airline Association's annual meeting in Interlaken (Switzerland).

Checking in at the pretty alpine resort's cluster of hotels, ERA guests received an invitation to drop by the RUAG stand at the Casino Kursaal and pick up a model of the New Generation Dornier 228 – now relaunched into production featuring a new five-bladed composite prop and glass cockpit. The 228, along with the Twin Otter, was the original Stolport aircraft back in the early 1980s and technology group RUAG is driving its comeback. It will be on the market again in 2010.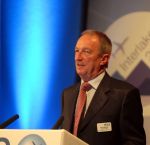 Bombardier, marking 25 years of the Dash 8-100 this year, announced an extension in the service life of the aircraft from 80,000 to 120,000 flight cycles with its new Dash 8-100ESP. Tyrolean of Austria, long time Dash 8 operator, was first to sign up for the programme. And BAE Systems Asset Management's Steve Doughty highlighted to media and airline CEOs in the opening press breakfast that now was the time for airlines to be prudent, streamline and re-organise their businesses. They should hold off on new aircraft acquisitions now. Renew that existing lease, wait until the economy picks up, he advised. They should, he suggested, "leapfrog the competition," and wait for the game-change in technology that aircraft like the C Series will deliver. This was, observers remarked, perhaps a veiled reference to BAE's closest rival, the Embraer 170, now earning revenue at London City Airport – where the BAe 146/Avro RJ successfully soldiers on. The larger 190 is due to get its LCY ticket in December.

Nonetheless, BAE remains a credible player in the market and is poised to announce three new contracts, which were not quite ready during ERA week. BAE's investment in the corporate/VIP market is paying off and it will be taking an Avro RJ to the Dubai Show next month. The company has also turned its attention to a military role for the aircraft. For 10% of the cost of the C130 Hercules, its 146M can perform cheap airlifting and deployment tasks and carry passengers in the back. The group has expanded its asset management capabilities to sell third party types too, including Airbus and Boeing jets, Doughty highlighted.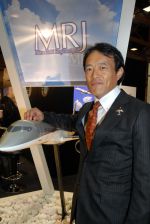 The 'new' was exemplified best in the strong showing of Mitsubishi Aircraft Corp, which came to ERA hard on the heels of securing a milestone order from Trans States of the USA for 100 of its new regional jet, the MR 90. While North America is still its biggest market, its goal is to break into Europe. Yugo Fukuhara, MJET's VP Marketing, talked about a further stretch of the aircraft to 100 seats in a single class with 31 inch seat pitch. The stretch version would complement the 88-seat MRJ 90 and 76-seat MRJ 70, he said. List price of the MRJ 90, which will be the first version to fly (in 2012), is US$40m. The MRJ 70 will be US$34m, available one year later.


New airlines and Olympic Air's debut at ERA

There were new airline faces at ERA this year. Air Southwest, represented by CEO Peter Davis; VIP charter operator Titan Airways, low cost operator Belle Air of Tirana, Albania and Jetcom, headed by the former head of Crossair in Lugano, Marco Ostini. This new venture airline is planning operations around the new Sukhoi SSJ Superjet. The former Scot Airways, now part of the Air France/CityJet group was represented by Jerry Froggett. Jorgen Nielsen, a long time ERA member, returned as CEO of newly named Cimber Sterling, following Cimber Air's acquisition of the low cost carrier earlier this year. Family-owned Cimber will mark its 60th birthday next year – a strong achievement.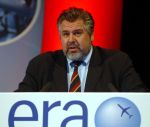 Jacques Bankir, one of the industry's leading regional airline figures, previously with Regional and CityJet and now head of Baboo in Switzerland, was one of a few airline CEOs that is bucking the trend and expanding with new routes and codeshare agreements (see above). Baboo also enjoys a codeshare agreement with the new Olympic Air and the latter's debut at ERA, as the successor to the once ailing government-owned carrier, was a talking point in Interlaken. Not least because its new CEO is a familiar and hugely popular face. ERA's President, Antonis Simigdalas, former boss of rival Aegean Airlines is now the president of the Marfin Investment Group-backed private carrier, which resumed flying on 29 September 2009, after the old Olympic ceased operations.

Simigdalas said that in order for the airline to restart it had to give up to 35% of its flying activity, as dictated by the European Union and concentrate primarily on domestic flights and select European destinations that do not include Paris CDG or Amsterdam Schiphol. It does not have any long haul services, rather it relies on codeshare agreements with the likes of Delta and Ethiad. Just last week it signed a codeshare agreement with bmi. It would like to resume long haul service, he said, but its principal objective right now is to work on the image of the carrier – to be punctual, customer friendly. A big marketing campaign is being launched to support this objective, he noted. Olympic Air currently operates 12 A319s/A320s, eight Bombardier Q400s (four of its own, four from Flybe), for which the company has been working with for support since the summer, two ATR 42s and five Dash 8-100s. It plans to add four more A320s and six more Q400s next year.

The fun will start this week when Aegean, which up until now has been flying twice daily services to Stansted, will switch the route to Heathrow alongside Olympic on 25 October. A price war is expected. Carpatair of Romania, whose CEO Nicolae Petrov was elected on to the ERA Board, has not given up plans to get rights to fly into London. The airline originally planned Stansted flights two years ago, but LHR is the goal, Petrov said.


2009 – aviation's economic Tsunami, says ERA DG

Delegate numbers may have been down this year – Interlaken not being the easiest of venues to get to, but the mood was cautiously optimistic, considering the tough year members have endured. In his Director's Report, ERA's Mike Ambrose described 2009 as "the year of aviation's economic Tsunami – one which has been watched in Europe by many states, politicians and regulators with dispassionate and self-interested indifference." ERA has reviewed, evaluated and given representation on a total of 696 policy papers this year, he stated. Last year it had 670.

"2010 will remain a hard year for air transport, opined Antonis Simigdalas noting that all the stakeholders in the supply chain must bear a share in this hardship – OEMs, airports and suppliers.

Some states are showing signs of slow recovery, Ambrose said and pointed to the progress being made in new and/or improved aircraft, such as the Bombardier C-Series, the Sukhoi Superjet's ongoing flight programme and the launch of the enhanced ATR72-600 series. Recent aircraft orders from Sukhoi and the Mitsubishi MRJ are encouraging signs that industry recovery is beginning, he noted.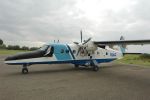 Further progress has also been made on SESAR and the Single European Sky Package II, which will help to improve costs and reduce environmental impact. However, Ambrose stressed, "it is vital that we continue to invest in the development of new capacity to be ready when traffic inevitably returns, but investment requirements are in conflict with airlines' current ability to fund investment."

"The European Commission and the European Parliament have pressed on with their regulatory and legislative programmes concerning air transport regardless of the state of the industry. We must now try to influence the new Parliament and any new appointees in the Commission that what the industry needs is certainty and stability," Ambrose concluded.
www.eraa.org
ALISON CHAMBERS
Emerald Media
alison@emeraldmedia.co.uk
Eryl Crump supplied the pictures